How Did A Wooly Bear Caterpillar Become A Weather Forecaster?
The woolly bear caterpillar has long been associated with winter weather folklore. But why? And what does he turn into come spring? Find out!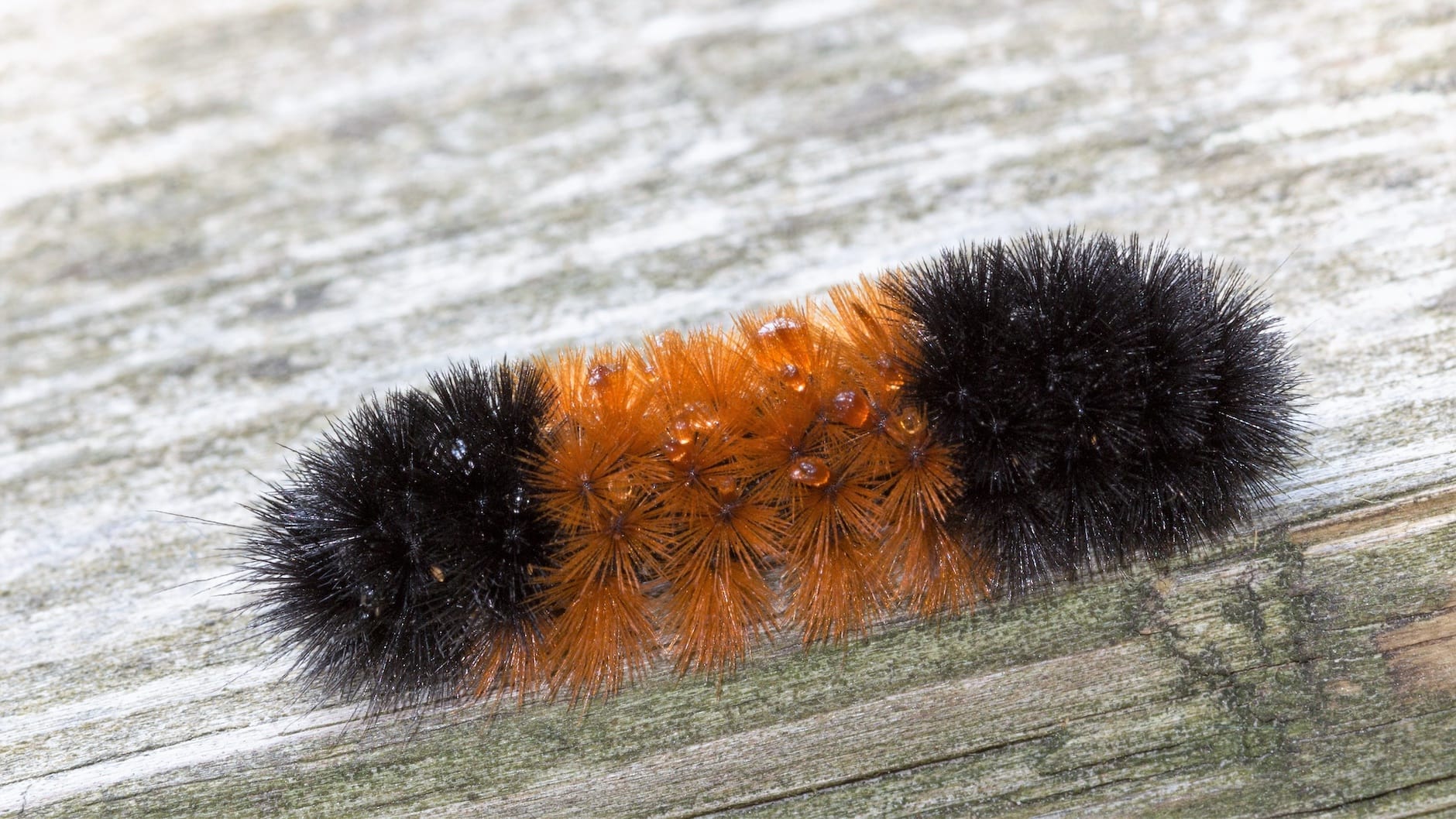 The caterpillar weather prediction is a popular topic with our fans and friends. The banded woolly bear, also known as the woolly worm caterpillar, is considered a natural indicator for predicting winter weather (ranking #18 on our list of 20 signs of a harsh winter). According to folklore, a narrow orange band on the caterpillar signals a snowy winter, while a wide band suggests a mild one.
Woolly Bear Caterpillar Predictions
It is said that a typical banded woolly bear has thirteen segments, with many people believing that each segment represents one week of winter. Fewer orange segments indicate milder weeks, while more black ones foreshadow more weeks of severe winter weather.
Some also examine the thickness of the hair—thick hair implies a harsh winter ahead, and sparse hair indicates a mild one.
Another weather belief related to this tiny forecaster involves the direction it's heading when found. If the woolly worm is traveling north, anticipate a mild winter. If it's moving south, brace yourself for a long, cold winter.
But how did these caterpillars become winter weather forecasters? And what else do we know about them? Although we only focus on them during one stage of their life cycle, there's much more to these furry predictors than meets the eye. Here are some fascinating facts to consider:
Why Do Woolly Bear Caterpillars Appear in the Late Summer and Fall?
As a caterpillar, the woolly bear is technically the larva, which is the first stage of life for a moth or butterfly after it lays eggs. The eggs hatch in the fall, which is why woolly bear caterpillars are commonly seen during this season. However, early hatchlings can also be spotted during the summer months.
What Does A Woolly Bear Caterpillar Become?
Woolly bear caterpillars hunker down over the winter, and turn into the Isabella tiger moth (Pyrrharctia Isabella) in the spring. You can recognize these moths by their yellowy-orange coloration, black legs, and small black spots on wings and thorax.
Woolly Bear Food, Habitat, and Lifecycle
Woolly bear caterpillars are considered generalist feeders, meaning they eat a wide range of natural food sources, with a preference for leaves. During the summer and fall months, they consume a variety of greenery, including native plants such as herbs like dandelion, plantain, and nettle, as well as tree leaves and other types of foliage.
While in caterpillar form, woolly bears tend to be nocturnal, eating at night and sleeping during the daytime, generally under fallen leaves or in other hidden spots. Of course, this isn't always true, which is why we see these fuzzy caterpillars quite often meandering slowly about during the day.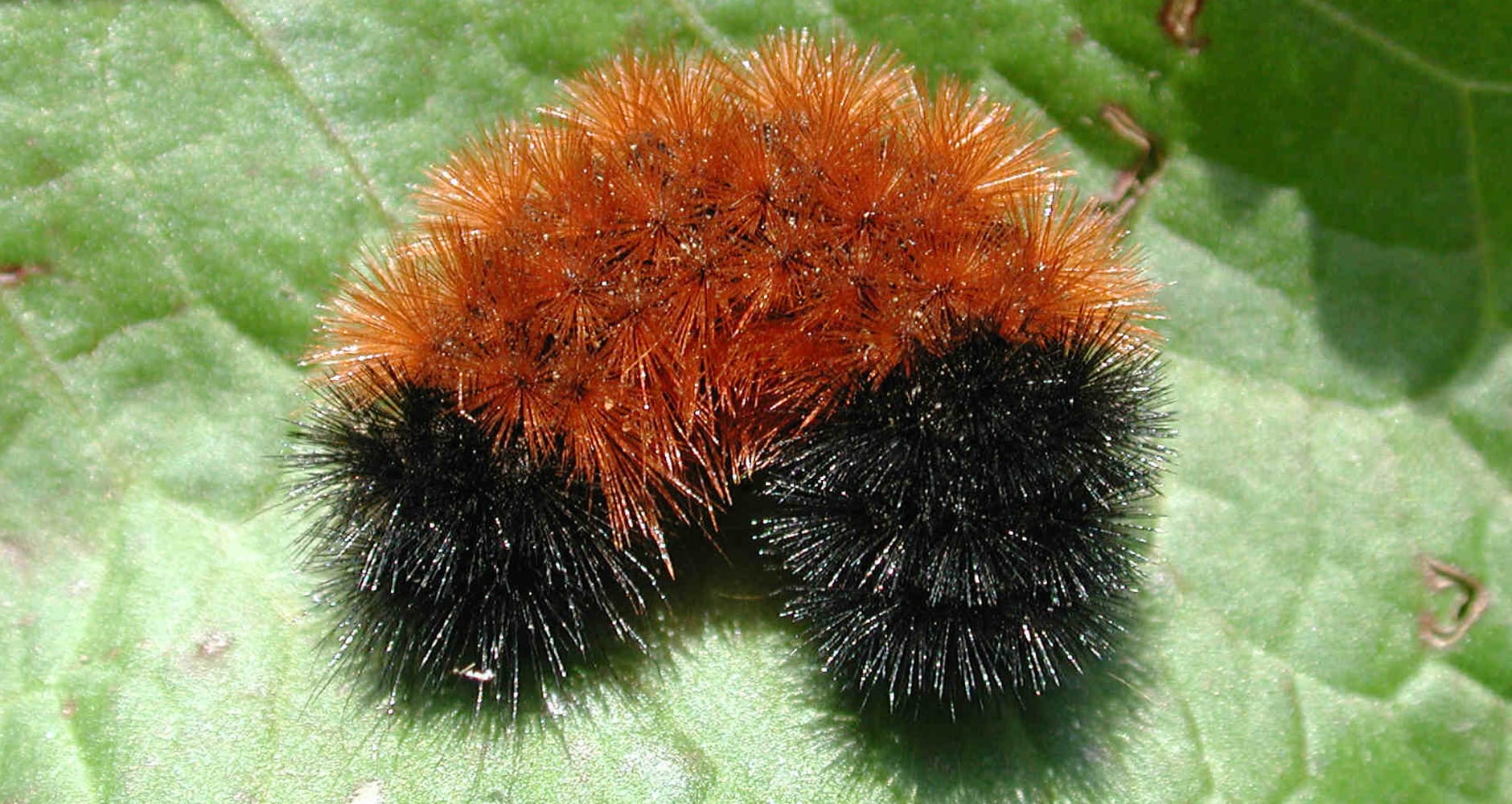 As the weather turns colder, the woolly bear caterpillar goes into hibernation, choosing a sheltered spot in a fallen log, under a stone, or another good winter hiding place. Interestingly, these caterpillars might just be nature's ultimate survivor—woolly bears produce a kind of antifreeze that protects their organs and other soft tissues while the rest of the caterpillar freezes solid over the winter. Because of this, they can survive temperatures as low as -90 degrees Fahrenheit!
When daytime temperatures reach around 50 degrees in the spring, the woolly bear caterpillar becomes active again. It feasts on springtime greens such as dandelions, replenishing its energy. Once it has eaten enough, the caterpillar will create a soft cocoon using its own fur and begin the transformation into an adult Isabella tiger moth. After spending approximately 10 to 15 days inside the cocoon, the moth will emerge and complete its metamorphosis.
So How Did Caterpillars Became Associated With Weather Forecasting?
These caterpillars and their legendary ability to predict winter weather have been part of American folklore since the colonial era, but were popularized by entomologist Dr. Howard C. Curran, curator of insects at the American Museum of Natural History in New York City, when he decided to put it to the test. In 1948, Curran headed to Bear Mountain, New York, to study the caterpillars. There he found that over half of his test subjects had wide orange bands, meaning the upcoming winter would be milder-than-average. And it was. He relayed his findings to a reporter and the story was published in the New York Herald Tribune.
Dr. Curran continued his study for eight more years but was never able to fully conclude whether the woolly bear was a reliable prognosticator. But the folklore continues to this day.
Are All Black Caterpillars Woolly Worms?
Caterpillars that are entirely black, entirely brown, or any other color are actually a different species, not Pyrrharctia Isabella. So don't assume that their appearance predicts a harsh winter!
While not everyone believes in the woolly bear method of weather forecasting, observing these caterpillars in the autumn remains an exciting American tradition that is unlikely to change anytime soon. In fact, there is even a famous Woollybear Festival held annually in Vermilion, Ohio, which celebrates the caterpillar's remarkable abilities.
Watch a woolly bear caterpillar make a cocoon (time-lapse)!
Our Predictions
We don't use the woolly bear caterpillar or any other bits of folklore to make our predictions (here's how we do it) you can see our winter weather forecast here.
Related:
How to treat browntail moth rash
Are cats reliable weather forecasters?

Amber Kanuckel is a freelance writer from rural Ohio who loves all things outdoors. She specializes in home, garden, environmental, and green living topics.