Southern Biscuits And Gravy
This authentic Southern recipe is easy-to-make and will be your go-to breakfast favorite!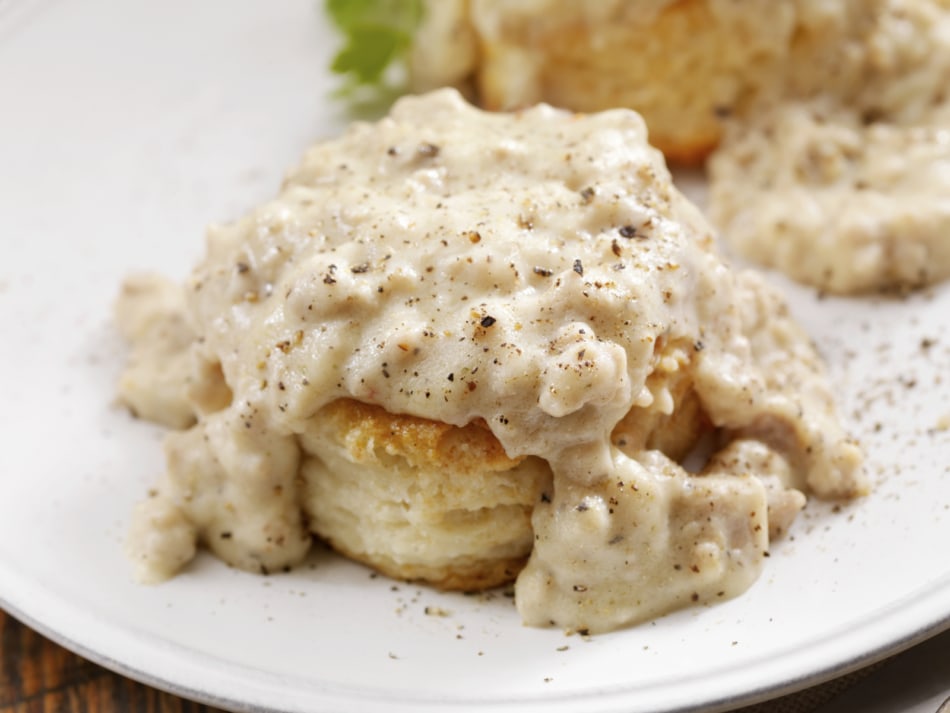 Biscuits and gravy have been around as long as this country. Born of necessity and frugality, the dish seems to have become commonplace during the Revolutionary War. Biscuits and gravy answered the need for a hearty, high-calorie breakfast for people who worked hard, but didn't have much money on hand.
Biscuits and Gravy Day is December 14th!
Why Biscuits And Gravy?
The milk-based gravy was used to stretch the meat, and biscuits themselves could be made with a variety of fats. Butter was the preferred fat, particularly if the family had a cow or ready access to dairy; and if not, lard or drippings were frequently used. At first, biscuits were nothing but hard tooth-breaking lumps of flour and water, but eventually they evolved into the light and flaky tender-crumb variety made with baking powder that we enjoy today. Popular across the country, this dish is a particular favorite in the Southern United States, and you'd be hard pressed to find a restaurant where it wasn't on the menu.
Proper Southern-style biscuits and gravy begin with homemade buttermilk biscuits. If you are planning to make this dish with grocery store biscuit dough in a pressurized cardboard tube, you will be sacrificing flavor and texture (not to mention authenticity) for convenience. As for the gravy, it will only be as good as the sausage you use. Buy a bulk breakfast sausage that you like, one that's well seasoned, and has a decent ratio of fat to lean. Avoid the budget varieties that are almost all fat. The buttermilk you use is also important — the acidity that results from a high-quality product reacts more fiercely with baking powder, making a much lighter biscuit.
Try this authentic recipe and serve to your weekend guests — we guarantee every last bit will disappear!
Southern Buttermilk Biscuits and Gravy Recipe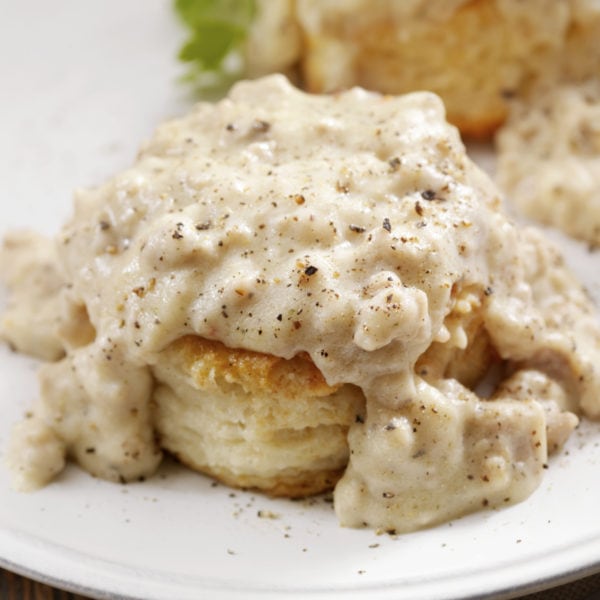 Southern Buttermilk Biscuits and Gravy Recipe
Ingredients
2

cups

all-purpose flour

3

teaspoons

aluminum-free baking powder

1

teaspoon

salt

1/4

teaspoon

baking soda (scant)

1

stick

frozen butter, sliced thin, or even grated with a box grater

3/4

cup

ice cold buttermilk Some extra buttermilk for brushing the tops.
Instructions
Preheat oven to 425° F. Line a baking sheet with parchment paper.Whisk flour, baking powder, salt, and baking soda together in a large bowl until dry ingredients are well distributed.

Cut butter into flour mixture with a pastry blender or two knives until the mixture resembles coarse crumbs. Add buttermilk; stir until the dry ingredients are just moistened.

Turn dough onto a floured work surface, gather dough together with your hands into a rough rectangle. Fold the rectangle in thirds like a business letter. Turn 90°, gather any crumbs, and pat down into a rectangle. Fold twice more and pat down in between. This helps form the flaky layers.

Roll dough on a floured surface to about 5/8 inch thick. Cut biscuits into 3-inch rounds, Try to cut them close together, because any biscuits you make from the gathered dough scraps won't rise as high.

Transfer biscuits to the parchment lined baking sheet. Make a slight indent in the top of each biscuit with your thumb. Brush the tops of biscuits with the additional buttermilk. Bake in the preheated oven until golden brown, about 12-15 minutes.
Sausage Gravy
Sausage Gravy
Ingredients
3

tablespoons

butter

1

lb.

tube breakfast sausage, hot or mild

1/3

cup

all-purpose flour

1/2

teaspoon

salt, plus more as needed

2

teaspoons

freshly cracked black pepper, plus more as needed

1/8

teaspoon

cayenne pepper (optional, especially if you use hot sausage)

3 ½-4

cups whole

milk, warmed slightly in microwave
Instructions
Heat the butter in a dutch oven or large, heavy bottomed saucepan over medium-high heat until foaming. Add the sausage and brown, breaking it up with a wooden spatula as it cooks, until the meat is starting to brown, about 5 minutes.

Reduce the heat to medium. Sprinkle the flour over the sausage and mix it well to coat the crumbled sausage meat. Season with the salt, pepper, and cayenne. Cook for another minute or two, stirring often.

Gradually stir in the warm milk, scraping up any brown bits. Bring to a simmer, stirring occasionally until thickened. If the gravy is too thick, just thin it out with more milk. Taste the gravy and season with additional salt and pepper as needed.
To Serve
Pull freshly baked biscuits in half and ladle the sausage gravy over the top. Serve piping hot.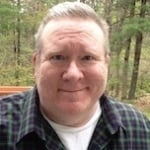 Edward Higgins is a freelance writer, artist, home chef, and avid fly fisherman who lives outside of Portland, Maine. He studied at Skidmore College and Harvard University. His article 10 Best Edible Insects appears in the 2020 Farmers' Almanac.