3 Winning Sweet Potato Recipes That Will Make Your Mouth Water
Looking for a new way to serve up sweet potatoes? The results from our 2021 recipe contest are in and these 3 dishes are winners. Give them a try!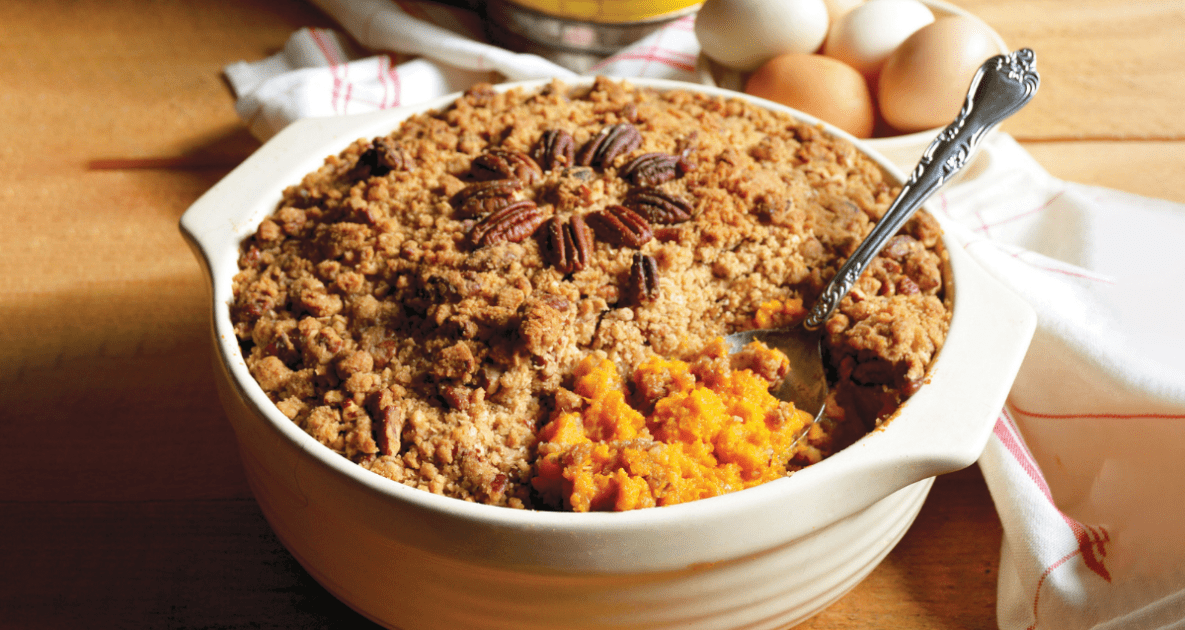 In the 2021 edition of the Farmers' Almanac, we asked readers to submit their favorite original sweet potato recipes for our annual Recipe Contest. Sweet potatoes had to be the main ingredient (and cooks had to be non-professional chefs). The following three recipes were our judges' top picks out of more than 100 entries. If you're looking for a new way to serve up sweet potatoes, these recipes are sure to please.
First Place—$250 Winner
Audrey Alfaro – Boise, Idaho
Sweet Potato Pecan Crisp
Ingredients
8-10

sweet potatoes

1/2

cup

sugar

2

eggs, beaten

4

tablespoons

unsalted butter , softened

1/2

cup

evaporated milk

1/2

teaspoon

nutmeg

3/4

teaspoon

salt

1

teaspoon

cinnamon

1

teaspoon

vanilla
Topping:
1

stick

unsalted butter, softened

1 1/2

cups

light brown sugar

1 1/2

cups

all-purpose flour

1 1/2

cups

pecans, chopped

3/4

cup

quick-cooking rolled oats

3

tablespoons

canola oil

1 1/2

teaspoons

cinnamon

3/4

teaspoon

salt
Instructions
Preheat the oven to 350°F degrees. Line a baking sheet with foil and coat with cooking spray. Prick the potatoes with a fork and place them on a baking sheet. Bake until tender, about 1-1.5 hours. While potatoes are cooling, grease a 9×13-inch glass baking dish or pan. Set aside.

When the potatoes are cool enough to handle, cut them in half and scoop or squeeze out insides into a large bowl. Mash with a potato masher or hand mixer until smooth. Mix in sugar, eggs, butter, evaporated milk, nutmeg, salt, cinnamon, and vanilla. Blend thoroughly and spread into prepared dish.

For the topping, add all of the ingredients into a medium bowl. With a pastry blender or your fingers, combine until the mixture resembles coarse crumbs.

Sprinkle the crumb topping over the sweet potatoes and bake at 350°F for 30-35 minutes or until topping has lightly browned. Let the casserole sit for 5 minutes before serving.

Notes: To prepare ahead of time, make the sweet potato filling a day or two before needed. Spread into a prepared baking dish, cover, and keep refrigerated. You may also pre-make the topping, cover, and refrigerate it. To bake, let casserole sit at room temperature for 30 minutes; then sprinkle on topping and bake as directed.
Second Place – $150 Winner
Alex Johnson – Clearwater, Florida
Drunken Sweet Potato Tacos With Pickled Red Onions And Pineapple Salsa
Ingredients
Ingredients for the drunken potatoes:
2

small

sweet potatoes or 1 large – peeled, diced into small pieces

1-2

cans

of beer

1

medium

yellow onion, sliced

3

cloves garlic, minced

1-2

jalapenos, deseeded and diced into small pieces

1

tablespoon

of olive oil

½

tablespoon

salt

½

tablespoon

black pepper

1

tablespoon

cumin

1

tablespoon

chili pepper

1

tablespoon

cayenne

1

tablespoon

garlic powder

1

tablespoon

onion powder

Queso fresco

Tortillas – corn or flour, your choice
Ingredients for the pickled onions:
1

red onion, cut into thin slices (julienned)

¾

cup

of vinegar

¾

cup

of water

⅛

cup

of sugar

⅛

cup

of salt
Ingredients for the pineapple salsa:
¼

pineapple, diced into small pieces

¼

red bell pepper, diced into small pieces

¼

red onion, diced into small pieces

1

clove

garlic, minced

¼

bunch cilantro, minced

½

lime, juiced

1-2

pinches salt
Instructions
To make the drunken sweet potatoes:

Peel and finely dice the sweet potatoes. Place into a medium stockpot and add the beer, reserving ¼ cup. Bring to a boil and simmer until the sweet potatoes are fork-tender. Drain the sweet potatoes and set aside.

In a medium sauté pan, heat a tablespoon of olive oil over medium heat. Add sweet potatoes and sauté until slightly crispy. Add yellow onions, garlic, and jalapenos. Sauté until onion and garlic become fragrant. Add seasonings and stir to coat. Cook for 3-5 minutes.Deglaze pan with reserved beer and stir until liquid is gone.

To make the pickled red onions:

Julienne the red onion and place into a medium-sized mixing bowl. In a small stockpot, combine the remaining ingredients. Bring to a boil and stir to dissolve salt and sugar. Once boiling, remove from heat and pour over red onions.

To make the pineapple salsa:

Combine all of the ingredients in a small mixing bowl and salt to taste.

To dress tacos:

Use a small tortilla (flour or corn) to layer sweet potato, pickled red onion, and pineapple salsa, and then top with crumbled queso fresco.
Third Place—$100 Winner
Lisa Benoit – Cookeville, Tennessee
Sweet Potato Chipotle Biscuits
Ingredients
Biscuits:
2 -1/4

cups

all-purpose flour, divided

1

tablespoon

baking powder

1/2

tablespoon

salt

1/2

tablespoon

sugar

1/4

teaspoon

ground cinnamon

1/8

teaspoon

chipotle powder

1/2

teaspoon

chipotle powder

1

cup

(cooked sweet potato), mashed and cooled

1/2

cup

very cold (or frozen) butter, diced into very small cubes or grated

1/4

cup

buttermilk
Glaze:
1/3

 cup

melted butter

1/2

teaspoon

maple syrup

1/4

teaspoon

lime juice

1

teaspoon

lime zest
Breakfast Biscuit (You will need the following for each sandwich):
1

fried 

egg

1 2

ounce fried chorizo patty

1

slice

American cheese

1

teaspoon

pepitas
Instructions
Preheat oven to 450°F. Line a baking sheet with foil and coat with cooking spray.

Whisk 2 cups of flour, baking powder, salt, sugar, chipotle powder, cinnamon, and nutmeg together in a large mixing bowl.

Add cold mashed sweet potato and mix until combined. Add cold butter and buttermilk. Mix until combined. Mixture will be flaky, but will come together when kneading.

Dust a flat surface with the remaining ¼ cup of flour and turn out biscuit dough. Lightly roll out the dough until 1 inch thick, incorporating flour from the surface. Lightly knead about 3 times to build layers into biscuit dough. Dough should be about 1 and 1/2 inches thick.

Using a 2-inch round biscuit cutter or a glass that has been dipped in flour, cut each biscuit, cutting straight down then up; no twisting. Repeat until all dough is used up.

Place each biscuit on the prepared pan, leaving space for the biscuits to spread. Mix together ingredients for the glaze and spread about 1/2 teaspoon over each biscuit.

Bake for 18-21 minutes. Remove from oven and let sit for 10 minutes before removing from pan.

Assemble. Cut each biscuit in half horizontally. Add 1 chorizo patty, 1 slice of cheese, and egg to the bottom half. Top with remaining biscuit half. Serve immediately.

Serving ideas: Top with diced avocado and pickled jalapenos.
Congratulations to all our winners!
With Special Thanks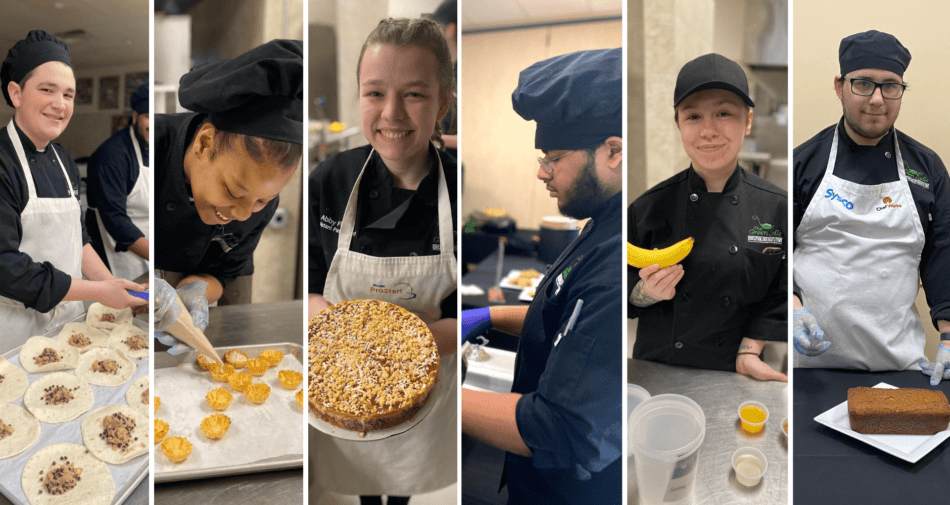 Farmers' Almanac extends a special thanks to Green Ladle Culinary Arts School of Lewiston, Maine, for lending us their aspiring student chefs to prepare each of the final recipes for judging. And to the Lewiston Regional Technical Center students who photographed the winning dishes.
Be sure to check out the 2022 recipe contest to see what the special ingredient is!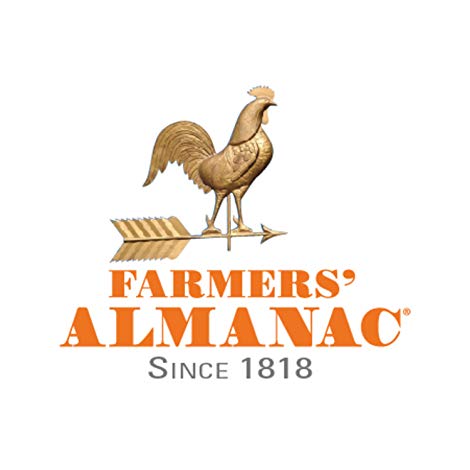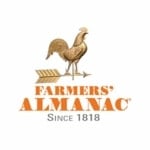 Keep Exploring