Thanksgiving Leftover Recipes — Get Creative!
These recipes will help you use up those leftovers in high culinary style!
Check out these delicious Thanksgiving leftover recipes. They may in fact make you wish there were even more leftovers in the refrigerator!
Turkey Enchiladas
Ingredients:
1 1/2 cups onions, chopped
5 tablespoons butter
2 cups cooked turkey, shredded
1 4-oz. can green chili peppers, chopped
1/4 cup all-purpose flour
1 teaspoon ground coriander
3/4 teaspoon salt
2 1/2 cups chicken broth
1 cup sour cream
6 oz. Monterey jack cheese, shredded
1 package flour tortillas
Directions:
Preheat oven to 350° F. Cook onion in 2 tablespoons of butter, until clarified. In a large bowl, combine onions, turkey, and green chili peppers. Set aside. Melt 3 tablespoons butter, and stir in flour, coriander, and salt. Add chicken broth. Bring to a boil, stirring occasionally. Remove from heat and add sour cream and 1/2 cup of shredded cheese. Stir 1/2 cup of the sauce mixture into the turkey mixture. Place 1/4 cup of the turkey mixture into a flour tortilla and roll it up. Repeat until the mixture is gone. Place the tortilla rolls in a neat line inside a greased baking dish. Pour remaining sauce mixture over the tortillas and bake uncovered for about 25 minutes.
Thanksgiving Harvest Pie
Ingredients:
1 9" deep dish refrigerator pie crust
1 cup leftover chopped or shredded turkey
½ cup leftover mashed potatoes
1/3 cup gravy, divided
3 tablespoons whole cranberry sauce or 1/4 cup whole cranberries
½ cup green bean casserole
1 cup leftover stuffing
½ cup shredded white cheddar cheese
¼ teaspoon black pepper
Thyme sprigs for garnish
Directions:
Preheat oven to 400ºF.  Spread mashed potatoes at bottom of pie crust. Add the turkey, and dot spaces with the cranberry sauce (or cranberries if using). Drizzle with half the gravy. Layer remaining ingredients (except cheese) and drizzle with the remaining gravy. Sprinkle pie with shredded cheese. Bake for 20-25 minutes. Remove from oven and let stand for 1 minute. Garnish with thyme sprigs and black pepper. Slice and serve while warm.
Leftover Turkey Pot Pie is another great idea. Simply replace the chicken in this recipe with turkey.
Turkey Chili
Ingredients:
2 cups chopped onion
4 garlic cloves, chopped
1 cup chopped green pepper
1/4 cup olive oil
2 35-oz. cans stewed tomatoes, crushed
2 15-oz. cans black beans, drained
2 tablespoons tomato paste
3/4 cup chicken broth
2 tablespoons chili powder
1 tablespoon ground cumin
1 tablespoon dried hot red pepper flakes
1 teaspoon dried oregano
1 tablespoons salt
1/2 teaspoon black pepper
4 cups cooked turkey, shredded
Shredded cheddar cheese (optional)
Sour cream (optional)
Directions:
In an 8-quart pot, cook the onion and green pepper in olive oil over medium-high heat, stirring occasionally, about 5 minutes, until the onion begins to brown. Add the garlic, chili powder, cumin, and red pepper flakes and cook, stirring continuously, for another minute. Add turkey, broth, beans, tomatoes, tomato paste, oregano, salt, and pepper. Reduce heat to low and simmer, uncovered, for an hour. Top with shredded cheddar cheese and/or sour cream.
Ultimate Leftover Sandwich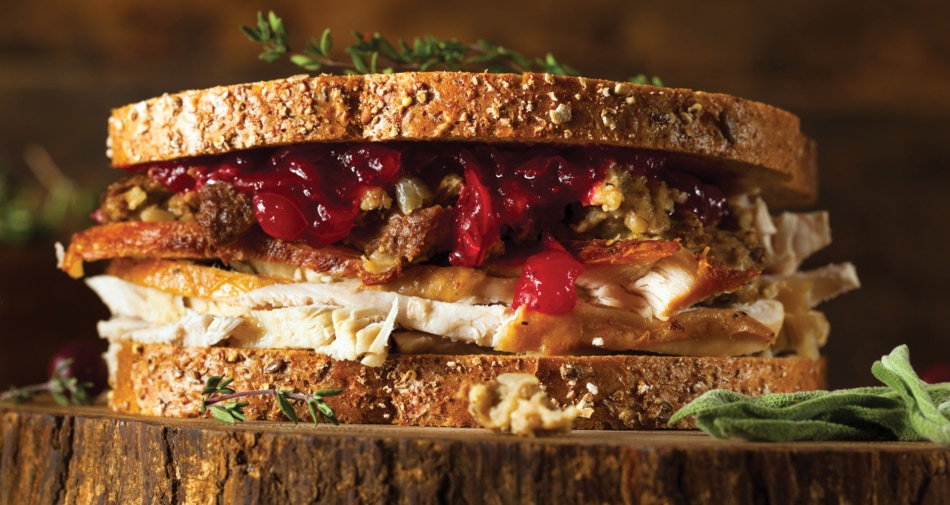 If you're not yet tired of turkey sandwiches, be sure to try this mouthwatering recipe.
Join The Discussion
What is your favorite thing to make with Thanksgiving leftovers?

Jaime McLeod is a longtime journalist who has written for a wide variety of newspapers, magazines, and websites, including MTV.com. She enjoys the outdoors, growing and eating organic food, and is interested in all aspects of natural wellness.