Winter Spirit: A Weather Folklore
The Ojibwe believed winter came in the form of a white-haired old man. Learn more!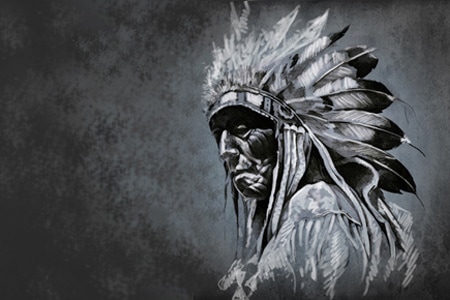 Long before modern science began to understand the processes that create our weather, people made up their own explanations. Many of these accounts were fantastic in nature, with evil or benevolent gods, monsters, and spirits controlling the elements. In this series, we'll explore some of these ancient myths and share the science behind them. Weather + mythology = weather-ology!
Some weather myths are full-blown stories with a cast of characters and packed with drama. Consider, for instance, the kidnapping of Persephone, or the slaying of Baldur. Other myths are sparser on detail, but no less rich for it. One of the most common mythical tropes is to personify weather phenomena.
One such personification is Peboan, the winter spirit of the Ojibwe, the nation of native Americans that once surrounded Lake Superior.
Each year, they said, the spirit of winter, who was described as an old man, would walk across the land. Wherever he stepped, the Earth turned hard as flint. His long locks of white hair would drag behind him, covering everything. Birds flew, and animals hid, from his cold gaze. His icy breath made the streams stand still.
Peboan ruled the land for a time each year, until Seegwin, the spirit of spring, came to take his place.
Of course, today we know the cause of the cycle of seasons is the tilt in the Earth's axis. As the planet revolves around the Sun, its northern and southern hemispheres take turns soaking in the majority of the Sun's light and heat. During the part of the year when the northern hemisphere is inclined toward the Sun, that part of the Earth enjoys summer weather. The days grow longer, and the temperatures grow warmer. As time goes on, and the Earth continues its journey around the Sun, the southern hemisphere gets its proverbial day in the Sun. Things warm up down there, while temperatures grow colder and days get shorter in the northern hemisphere. Snow and brutal winds follow.
Despite knowing all this, it's easy to understand the draw of the Ojibwe's more poetic explanation. After all, even today, we still talk about "Old Man Winter."

Jaime McLeod is a longtime journalist who has written for a wide variety of newspapers, magazines, and websites, including MTV.com. She enjoys the outdoors, growing and eating organic food, and is interested in all aspects of natural wellness.