Zoodles: A Tasty Way To Get Your Veggies
Your favorite garden veggie transforms into a delicious pasta alternative called zoodles! They're super nutritious with zero carbs—see how easy they are to make!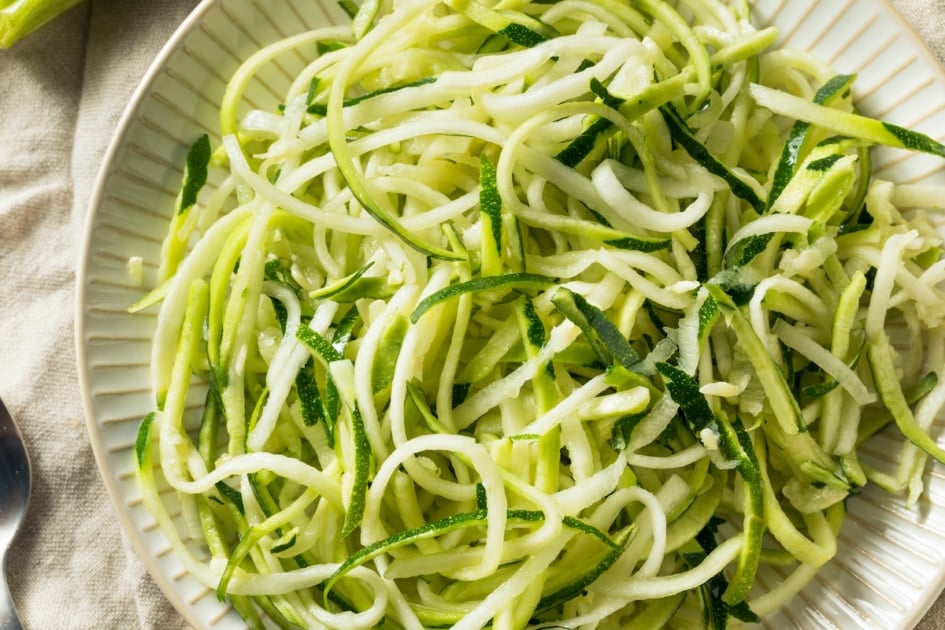 Whether you are trying to revolutionize your diet or simply increase your vegetable intake, it might be time to go against the grain and talk about zoodles, a healthier alternative to pasta without all the carbs.
What Are Zoodles?
Zoodles are a portmanteau of "zucchini" and "noodles" – zoodles! Many clever names have been associated with this trendy way to prepare zucchini: zusketti or zuttuccine. Whatever name you use or however you prepare it, zoodles may just be your new favorite way to eat zucchini. They're a great way to swap out carbs in the dishes you crave while increasing your daily veggie intake. And, for parents of picky eaters, zoodles may be their ticket to getting kids to eat something green.
Zucchini is the most popular of the summer squash varieties and is a staple at most farmers' markets during warmer months. And it's a prolific producer in your garden. Plus, it's low in calories and boasts loads of nutrition. It serves as a good source of vitamin C, while also being rich in antioxidants, such as lutein, zeaxanthin, and manganese. The dietary fiber in zucchini helps lower cholesterol and promotes healthy digestion. In addition, the magnesium and potassium found in zucchini help reduce the risk of heart attacks and strokes while also lowering blood pressure.
How Do You Make Them?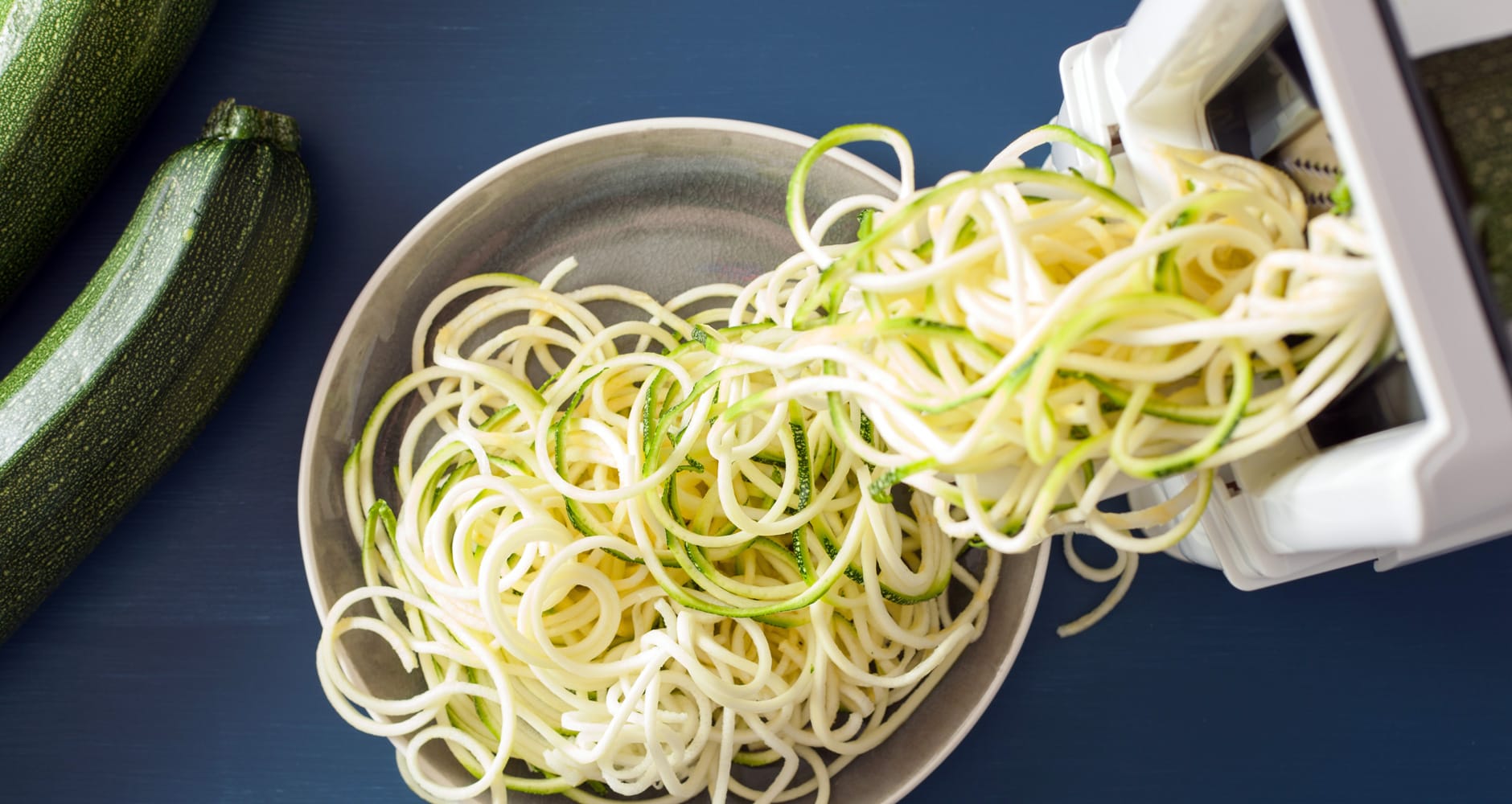 Zoodles are typically prepared using a gadget called a "spiralizer," and there are a host of kitchen gadgets out there designed to get the job done, transforming your zucchini into noodle form. Spiralizers create long noodles allowing you to spin them onto your fork.
No Spiralizer?
Although the spiralizer is the easiest and fastest way to make zoodles, you can try these ideas, courtesy of the FoodCharlatan:
Use a potato peeler. You'll get thin ribbons that you can stack and slice lengthwise into zoodles.
Use a mandoline with the julienne blade to get thin strips.
Cooked or Raw?
The debate rages on as to whether zoodles should be cooked or raw in recipes. The good news is they can be eaten cooked or raw, whichever you prefer. Many home cooks find zoodles get soggy when cooked. The trick is to cook them fast. Sauté them in a hot pan with olive oil for a few minutes. This will cook them through enough, taking the "raw" taste out of them, without turning them to mush.
You can also "sweat" the zoodles in an oven: place the prepared raw zoodles on a cookie sheet lined with paper towels and sprinkle them with salt. Put them into a 200º F oven for 30 minutes until the paper towels have absorbed most of the moisture of the zucchini. Wrap the zoodles in the paper towels and gently squeeze the remaining liquid out. This will prevent your dish from becoming too watery.
However you choose to make your zoodles, they will surely change the way you eat vegetables. Try one of these tasty recipes to join the zoodle revolution!
Zoodles with Pesto Recipe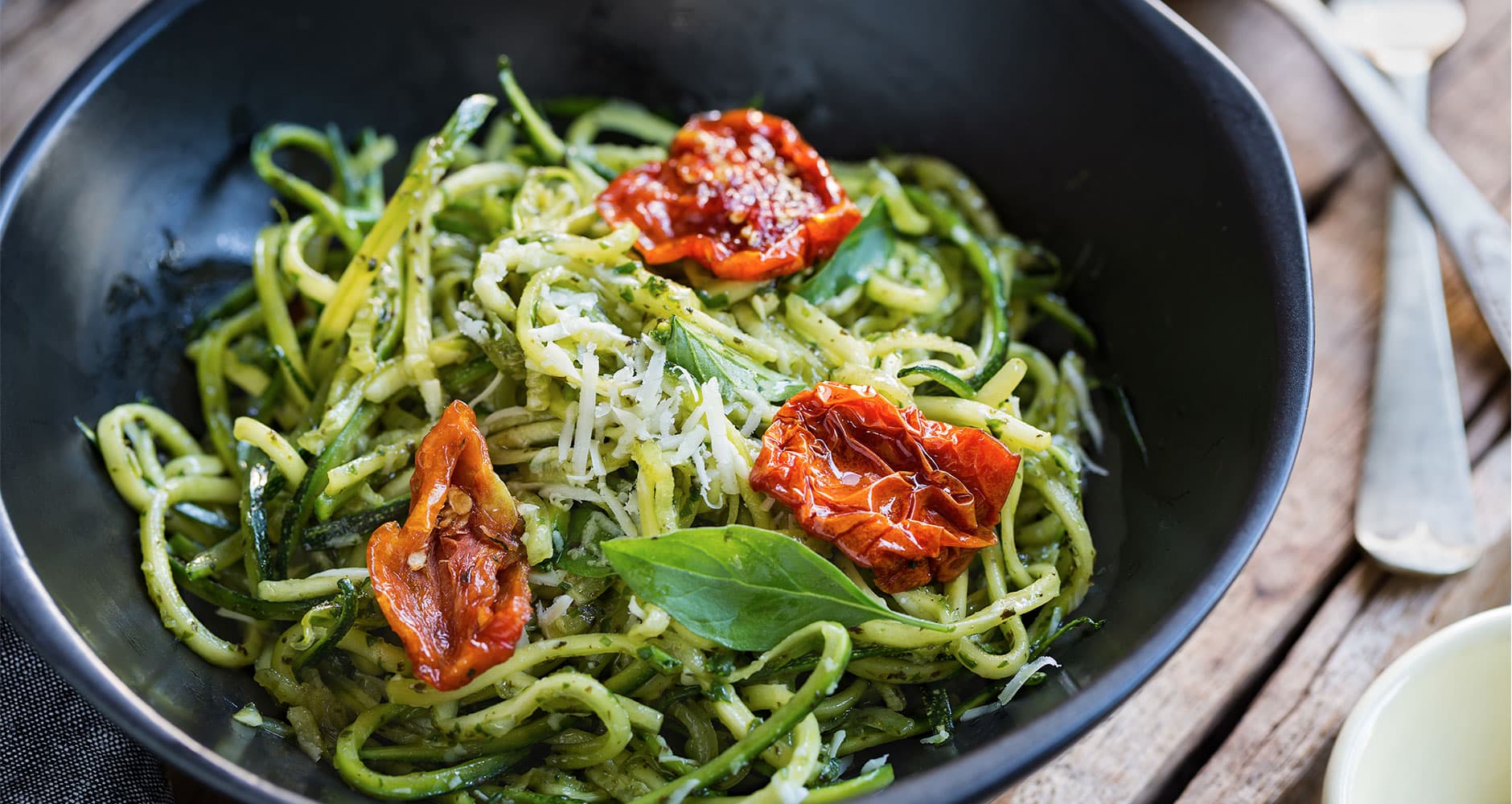 Zoodles with Pesto Recipe
Ingredients
4

small zucchini, ends trimmed

2

cups packed fresh basil leaves

2 

cloves garlic

1/3 

cup

olive oil

2

teaspoons

fresh lemon juice

1/4 

cup

freshly grated Parmesan cheese Salt and pepper, to taste, Halved cherry tomatoes, grape tomatoes, or sundried tomatoes, optional
Instructions
Directions:

Create zoodles from the zucchini using your preferred method (above).

Combine the basil and garlic in a food processor and pulse until coarsely chopped. Using a steady stream, slowly add in the olive oil while the food processor is still on. Scrape the sides of the processor and add the lemon juice and Parmesan cheese and pulse until blended. Add salt and pepper to taste.

Toss cooked or raw zoodles with pesto until well coated. Top with tomatoes if using.
Shrimp Scampi Zoodles Recipe
A quick, and lightened-up version of a traditional dish.
Shrimp Scampi Zoodles Recipe
Ingredients
1

tablespoon 

olive oil

1 

small onion, chopped

4

cloves garlic, minced

1

teaspoon 

Sriracha sauce, or other hot sauce of your choice

1

lb. 

cooked shrimp

1

cup

cherry tomatoes, cut in half

2

large zucchini

1

cup

chicken broth Juice from half a lemon

1/2

cup

of grated Parmesan cheese
Instructions
Prepare noodle strands and set aside.

In a large skillet, heat olive oil and sauté the onion and garlic until soft. Next, add the hot sauce, chicken broth, and lemon juice. Mix in the shrimp and cherry tomatoes and stir, cooking for a couple of minutes until shrimp are opaque. Season with salt and pepper.

Add the zucchini noodles and toss. Cook for an additional minute or two and then remove from the heat. Top your dish with green onions and Parmesan cheese.

When preparing your next pasta dish and are looking for something on the lighter side, consider zoodles.

Natalie LaVolpe is a freelance writer and former special education teacher. She is dedicated to healthy living through body and mind. She currently resides on Long Island, New York, with her husband, children, and dog.