What's So Special About Ramps?
It's spring, and that means many will be foraging for the delicacy known as ramps. But what exactly are they? We explain and provide 3 recipes!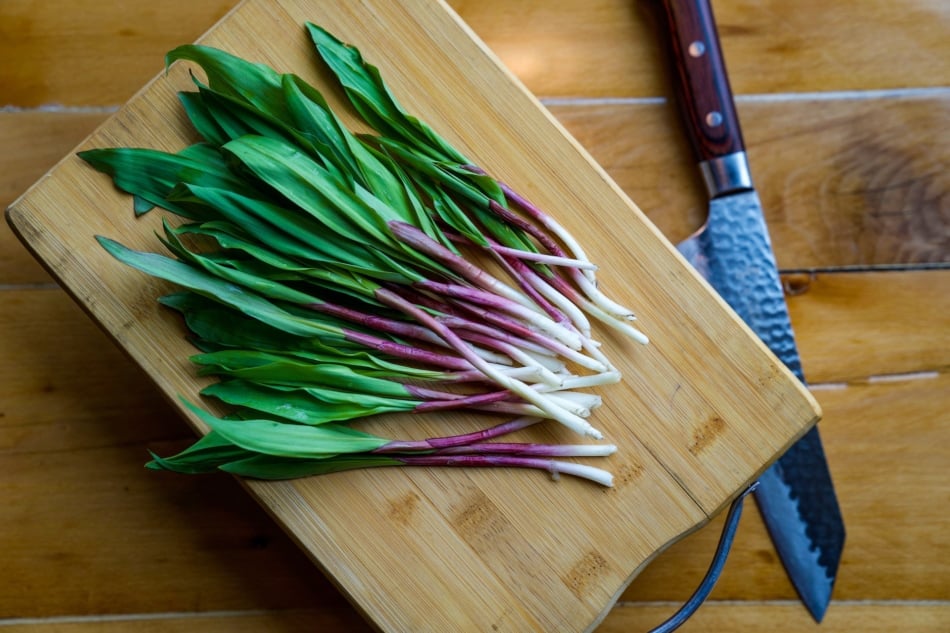 Ramps. Unless you're from Southern Appalachia, the name probably conjures up highway interchanges or skateboarding. Those who are familiar with wild ramps, though, will know that those images couldn't be farther from the reality of this pungent plant.
What Are Ramps?
Also known as spring onions, ramsons, wild leeks, wood leeks, and wild garlic, ramps (Allium tricoccum) are a member of the allium family, which includes garlic and onions. The perennial wild onion grows in early spring and is a much sought after favorite of wild foragers.
They grow throughout the eastern half of the United States and Canada and are popular in the local cuisine of many states and provinces.
Ramps are easy to distinguish from other wild onions by their broad, smooth, leaves, which are light green in color, sometimes with deep purple tints. The stalks appear similar to those of scallions, though they often widen at the root for a slightly more bulbous appearance. Both the stalks and leaves are edible.
Ramp festivals, to celebrate the return of the plant, are a common occurrence in southern Appalachia, where they are most abundant. Farther north, in Canada and New England, they are scarcer and have been commercially exploited to the point where they are now protected. In these areas, many of the ramps people eat are cultivated.
Are Ramps Healthy?
Like all onions, ramps are rich in vitamins A and C, selenium, and chromium. That makes them good for teeth, bones, eyesight, the immune system, the cardiovascular system. They contain antioxidant properties that fight off harmful free radicals in the body.
Here are a few recipes to help you enjoy this wild spring delicacy: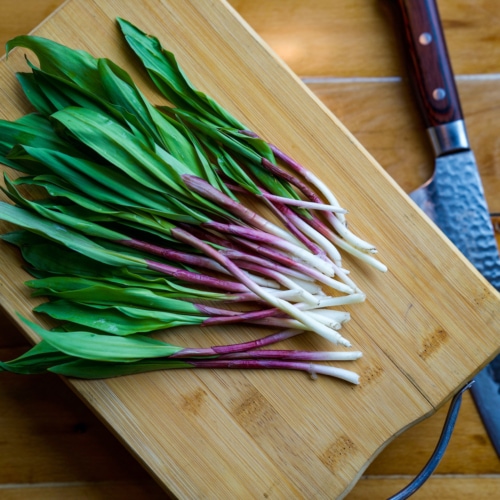 Grilled Ramps and Asparagus Recipe
Ingredients
20

ramps

1

bunch thin

asparagus

3

tablespoons

extra-virgin olive oil

coarse salt and ground pepper
Instructions
Trim and discard the root hairs and the tough ends from the asparagus.

Drizzle with olive oil, season with salt and pepper, and toss to evenly coat.

Arrange ramps and asparagus on the grill in a single layer.

Grill until hot and grill marks appear, about 1 minute per side.

Transfer to a platter and serve.
Pickled Ramps
Ingredients
1

tablespoon

coarse salt, plus more as needed

2

lb.

ramps, cleaned, green leaves trimmed to 1" past white and red parts

1

cup

white wine vinegar

1

cup

sugar

1

teaspoon.

mustard seed

2

teaspoons

mixed peppercorns

½

teaspoon

caraway seed

½

teaspoon

fennel seed

½

teaspoon

cumin seed

1

bay

leaf
Instructions
Bring a 4-quart saucepan of salted water to a boil.

Add ramps and cook until slightly tender, about 30 seconds.

Using a slotted spoon, place ramps in an ice bath.

Drain and place them in a sterilized 1-quart glass jar with airtight lid.

Pour out the boiling water and combine 1 tablespoon salt, 1 cup water, vinegar, sugar, mustard seed, peppercorns, caraway seed, fennel seed, cumin seed, and bay leaf in the saucepan.

Bring to a boil over medium-high heat and cook, stirring, until the sugar dissolves, about 2 minutes.

Pour mixture over the ramps and seal the jar.

Let cool to room temperature and refrigerate for up to 2 weeks.
Potato Ramp Skillet Soup
Ingredients
6

slices

bacon

4

cups

chopped ramps, including leaves

4

to 5 cups

diced red potatoes

3

tablespoons

flour

4

cups

chicken broth

1

cup

heavy cream

Salt and pepper, to taste
Instructions
In a large skillet, fry bacon until crispy, then set aside.

Add ramps and potatoes to the skillet and fry on medium-low heat until ramps are tender.

Sprinkle with flour and stir until the flour is absorbed.

Stir in chicken broth and simmer until potatoes are tender.

Stir in the cream and heat.

Add salt and pepper to taste.

Top with bacon and serve.

Jaime McLeod is a longtime journalist who has written for a wide variety of newspapers, magazines, and websites, including MTV.com. She enjoys the outdoors, growing and eating organic food, and is interested in all aspects of natural wellness.