When is Hanukkah in 2022?
Hanukkah (or Chanukah) begins at sundown on Sunday, December 18, 2022, and ends the evening of Monday, December 26, 2022 (8 nights). Hanukkah means "dedication" and is a holiday that honors and celebrates one of the first recorded fights for religious freedom and the success of this fight. It commemorates the re-dedication of the Holy Temple in Jerusalem following the Jewish victory over the Syrian-Greeks in 165 BCE.
Once the Jewish people regained their temple, they wanted to purify it by burning ritual oil for 8 days, but they only had enough oil for one night. The miracle of this holiday was that the oil lasted for the full 8 days, thus burning candles and celebrating for 8 days is part of this holiday.
Why Is Hanukkah on Different Dates Each Year?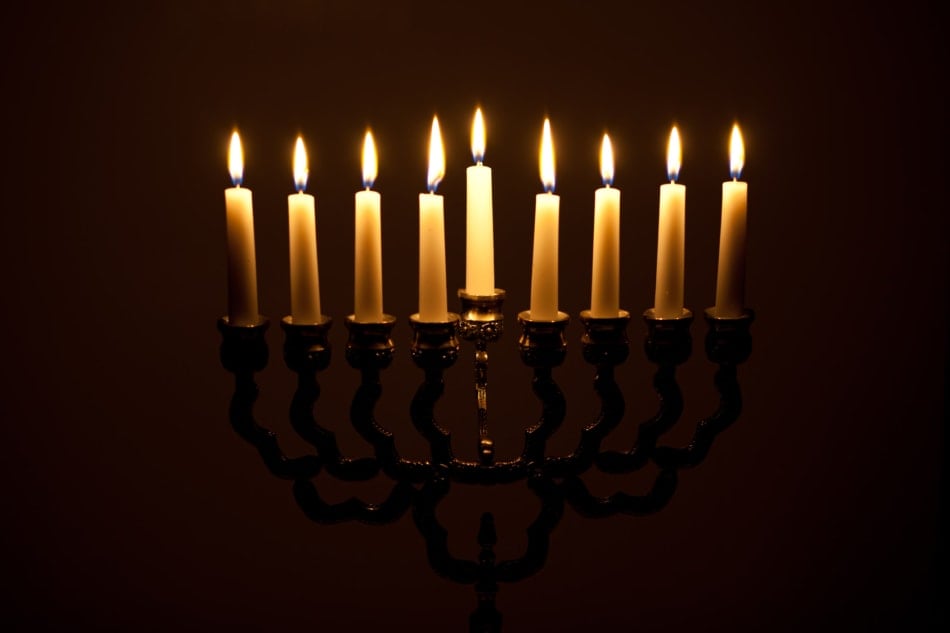 Hanukkah's dates vary because it is always on the 25th day of the month of Kislev in the Hebrew calendar, a lunar calendar. These dates don't always line up with our Gregorian calendar, but usually occur anywhere from late November to late December.
The Hebrew calendar is largely used to determine the dates of Jewish holidays and which sections of the Torah should be read.
Upcoming Hanukkah Dates
| | |
| --- | --- |
| 2022 | Begins at sundown Sunday, December 18; ends at sundown Monday, Dec 26 |
| 2023 | Begins at sundown Thursday, December 7; ends at sundown Friday, Dec 13 |
| 2024 | Begins at sundown Wednesday, December 25; ends at sundown Thur., Jan 2, 2025 |
3 Interesting Facts About Hanukkah
Hanukkah, while widely observed, especially in the U.S., isn't what the Jewish religion terms a major holiday. However, some Rabbis argue that the only reason it's a "minor" holiday is because this holiday does not require major restrictions on people's behavior and eating habits. These major holidays include Passover, Rosh Hashanah, Yom Kippur, and Sukkot.
There are actually nine candles on the Menorah, (also referred to as Hanukiah) even though there are only eight days of Hanukkah. The ninth candle is called the "shammus," and is supposed to be at a different height than the others. This candle is lit first and used to light the other candles.
Gift-giving isn't a traditional part of this holiday, but it has become more common in recent years, especially in areas where Jewish families have a lot of contact with Christians who celebrate Christmas. The only traditional gift of Hanukkah is "gelt," small amounts of money.
Traditional Hanukkah Recipes
For many, the holiday season is all about family and food. If you celebrate Hanukkah, these are the traditional recipes served.
Best-Ever Potato Latkes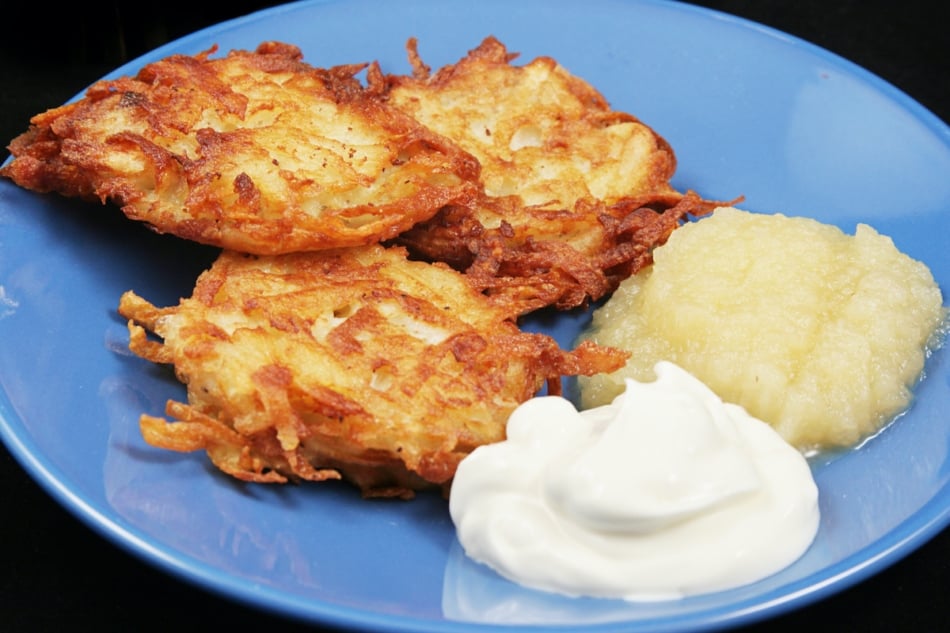 It seems potato latkes, or pancakes, have become tastefully ubiquitous! And though found in savory and even sweet variations throughout the world in such places as Austria, Switzerland, Czechoslovakia, Poland, Russia, Sweden, and Germany (topped with blueberries, sugar and cinnamon), the latke tradition has long been associated with the Jewish holiday of Hanukkah.
The Jewish holiday commemorates a military victory over the Greeks, celebrating their right to practice Judaism. When the Jews entered their desecrated temple in order to rededicate it, they found they only had enough oil to keep the Eternal Light lit for one day. The story goes that the oil miraculously lasted 8 days until they were able to press more oil. Therefore, the holiday is 8 days long and we eat foods that are fried in oil, like latkes and doughnuts.
While there is still debate everywhere, over which they should be served with, applesauce vs. sour cream, there is no denying that latkes are an essential part of a Hanukkah tradition.
Ingredients:
3 medium Russet potatoes (1 lb.)—the best choice of potato for latkes!
3 beaten eggs
1/4 cup matzo meal
1/4 shredded onion
1/4 cup vegetable oil
Applesauce and/or sour cream as garnish
Directions:
Peel and coarsely shred potatoes (should have 3 cups). As you work, put shredded potatoes in a bowl of cold water to prevent darkening and to ensure a crispy latke. Drain. Rinse and drain again thoroughly. Make sure the shredded potatoes and onions are very dry before mixing.
In a mixing bowl, stir together eggs, potatoes, matzo meal, onion, 1/4 teaspoon of salt, and 1/4 teaspoon of pepper. In a 12″ skillet heat 2 tablespoons of oil over medium-high heat.
Work in batches: For each latke, drop 2 tablespoons of the potato mixture into the hot oil. Press to flatten slightly. Fry 2 – 3 minutes or till edges are crisp; turn. Fry 2 – 3 minutes more (or longer depending on your desired doneness). Drain on paper towels. Cover; keep warm.
Repeat with remaining mixture, adding oil to skillet as needed. Serve warm with applesauce and/or sour cream. Makes 24 latkes.
Sweet Potato Latkes
Ingredients:
1 ½ lbs. sweet potatoes (orange flesh variety)
1 medium onion
2 large eggs
3/4 teaspoon salt
1/4 teaspoon freshly ground white pepper
5 tablespoons flour
1/2 cup vegetable oil (approximately)
Directions:
Peel sweet potatoes and grate using grating disc of food processor or large holes of hand grater. As in the recipe above for basic potato latkes, squeeze out all possible liquid in towel. Grate onion and add to sweet potatoes. Transfer to large bowl. Beat eggs with salt and pepper and add to potato mixture. Add flour and mix well.
Heat 1/4 cup oil in a heavy 10- to 12-inch skillet, preferably non-stick. Fill 1/4-cup measure with sweet potato mixture, pressing to compact. Turn out in mound into skillet. Quickly form 3 more mounds. Flatten each with back of spoon so each cake is about 2 1/2 to 3 inches in diameter, pressing to compact.
Fry over medium heat for 3 minutes. Turn carefully with 2 slotted spatulas and fry the second side for about 2 and 1/2 minutes or until golden brown and crisp. Drain on paper towels. Stir the potato mixture before frying each new batch and add a little more oil to the pan. Serve hot. Makes 4 servings.
Sufganiyot (Little Donuts)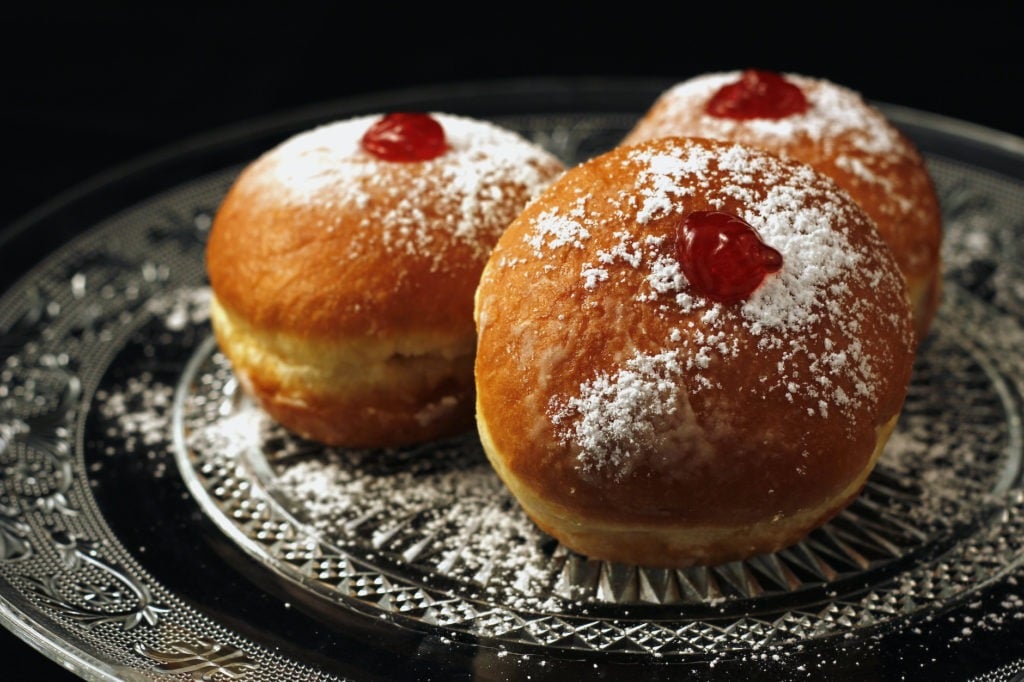 In Israel, sufganiyot—or little donuts—are said to have become even more popular than traditional latkes, sold street side and made or served with jelly, chocolate sauce, or honey to sweeten the holiday even more.
Ingredients:
1 package dry yeast
4 tablespoons sugar
3/4 cup lukewarm milk
2 ½ cups all-purpose flour
pinch of salt
1 teaspoon ground cinnamon
2 eggs, separated
2 tablespoons butter or margarine, softened
apricot or strawberry preserves
vegetable oil
sugar for coating
Directions:
Mix together yeast, 2 tablespoons of the sugar, and the milk. Let sit to make sure it bubbles. Sift the flour and mix it with the remaining sugar, salt, cinnamon, egg yolks, and the yeast mixture.
Knead the dough until it forms a ball. Add butter or margarine. Knead some more until the butter is well absorbed. Cover with a towel and let rise overnight in the refrigerator.
The next day, roll out dough to a thickness of 1/8 inch. Cut dough into 24 rounds with a juice glass, or any object about 2 inches in diameter. Take 1/2 teaspoon of preserves and place in center of 12 rounds. Top with the other 12. Press down at edges, sealing with egg whites. Crimping with the thumb and second finger is best. Let rise for about 30 minutes.
Heat 2 inches of oil to about 375 degrees F. Drop the doughnuts into the hot oil, about 5 at a time. Turn to brown on both sides. Drain on paper towels. Roll in sugar.
Traditional Poppy Seed Cookies (Mohn Kichlach)
Known as mohn kichlach (or kichelach, which means "cookies" in Yiddish), they date back to 16th century Eastern Europe where they were a staple in Jewish homes. Traditionally, poppy seed cookies are served any time of year, but most make them for Hanukka celebrations. They're perfect with coffee, tea, or a tall glass of cold milk. Enjoy!
Ingredients:
1 cup melted butter or margarine, cooled slightly
1 cup sugar
2 eggs
3 cups flour
1 teaspoon baking powder
1 teaspoon vanilla
1/2 cup poppy seeds
1 teaspoon almond extract
Directions:
Preheat oven to 350ºF.
Using an electric mixer on medium speed, beat melted butter or margarine and sugar together in a large mixing bowl. Add eggs, one at a time, beating after each one.
Add baking powder and 1 cup of the flour, beating until smooth. Then, using a wooden spoon, stir in 1 cup flour and vanilla, and mix well. Then add the remaining cup of flour and rest of ingredients, mixing well.
Chill dough in the refrigerator in wax paper at least 2 hours. Then divide dough into 4 parts.
Roll out each piece of dough one at a time between 2 pieces of wax paper, approximately 1/8″ thick. Use cookie cutters to cut out shapes—traditional dreidel, Star of David, or Chanukah-themed cookie shapes make them festive. Gather up scraps of dough and re-cool in the refrigerator, then roll out scraps and continue cutting out cookies until you've used up all the dough.
Carefully transfer cookies to a greased cookie sheet or one lined with parchment paper, leaving some space in between, and bake for 12-15 minutes. Remove from the oven and cool, slightly, then transfer to a wire rack. The cookies will harden as they cool.
Cookies may be stored in an airtight container at room temperature for the 8 days of Chanukah, if they last that long! Or freeze them, well wrapped, for up to 2 months.