10 Tips For Camping On A Budget
If you're looking for a budget-friendly vacation, why not try camping? Camping allows you to reconnect with nature, sleep under the stars—even in the backyard— and helps relax and recharge your mind. The challenge is to keep the cost down while still enjoying an epic adventure. Here are 10 tips for planning your next camping vacation without breaking the bank.
Low-cost Camping Gear
Undoubtedly, camping equipment can be extremely expensive. But unless you are planning on hiking multiple days in rugged, remote territory, there's no need to break the bank. Here are 5 tips to find good camping gear at reasonable rates.
1) Don't focus on name brands
Check local recreation stores for equipment that doesn't typically make it into the magazines, but will still do the trick. Search online for real-life reviews. Wondering what to pack? Here are the essentials.
2) Check discount outdoor sites
Whether it's used gear, discontinued lines or overstocked items, peruse online outlets for deals. REI, Steep & Cheap, Gear Trade, Sierra, backcountry.com and many other online stores have "garage sale" sections or deeply discounted sales throughout the year.
3) Buy at the end of the season
The best time to find excellent deals is at the end of the season. For instance, if you're looking for a new sleeping bag, check towards the end of the summer.
4) Shop locally at second-hand stores
With stores such as Play it Again Sports, it's possible to find lightly used gear at a fraction of its original cost. Thrift stores and garage sales can also be treasure troves for good gear.
5) Use Stuff from Home
When camping near your vehicle, you don't have to worry about the weight of the gear. This means you can use blankets and bedding from home, along with any kitchen gear you might need.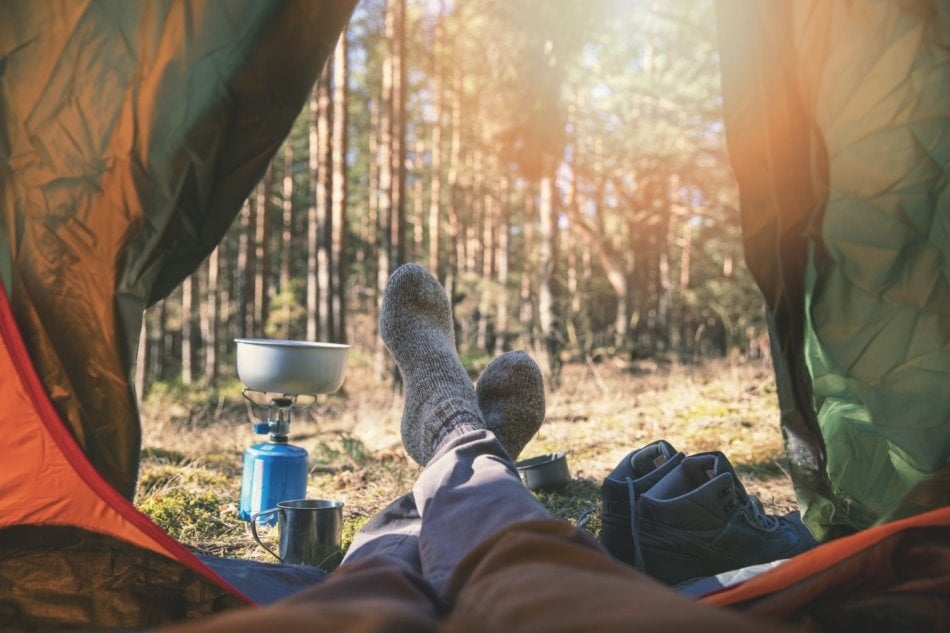 Free And Inexpensive Campsites
Memories are made by setting up a tent in the backyard and making s'mores over the campfire, but there are ample options for those who want more of an adventure:
1) City, County, and State Parks
Regional parks are often reasonably priced and sometimes have amenities such as restroom facilities, potable water and picnic areas. Search online or contact the local tourism board for available locations.
2) Camp for Free on Public Land
With over 170 national forests and grasslands, the United States Forest Service (USFS) offers a "dispersed camping" policy allowing visitors to camp for free, as long as campers follow a few guidelines such as setting up camp 100 feet from a stream or water source and using Leave No Trace principals. Contact your regional USFS office for recommendations on where to go, as well as any specific regulations, including bear safety precautions.
3) US Forest Service Campsites and Cabins
For federal lands, go to recreation.gov for one-stop searching for campgrounds and cabins (and fire lookouts) throughout the United States. The average cost for a campsite is typically $20 and cabins are as low as $45 a night, which is a steal considering their history and comfort, even when they are still considered rustic.
4) Camp Off-Season
Camping at national parks or even USFS campgrounds is fairly competitive during the summer, but for those who have the latitude to camp during the shoulder season, there is often a discounted rate and far fewer people. Keep in mind that facilities, such as restrooms, might be closed, but that only adds to the adventure.
5) Find a Spot on Someone's Property
Organizations such as Hipcamp connect campers and landowners who offer camping spots, as well as cabins and even glamping opportunities. Depending on the location, this is an excellent way to find great deals without the crowds of campgrounds.
Camping doesn't have to cost a lot to create lifelong memories. Now is the time to gather gear and make plans to embrace what nature has to offer.
Join The Discussion
Have you used any of these tips?
Share your experience with your community here in the comments below!

Amy Grisak is a freelance writer, blogger, and photographer specializing in gardening, local food, and stories about her home state of Montana. She enjoys sharing her experiences with self-reliant living and outdoor recreation. Her article on the "hugelkultur" gardening technique appears in the 2021 Farmers' Almanac. You can follow her topics on her site, AmyGrisak.com.