How To Make Flower Cookies
Try these delectable floral shortbread cookies developed especially for Farmers' Almanac by Must Love Herbs!
Looking for ways to celebrate spring? Try baking with flowers! They're beautiful and good for you too. Our good friend Lauren of Must Love Herbs created a special flower cookie recipe for Farmers' Almanac readers to enjoy! Lauren is an avid gardener, forager, and adventurer who lives in the Appalachian Mountains. Her ingredients are a part of 200-year-old family tradition that takes edible flowers to an artisanal level. Her recipe incorporates dried lotus and lavender petals. Learn about the health benefits of these fantastic flowers and how to bake with them below!
What Are Lotus Flowers?
For many cultures, lotus flowers are associated with rebirth. That's one of the reasons why they're a perfect ingredient to welcome spring! Often confused with water lily blossoms, lotus flowers are aquatic flowers that rise above the surface of the water and have rounded petals. There are two known species: one native to the US and another native to Southeast Asia. The American yellow lotus grows naturally in ponds and lakes as far north as Ontario and as far south as Texas and Florida, in Zones 4-11 (Do you know your Growing Zone?).
You may have seen lotus flowers before, but chances are you haven't eaten them, right? Surprisingly, lotus is often used in pastries. It tastes starchy, almost like a potato, but sweeter and crispier. It has great health benefits too. It's known for decreasing swelling, breaking down fat, and even killing cancer cells!
However, we do not advise that you forage for lotuses randomly. It is important to know the details of the environment and to be sure that you have identified a flower correctly before consuming it. If you don't have lotuses on hand, don't worry. You can make the cookies without it. You may also purchase dried lotus flowers online. Lauren buys organic blue lotus tea for her cookies.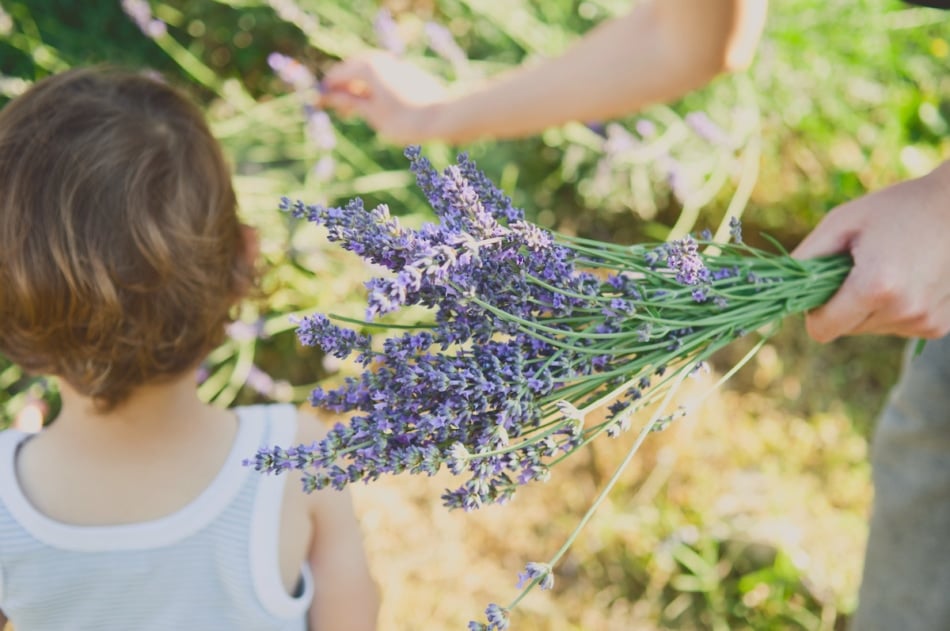 What Kind Of Lavender Can You Eat?
Most people assume that all lavender is safe to eat, but not all lavender is culinary. Some store-bought lavender has too much camphor in it, which could be toxic. Instead, look for "Rosea" English lavender, "White Ice," or "Lavandin" hybrid English lavenders.
Lavender is a great ingredient for cookies because it cuts through and lifts overall flavor in rich foods. If you are familiar with herbes de Provence, you may have experienced its uniqueness before. It tastes floral with a hint of mint and rosemary. As a medicinal herb, lavender is perhaps best known as a calming sleep aid. But edible lavender also has other important healing properties. It helps reduce anxiety, depression, and fatigue. It also improves skin health.
Who would have known that eating flower cookies could be so good for you?
We hope that you experiment with Must Love Herbs' cookie recipe below and learn new things along the way! When you're ready for more recipes, follow Lauren on Instagram @MustLoveHerbs and see what else she has cooking.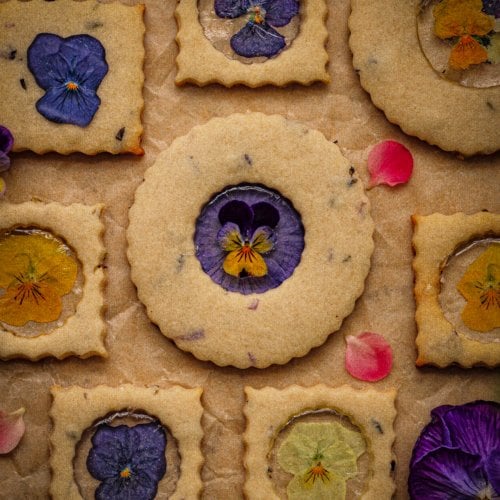 Pressed Flower Shortbread Cookies: Lotus Lavender
Ingredients
1

cup

unsalted butter at room temp.

1

cup

powdered sugar

2

tsp.

vanilla extract

3

cups

all-purpose flour

½

tsp.

coarse Kosher salt

2

tbs.

dried lavender

1

tbs.

dried lotus petals (roughly chopped)

¼

cup

cold whole milk
Instructions
In your stand mixer bowl add the butter, powdered sugar and vanilla. Mix on low until evenly incorporated. Turn mixer off. 

In a separate bowl combine the flour, salt, lavender and lotus. Turn your mixer on low and add the flour mixture in slowly until evenly distributed. Add the milk, then mix until the dough starts to stick together. It should be fully moistened but still slightly crumbly.

Turn the dough out onto a clean counter and use your hands to gently bring any loose bits together. Shape the dough into a disk and cover in plastic wrap. Refrigerate for a minimum of 30 minutes. 

Line a large baking sheet with parchment paper while the dough chills. 

Turn your chilled dough out onto a lightly floured work surface. Dust the top of the dough with flour as well as your rolling pin. Roll the dough out to approximately ¼" thick. 

Use your preferred cutters to cut out desired cookie shapes. If making a "window" style cookie make sure to cut out the center of the cookies as well with a smaller cookie cutter. If you are making a pressed flower cookie place the flowers on top of the dough and gently roll over them with your rolling pin to press them into the dough. 

Place each cookie 1-2" apart on the parchment lined baking sheets. Place the cookies in the fridge for an additional 30 minutes to chill before baking. 

Preheat oven to 350° while the cookies chill.

Bake the cookies for 10-12 minutes or until cookie are just set but the edges haven't began to darken yet. 

Cool the cookies for 10 minutes in the pan before transferring to a wire rack to finish cooling completely. 

For a window style cookie – lay your baked window style cookies out onto a clean piece of parchment paper. Place dried/pressed flowers in the center of each window.  Prepare the isomalt per the package instructions. Spoon a teaspoon (or more if needed) of the liquified isomalt into the center of each cookie. Work quickly and carefully before isomalt hardens. Allow to cool 20 minutes before attempting to remove cookies from parchment. Enjoy!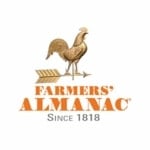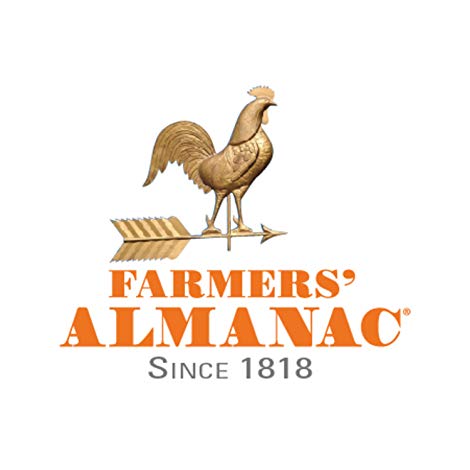 This article was published by the staff at Farmers' Almanac. Do you have a question or an idea for an article? Contact us!