What The Heck Is Delicata Squash?
What is this pinstriped squash and how is it prepared? Discover why delicata squash is gaining in popularity, and try this simple, yummy recipe!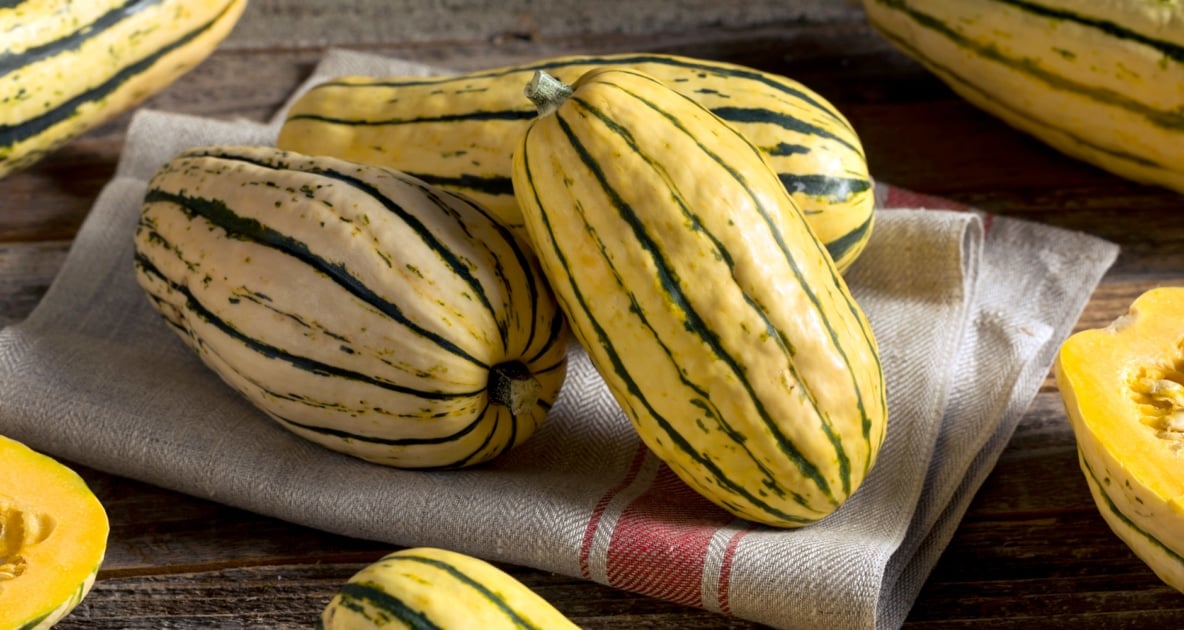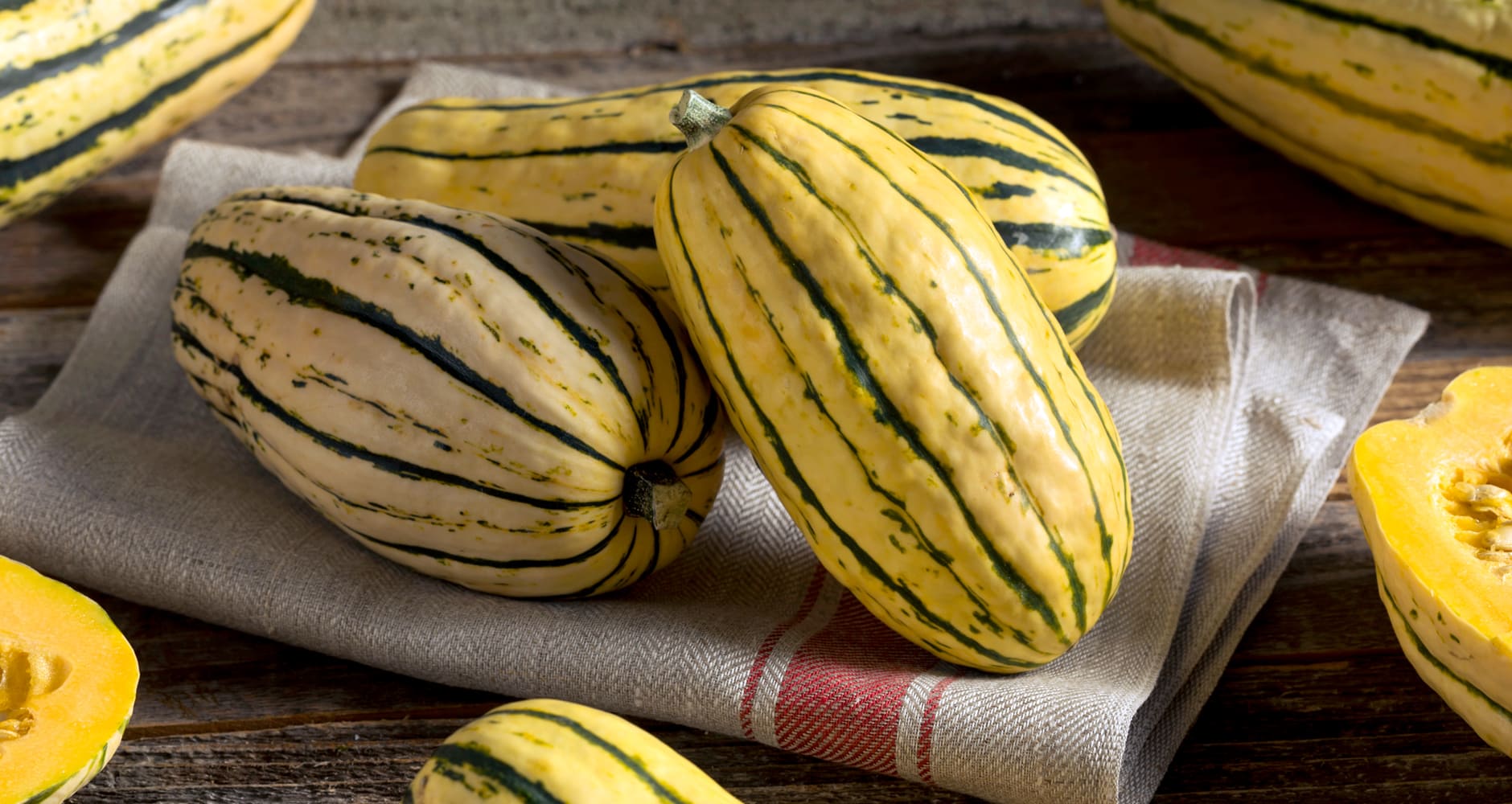 The latest variety of winter squash that's booming in popularity is delicata. You may have seen this butter-colored pinstriped squash popping up around the pumpkins and gourds at the market this season and wondered, what the heck is it? Is it ornamental or edible? Delicata squash (Cucurbita pepo)—also known as peanut squash, Bohemian squash, or sweet potato squash—is favored for its delicate, edible skin. No peeling required! So if you love the taste of butternut squash but don't like the hassle of peeling that hard, impossible rind, delicata squash may be your new favorite.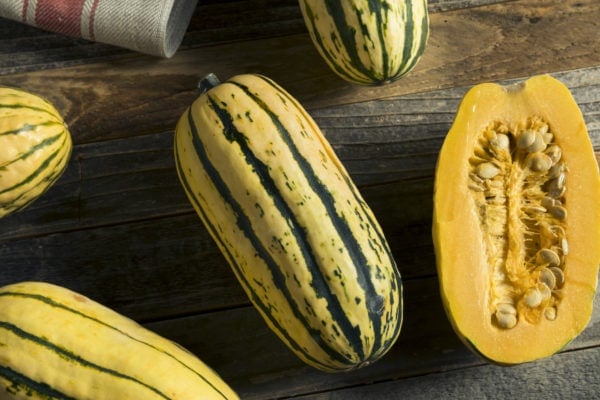 Although it's considered a winter squash, it is in the same family as yellow summer squash and zucchini.
But even if it requires no peeling, it has to be tasty, right? Delicata is not only attractive on your harvest table but it's so delicious as well. The creamy yellow flesh is wonderfully sweet, so you don't need to add much to enjoy it. And it's incredibly versatile—it can be stuffed and baked, steamed, oven roasted, microwaved, or sautéed. To prepare, slice it in half, and scoop out the seeds (which can be roasted just like pumpkin seeds).
Why The Sudden Popularity of Delicata?
Seeds for growing this variety have been available in the U.S. since the 1890s so why haven't we heard of this squash before? Delicata squash was highly prone to mildew diseases, and after the Great Depression, this variety seemed to be nonexistent. In the early 2000s, Cornell University's Department of Plant Breeding* bred an open-pollinated, non-hybrid variety resistant to typical squash diseases, and their results provided commercial food growers and markets with a hearty cultivar.
Delicata Squash Health Benefits
Not only is delicata squash pretty to look at, but it's also nutritious. It's a good source of potassium and dietary fiber, and contains magnesium, manganese, and vitamins C and B. But unlike most winter squash varieties, this squash is not as rich in beta-carotene.
Growing Your Own Delicata Squash
Delicata squash is typically grown in the summer season and harvested in the fall. With the modern disease-resistant cultivar, growing your own from seed is easy. Plant seeds outdoors after the last threat of frost has passed. Plant up to six seeds, one inch deep, in a small mound of garden soil. The squash is ready to harvest 100+ days after germinating. After picking, the squash must be cured for a week or two in a warm, dry place before use.
Storing Delicata Squash
Delicata squash has a shorter storage life than other winter squashes; it can be stored up to three months in a cool, dry place. Avoid refrigeration.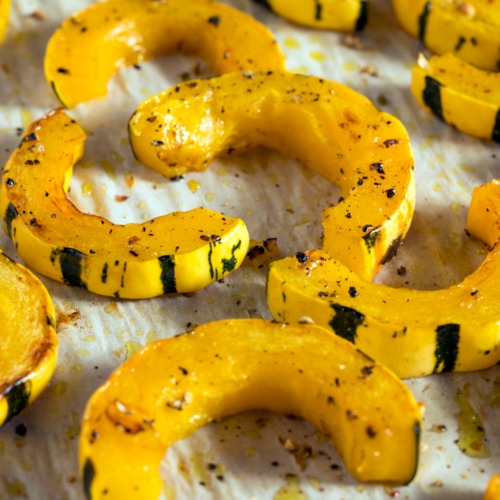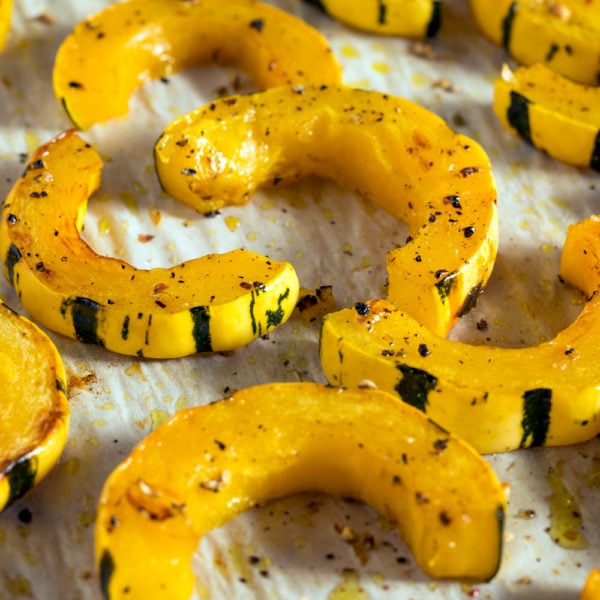 Roasted Delicata Squash Recipe
Crispy on the outside and creamy on the inside, this easy side dish will win anyone over with its simple and delicate flavors.
Ingredients
1

delicata squash, any size

Coconut oil or olive oil spray

Sea salt and pepper
Instructions
Wash squash and dry the squash. Halve the squash lengthwise and remove seeds with a spoon (save them for roasting!). Cut into ¼-inch-thick slices (no need to peel) using a mandolin or a large, sharp chef knife. Variation: You can also cut the squash in half crosswise, scoop out the seeds from each half, then cut into rings to preserve the circle shape. Note: The thinner you slice the squash, the crispier the rings will be.

Place rings in a single layer on a lined cookie sheet. Spray rings with oil and sprinkle with sea salt and pepper.

Broil on low until golden brown freckles appear. Flip over and let cook until golden brown freckles appear. Remove and serve immediately.
Notes
Have you seen delicata squash in your local markets? Give it a try and let us know how you prepared it.
*Do not confuse plant breeding with genetic engineering. This article explains the difference.

Deborah Tukua is a natural living, healthy lifestyle writer and author of 7 non-fiction books, including Pearls of Garden Wisdom: Time-Saving Tips and Techniques from a Country Home, Pearls of Country Wisdom: Hints from a Small Town on Keeping Garden and Home, and Naturally Sweet Blender Treats. Tukua has been a writer for the Farmers' Almanac since 2004.