Make Your Own Hydrating Spa Treatments
Cleopatra knew that milk baths and facials did wonders for the skin. Try these luxurious, spa-quality recipes that use inexpensive products from your pantry!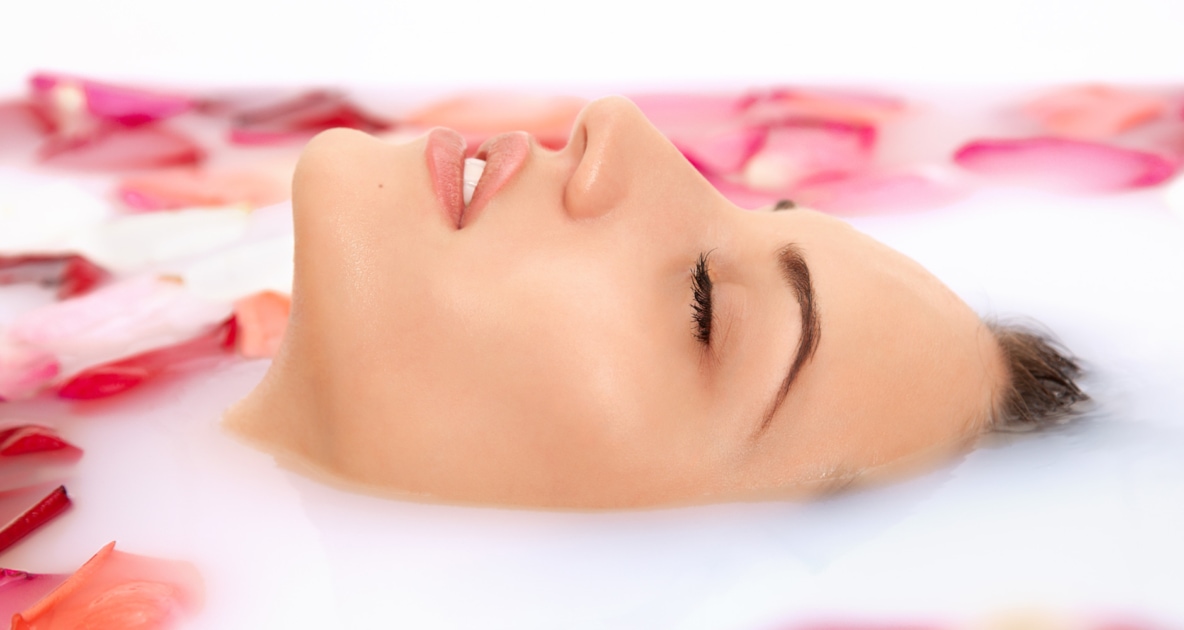 Ancient kingdoms of Rome, Persia, and Egypt indulged regularly in luxurious, hydrating milk baths. Each day your body is exposed to numerous environmental toxins which irritate and dehydrate your skin and deplete your natural oils. Take a cue from Cleopatra, the queen of milk baths, and take care of the largest organ in your body while you relax in the comfort of your own palace.
Goat milk is the perfect ingredient for spa-quality milk treatments. It's nourishing, cleansing, mildly exfoliating, and leaves skin silky smooth. Dried (powdered) cow or goat's milk can be used in these recipes; it's best to use whole milk as it adds natural skin-softening oils. If using nonfat powdered milk, you can add a few drops of almond, jojoba or extra-virgin olive oil to the mask or bath mixture. These ingredients are suitable for all skin types.*
Banana-Goat Milk Facial Mask
Wonderfully hydrating, moisturizing, and firming, this natural and simple facial treatment will richly nourish your skin. Goat milk nourishes and softens the skin while banana not only nourishes and moisturizes, but has a skin-tightening affect when used as a facial treatment. The following recipe yields one application. Apply as often as needed.
Ingredients:
¼ of a very ripe banana
½ teaspoon goat milk powder
Directions:
Mash the banana in a cup with a fork. Stir in the powdered goat milk and whip with a fork until smooth. Wash and gently scrub face clean. Rinse with water. While skin is still damp, apply a generous amount of the banana milk mixture to the face, lips, and neck. Recline (in a warm milk bath, recipe below) for 20 minutes. Remove banana facial with a wet washcloth only, no soap.
While the mask is hydrating and moisturizing your face, give the rest of your body some TLC by soaking in this luxurious goat milk honey bath.
Goat Milk Honey Bath
Moisturizing, hydrating, and your skin will feel silky smooth. The raw honey is hydrating and acts as a humectant, drawing moisture from the air to the skin. After soaking in this wonderful bath, you won't need to apply additional moisturizer, even after shaving your legs.
Ingredients:
¼ cup raw honey
⅛ cup goat milk powder
Directions:
Combine raw honey and goat milk powder in a cup and stir with a spoon. Fill your bathtub with warm water. Add the goat-milk honey mixture by the spoonful held under the running water as you fill the tub. This mixture tastes so delicious, like vanilla fudge. To maximize this indulgent experience, save a spoonful to eat while soaking. Climb in the moisturizing goodness of the milk and honey bath. Be sure to submerge up to the neck. Relax in the bathtub and soak for approx. 20 minutes.
Be good to your skin. Take the time to relax and enjoy these luxurious goat milk honey spa treatments often!
*If you have milk or dairy allergies, do a patch test on a small area of your skin first before applying any of these products.

Deborah Tukua is a natural living, healthy lifestyle writer and author of 7 non-fiction books, including Pearls of Garden Wisdom: Time-Saving Tips and Techniques from a Country Home, Pearls of Country Wisdom: Hints from a Small Town on Keeping Garden and Home, and Naturally Sweet Blender Treats. Tukua has been a writer for the Farmers' Almanac since 2004.