What's Up With The "Nog" in Eggnog? (Eggnog History and Recipes)
What is "nog" anyway? We have the interesting origins of this holiday drink, plus recipes to make your own!
Eggnog is one of those things, like fruitcake, that just seems to show up every year around Christmastime. And, like fruitcake, eggnog has gotten a bad rap, mainly from people who have only tried the overly sweet store-bought kind that comes in a carton. But eggnog has a rich history that stretches back much farther than the modern grocery store version. We've got some history and a few eggnog recipes to try!
A Drink For The Well-To-Do: The History of Eggnog
The drink we recognize as eggnog probably dates back to at least the 17th Century, during which time it would have been enjoyed by members of the upper classes, who could afford luxury items such as eggs, cream, and sugar. This iteration of the beverage was probably just one of many variants of posset, a medieval drink that combined hot milk and wine or ale. The contemporary practice of using rum likely originated during the colonial era in the United States, when the Caribbean-derived spirit was more readily available than alternatives from Europe.
Why "Nog"?
There is some controversy over the etymology of the name. Some say the word eggnog comes from noggin, a type of wooden mug used in the middle ages. Noggin was also a word for a type of beer, possibly derived from the other meaning, as the beer may have been consumed from a noggin and become linguistically paired with the vessel. Given that, eggnog would literally mean "egg beer."
Another possibility is that eggnog is simply an abbreviated version of the phrase "egg and grog" or "egg'n grog." "Grog" was a word used in colonial North America to describe any thick beverage, of which eggnog is definitely one.
Wherever the name came from, true, homemade eggnog is a sweet, creamy, decadent treat perfectly suited to the holiday season. In addition to it being a holiday tradition, indulging at this time of year is in our genetic makeup. Humans who live in regions with dramatic seasonal variation have always relied on rich, high-calorie foods to carry them through the cold, dark, food-scarce months of winter.
If your only exposure to eggnog is from a carton, do yourself a favor and try the real thing this year. You'll never go back!
Classic Eggnog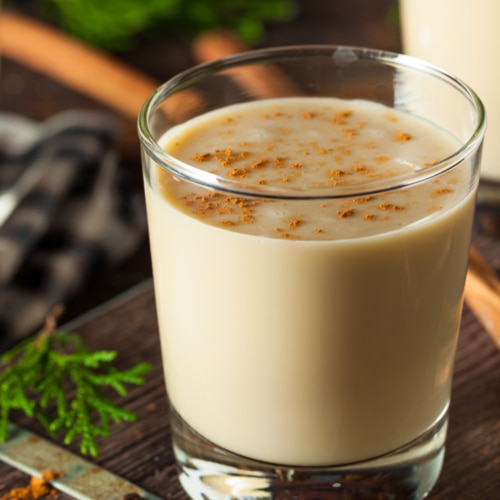 Classic Eggnog
Ingredients
Instructions
In a medium bowl, beat egg whites until they start to thicken.

Add 1 cup sugar, beat until thick.

In a second bowl, beat egg yolks and salt until thick.

In a third large bowl beat cream until it starts to thicken. Add 2 Tbsps sugar and vanilla. Then Add milk, rum, and brandy, beating continually.

Combine beaten egg whites with yolks and beat until mixed and thick.

Mix all ingredients and chill.

Serve with a sprinkle of freshly grated nutmeg on top of each glass and a cinnamon stick garnish.

If you are nervous about using raw eggs, there are many recipes that also use a cooking process. We like this one.
Vegan Eggnog
Vegan Eggnog
Ingredients
Instructions
Place the almond milk and macadamia nuts in the blender and blend on high until very creamy.

Add the nutmeg, cinnamon, vanilla and sugar and blend well.

Pulse in the rum and brandy and divide among four glasses.

Sprinkle with freshly grated nutmeg and garnish with cinnamon sticks.

For a nonalcoholic version, simply replace the alcohol with additional vanilla extract to taste, one additional tablespoon at a time, or use a nonalcoholic rum flavoring.
Notes
Use these basic recipes to experiment with different flavors of eggnog. It's easy to use a little flavored extract, or a flavored brandy or other alcohol, such as schnapps, to add favorite holiday flavors such as gingerbread or peppermint to your eggnog recipe. Or add some chocolate syrup or canned pumpkin. Let your imagination be your guide!

Jaime McLeod is a longtime journalist who has written for a wide variety of newspapers, magazines, and websites, including MTV.com. She enjoys the outdoors, growing and eating organic food, and is interested in all aspects of natural wellness.