Great Tips For Catfishing On A Budget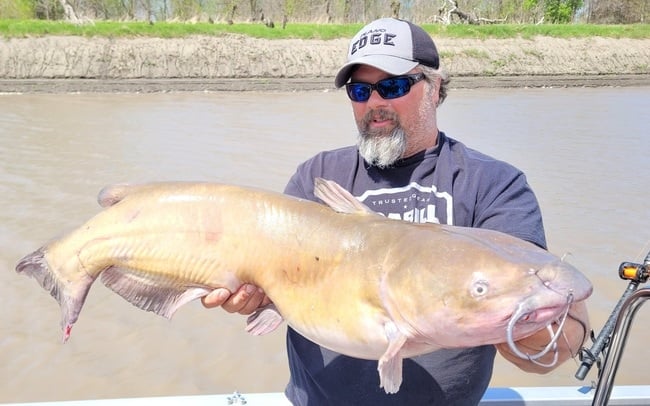 Catfish fight hard but are fairly easy to catch—and taste great! Catfishing has always been popular, but the sport has blasted to the forefront over the last decade. This may be due to the fact that social media has shown how exciting it can be and how huge catfish can get. Learn easy and inexpensive ways to fish from a catfishing expert. Read on.
Catfish are the third most targeted fish in the United States according to the US Fish and Wildlife Service. They can be caught all over the United States, but are very popular in the Southeast third of the country. However, they are growing as a preferred species all over the country, including many areas that were once completely off the radar such as: North Dakota, Montana, and even California.
Simple Setup
The basic setup is very simple and, as you grow into it, you can get a little more extravagant. Start with a seven or eight foot Ugly Stik Catfish Rod paired with an Abu Garcia baitcast reel. If you prefer a spinning reel, Abu Garcia spinning reels will also get the job done.
Twelve to thirty pound monofilament line is good, depending on the average size of catfish in your area. Hooks should be 2/0 to 8/0—again, depending on average fish size. There are many styles of sinkers available.
Whatever one you choose, the rule of thumb is to use as light as you can get away with and still stick the bait where you want it. This can be as little as one-half ounce in ponds to eight or more ounces in raging rivers.
Bait
It has long been said that catfish will eat anything rotten and stinky. That is not necessarily true but they will eat some crazy things. (Check out the strange list of things people have used for fishing bait in the links at the bottom of the page.) If you look at the bait shelf in the catfish section of a bait shop you will find many choices of smelly dips and pastes.
While the above mentioned bait will catch catfish, they are veracious predators and prefer fresh meat such as cut fish or amphibians. Natural baits of choice vary depending on what lives in your local area. For example, in the north, white suckers are great bait but they are cold water fish. Likewise in the south, shad are warm water fish and the preferred bait fish.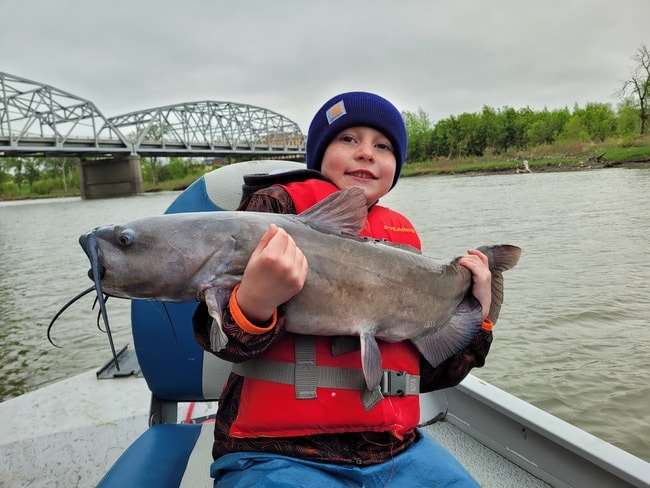 Simple Techniques
Most catfishing is done with the setup mentioned above. Simply find your fishing spot, hook on some bait, and cast out to wait for a fish to bite. If you don't get a bite in 20-40 minutes reel up and move to another spot.
As you fish, you will get more in tune with the patterns of these fish as well as spots that are more populated and better to cast your fishing rod in.
River catfish live in either holes or near current in some other element of structure. Find an element of structure—whether it be a hole in the middle of the river, a fallen tree, rock pile or something else that can block current or make a good hiding place—that will hold catfish. Cast near the structure to try to draw them out.
Catfish can be caught day or night. Many shore anglers prefer to be under the stars because catfish like to actively feed at night and will come shallow making them easier to catch from shore. Fishing from a boat makes you more mobile so you can get to where the fish are much easier and pinpoint them where they are any time of day.
Once you find and catch your catfish, you now have an opportunity for a wonderful meal. Please keep selective harvest in mind when keeping a fish for your dinner. These fish are slow growers and it can take many years or even a couple of decades to grow a trophy catfish. Keep a few smaller fish that are below four or five pounds. Photograph and release the bigger ones for others to enjoy.
Catfishing is becoming mainstream. They are fairly easy to catch, put up a formidable fight, great to get kids started and are great table fair.
Keep Learning
Kayak Fishing: How To Get Started
14 Strange Things People Have Used For Bait
Fishing Calendar (Suggested Days To Fish)
5 Tips For Fishing In The Rain
How To Catch Striped Bass From Shore
Join The Discussion!
Have you ever been catfishing before?
What is the strangest kind of bait you've used?
Do you have any questions about catfishing?
Do you have another name for catfish? We've heard some call them "hornpaw," and others "mudcat."
Let us know in the comments below!
Captain Brad Durick is a nationally recognized catfishing guide on the Red River of the North, seminar speaker, and author of the books Cracking the Channel Catfish Code and Advanced Catfishing Made Easy. For more information go to https://redrivercatfish.com