Have You Seen A Hummingbird Moth? Here Are 10 Facts That Will Amaze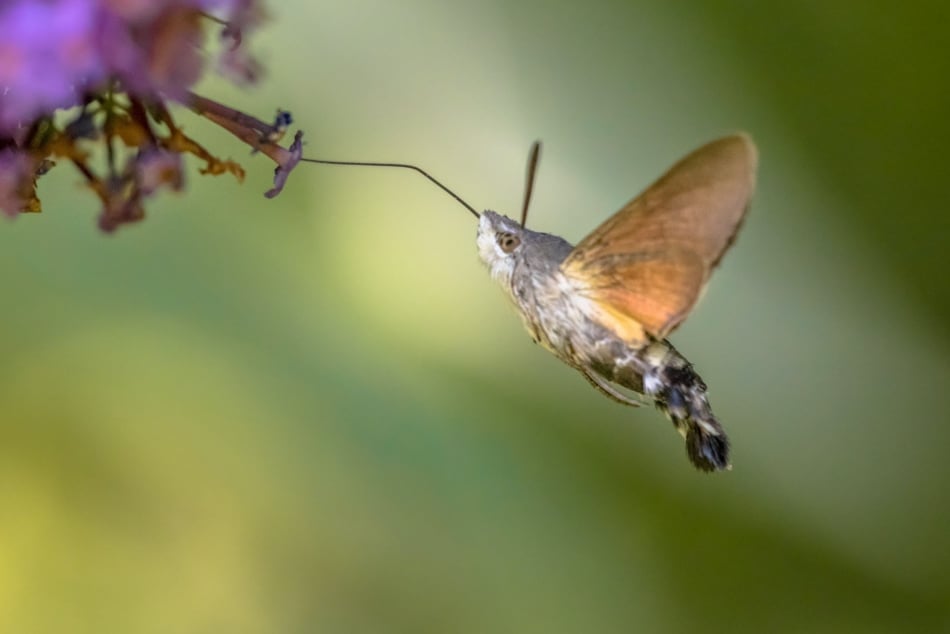 Is it a bird? Is it a bug? Whatever it is, this wing-beating creature is sure to cause you to do a double take! Meet the hummingbird moth. It's one of the most fascinating insects (yes, it's an insect!) to roam the garden. Here are 10 facts that will amaze you:
10 Fascinating Facts About The Hummingbird Moth
1) Hummingbird moth is the common name used for the genus Hemaris, which include: Hummingbird Hawk-Moth, Sphinx moth, Common Clearwing Hummingbird moth, Snowberry Clearwing Hummingbird moth, Five-Spotted Hawkmoth, and White-Lined Sphinx.
2) Loathed by gardeners, the tomato or tobacco hornworm caterpillar that you see munching on your tomato plants will eventually morph into a Hawk moth, or Sphinx moth, each a type of hummingbird moth.
3) The moths featured in the 1991 film, The Silence of the Lambs were death's head hawk moths, a type of hummingbird moth (of the Sphingidae family of moths, in the genus Hemaris). According to IMDb, the moths were treated like celebrities. "They were flown first class… and had special living quarters."
4) The fast-moving hummingbird moth has a rapid wingbeat up to 70 beats per second (depending on the species), enabling it to fly up to 12 mph.
5) Instead of a beak like a hummingbird, it has a long tongue-like proboscis that rolls out of its coiled tube to reach the nectar deep inside flowers. Its tongue is about double the length of the moth's body.
6) It has large, menacing eyes that appear to warn predators to keep their distance. Also protecting it from potential predators is its close resemblance to a bird, instead of a bug.
7) They range in length from 2—2.5 inches long and are covered in gray hair that resembles feathers, with white, rust or brown markings or variations. Their wingspan ranges from 2 to 6 inches depending on the species. The Snowberry Clearwing moth has clear wings.
8) The hummingbird moth can be found not only in North America, but in Europe, Africa, and Asia. They have a wide range in the US from Texas and Florida to Maine and Alaska.
9) After mating, the female moth lays eggs on plant leaves such as honeysuckle, cherries, hawthorns, and viburnums. The hatched caterpillar feeds on its host bush or vine.
10) These moths actively feed on flower nectar in the daytime, but you may also get a glimpse of one feeding at dusk on night-blooming flowers such as the evening primrose or night blooming jasmine.
Join The Discussion!
Have you seen one of these fascinating creatures?
Where are you based? Please share your photos with us here.
Tell us about your experience in the comments below!
Related Articles
Learn More About Hummingbird Moths
10 Amazing Facts About Hummingbirds
A Winter Forecaster: Wooly Bear Caterpillars (Isabella Tiger Moth)
How To Treat A Browntail Moth Rash

Deborah Tukua is a natural living, healthy lifestyle writer and author of 7 non-fiction books, including Pearls of Garden Wisdom: Time-Saving Tips and Techniques from a Country Home, Pearls of Country Wisdom: Hints from a Small Town on Keeping Garden and Home, and Naturally Sweet Blender Treats. Tukua has been a writer for the Farmers' Almanac since 2004.