How To Keep Your Mums Thriving All Season
Check out these helpful tips on how to buy, care for, and keep mums growing beautifully year-round.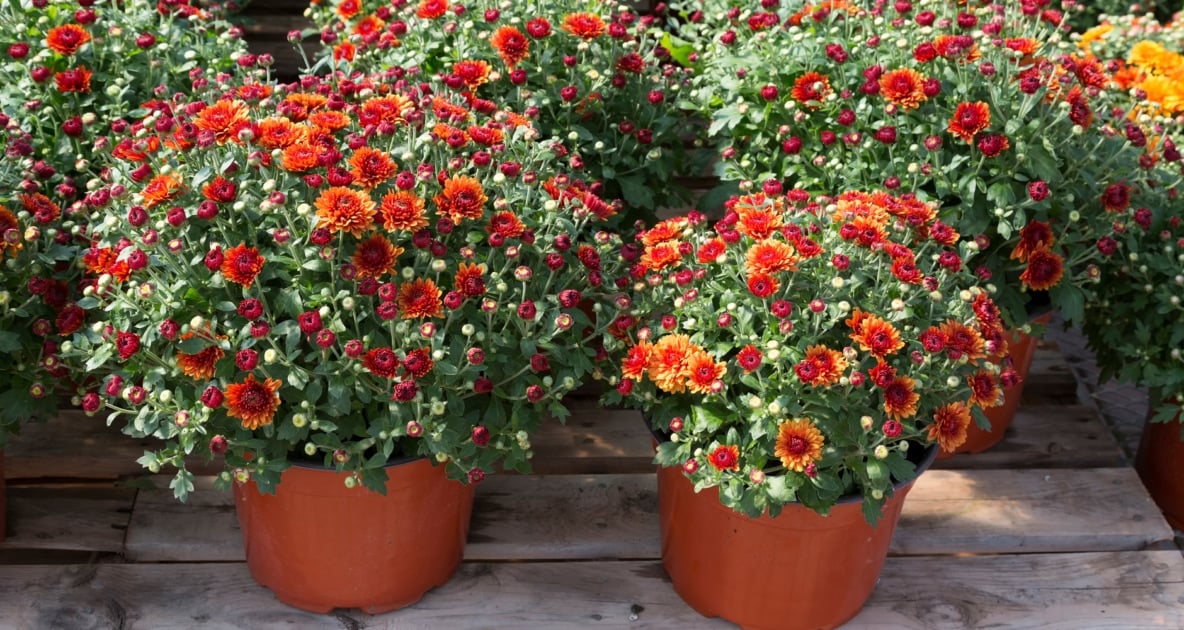 Chrysanthemums, or "mums," are a favorite variety of fall flowers. They come in a beautiful range of colors synonymous with the season. Proper care of your potted mums ensures an abundant and vibrant floral display. Here are some helpful tips to keep yours gorgeous and long-lasting:
Easy Mum Care Tips
Shopping for Mums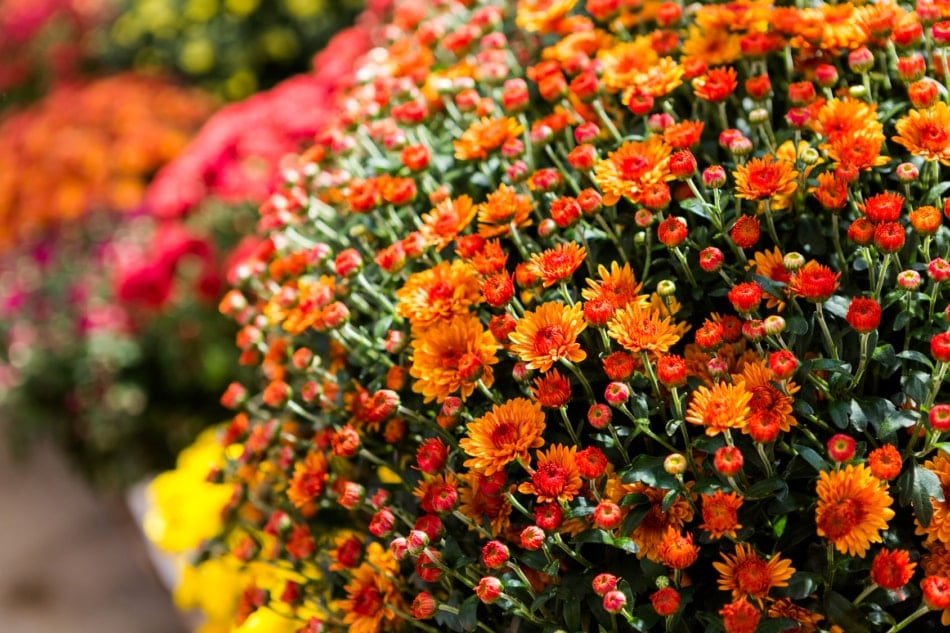 When choosing mums the ones labeled 'hardy mums' rather than the florist mums, which can't tolerate harsh winters. To distinguish the difference, note that hardy-type mums form a rosette of leaves at the crown when they stop blooming. If this rosette doesn't appear, don't bother setting the plant into the garden.
Look for plants with healthy foliage with no wilting leaves or blooms, and without signs of insect damage or disease.
The plant's soil should be moist and not dry.
Purchasing locally-raised mums from a farm or nursery ensures that the varieties grown are well suited to your growing region. This is especially important if you will be transplanting the mum outdoors in your flower bed or displaying the potted plant outside. Garden or hardy mums endure cooler outdoor temperatures better than florist mums, which are raised as indoor plants only.
When choosing potted mums for an event that will occur within a few days, purchase plants brimming with colorful flowers.
For long-term enjoyment, select a plant that is loaded with unopened, tight flower buds, instead of one in full bloom. The buds will bloom over the course of several weeks, providing a continuous showing of beautiful flowers.
To keep your outdoor space filled with flowering mums all season, select an assortment of varieties that bloom at different times from late summer through mid-fall.
Looking for something different? Besides the traditional, decorative overlapping petals, mum varieties are also available with different shaped blooms. You can choose exotic florist varieties with a pompon or single, daisy-like flower for indoor use, or as a short-term autumnal outdoor decoration, as these cultivars aren't able to withstand cold weather.
Did you know chrysanthemums are the birth flower of November? Read about the folklore associated with them here!
Caring for Potted Mums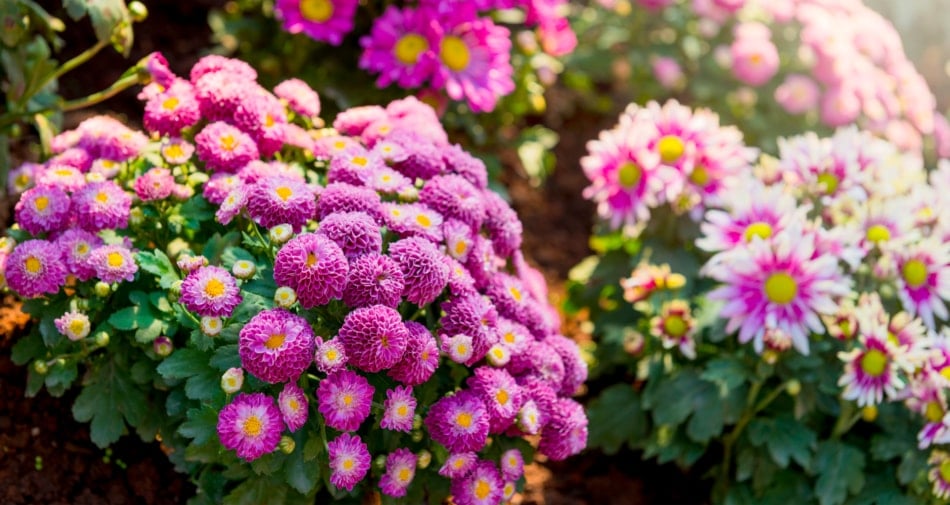 Once you've determined the perfect spot to display your mum, place a tray beneath the flower pot to keep the soil moist. It is important to prevent the plant from getting too dry or wilting between watering.
Unless the mum is in a very sunny and hot location, watering the plant well, once a day, should be sufficient.
When watering, instead of pouring water through the dense flowers, water the plant's soil.
Although fertilizing isn't necessary for container mums, you may add a water-soluble plant food once a week when watering.
Protect your outdoor potted mums from the elements by planting them in outdoor containers such as terracotta, concrete, or resin, with additional potting soil.
You can also dig a hole in the ground and set the plant — nursery pot and all — into the soil to help it survive cool nights. Most garden mums should be able to endure a light fall frost. Cover the plants at night when freeze warnings are in effect.
To keep the plant attractive and healthy, snip off any dead blossoms as soon as they wilt. However, if you are in a cold climate, leaving the dead foliage on the plants has been found to help the plant survive colder temperatures better than pruned plants.
Planting Mums in the Flower Bed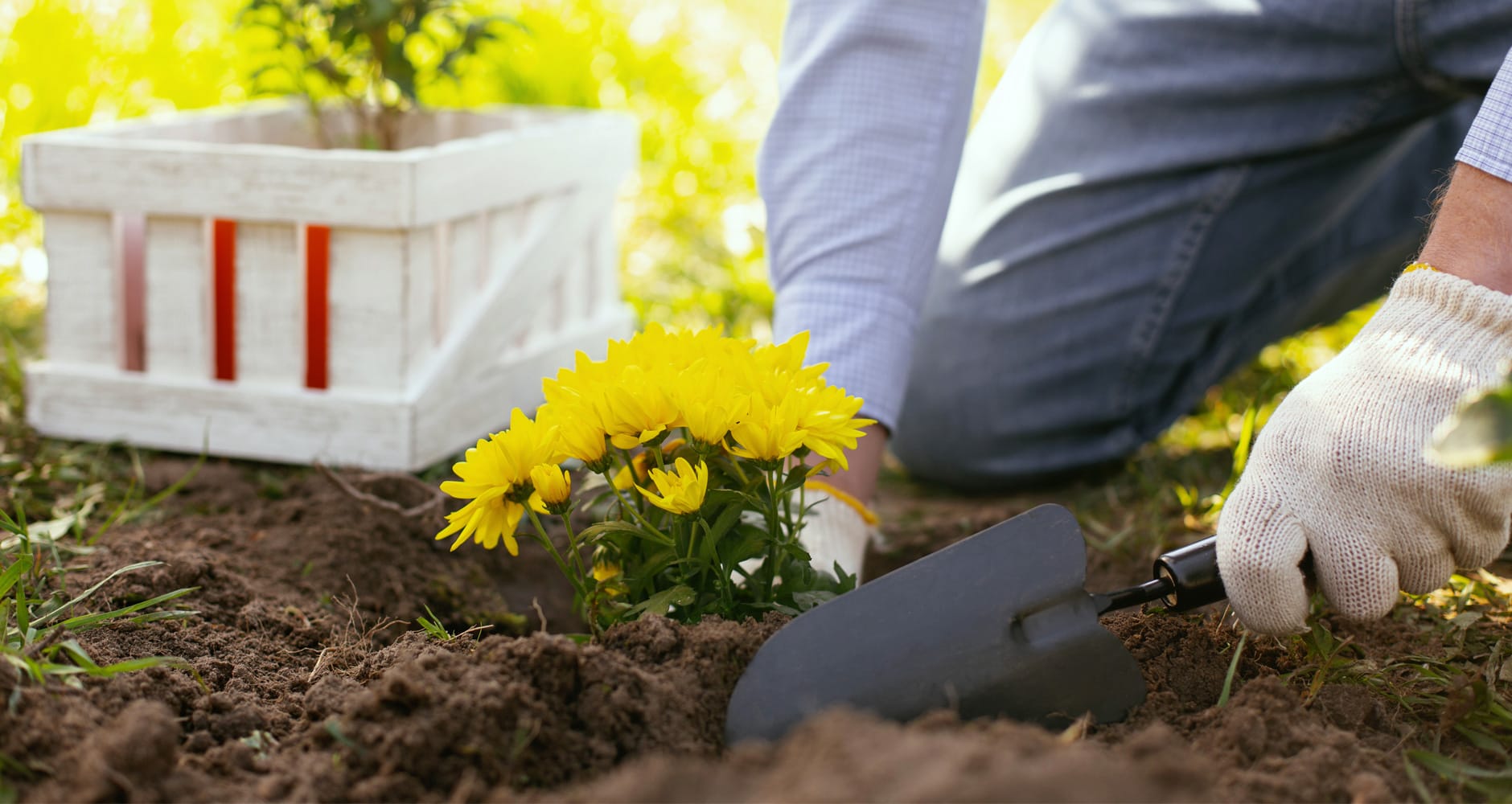 Mums, the flower we love for its wonderful palette of autumn colors, transfer well from the pot to your garden. Here are a few tips to make the transition successful.
When choosing where to plant, remember mums require six or more hours of direct sun daily.
1. Dig the hole 2 times the width of the pot.
2. Place in the hole even with ground level. Backfill with garden soil to ground level.
3. Water with a flower and vegetable water-soluble plant food as directed on the label.
4. Add a 3″ layer of mulch.
5. Water daily or as needed until established.
In extremely cold climates, dig mums up and replant in containers. Winter potted mums in an unheated garage with a grow light, keeping the soil barely moist. Return to the outdoors after the last spring frost.
One last thing to remember is that mums don't like wet feet. They are best planted in containers or in raised beds where drainage is good. Plant mums in clusters of three to five of the same cultivars for the most color impact.
Are Mums Annuals or Perennials?
Most mums are sold in garden centers and nurseries as annuals, particularly in growing zones 1 to 4. However, some cultivars are able to withstand below zero temperatures and considered perennials. If you want Chrysanthemums included in your year-round landscape, read the label on the plant or ask your local nurseries for hardy varieties suited for your climate.
Helping Your Mums Survive Winter
For outdoor winter survival, only prune hardy bedding plants in early summer. Do not remove dead mum blooms or prune in fall or winter. Make sure to heavily mulch your planted mums in the fall before freezing temperatures occur.

Deborah Tukua is a natural living, healthy lifestyle writer and author of 7 non-fiction books, including Pearls of Garden Wisdom: Time-Saving Tips and Techniques from a Country Home, Pearls of Country Wisdom: Hints from a Small Town on Keeping Garden and Home, and Naturally Sweet Blender Treats. Tukua has been a writer for the Farmers' Almanac since 2004.