10 Fun Facts About Marshmallow Peeps
Easter is almost here, and that means Peeps, those little marshmallow chicks and bunnies, will be adorning Easter baskets everywhere. Here are some fun facts about these popular Easter treats.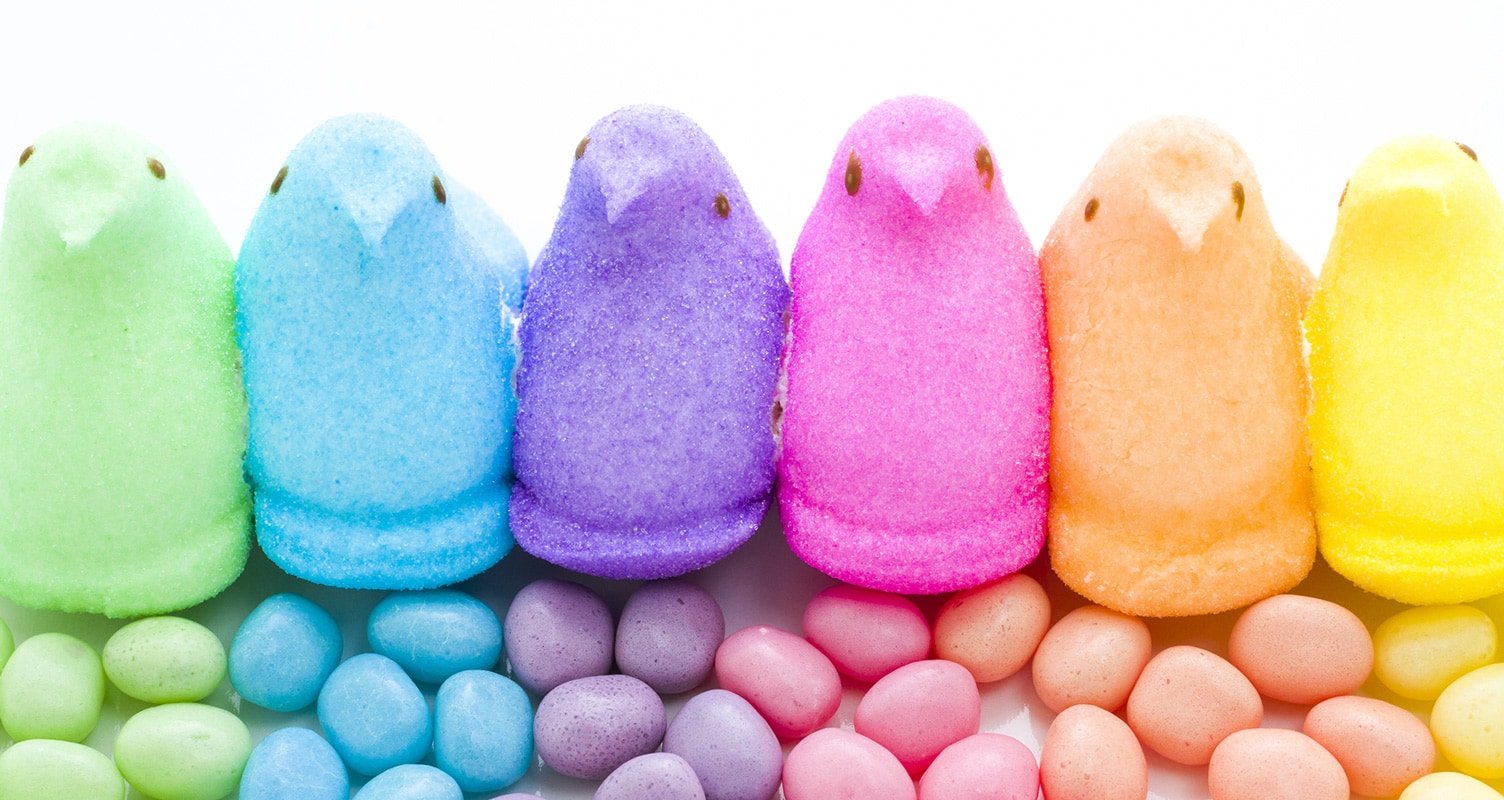 Easter is almost here and that means Peeps®—those little marshmallow chicks (or bunnies) coated in brightly colored sugar—will be adorning Easter baskets everywhere, as they have been doing for over 60 years. Here are some fun facts about Peeps, one of the most popular Easter treats in the United States.
10 Fun Facts About Marshmallow Peeps
1. Peeps were once made by hand, and it took roughly 27 hours to create (because the marshmallow had to cool). Now, with modern equipment, it takes about six minutes.
2. The first Peeps had wings! The candy's manufacturer wanted to update their look, however, so the wings were "clipped."
3. The first color was yellow—and yellow is still the most popular color. Yellow was followed by orange, pink, lavender, green, and blue.
4. According to the Just Born Candy Company, of Bethlehem, Pennsylvania, the maker of Peeps, enough are produced each year that if they were all lined up, the line would circle the earth twice.
5. They also come in all sorts of shapes, including bunnies, Valentine's hearts, and Halloween pumpkins. Even though other shapes are available, the traditional chick is by far the most popular.
6. The machine that makes Peeps, the Depositor, has remained unchanged for more than 50 years—and the recipe hasn't changed, either. They are still made just as they always were, with a mixture of liquid and granulated sugars, corn syrup, gelatin, and vanilla.
7. They are the most popular non-chocolate Easter candy—and they've sat at the top of that list for more than twenty years. Every spring, more than 1.5 billion marshmallow Peeps are eaten.
8. Each chick has just 28 calories and is fat-free.
9. In Bethlehem, Pennsylvania, where Peeps were born, the tradition is so large that for New Year's Eve, the locals drop a giant Peep instead of a ball!
10. Surveys show that nearly two-thirds of people who eat Peeps bite the heads off first — but that's not the only way to eat one. Other ways to eat them include letting them get stale first, microwaving them, freezing them, or putting them on pizza!
Fun Fact: the Just Born Candy Company, maker of Peeps, also invented "Jimmies" (some call them sprinkles), named after the employee who made them!
Not Everyone is a Fan of Peeps
Not everyone likes Peeps, however. "Haters" say they're too sweet and have an unpleasant texture. There are Facebook groups dedicated to hating them, and the hashtag #PeepsMassacre can be found on Instagram, tagging photos of Peeps meeting their demise. It's a hotly debated topic. What about you? Love 'em or loathe 'em? Tell us in the comments below!

Amber Kanuckel is a freelance writer from rural Ohio who loves all things outdoors. She specializes in home, garden, environmental and green living topics. Her article on woolly worm caterpillar folklore appears in the 2020 Farmers' Almanac.
Keep Exploring