Breakfast Casserole Cups
Looking for easy meal ideas? Grab your trusty muffin tin! This baking pan can help create a variety of portable and portion-sized meals, like breakfast, snacks, or desserts. Try these easy ideas!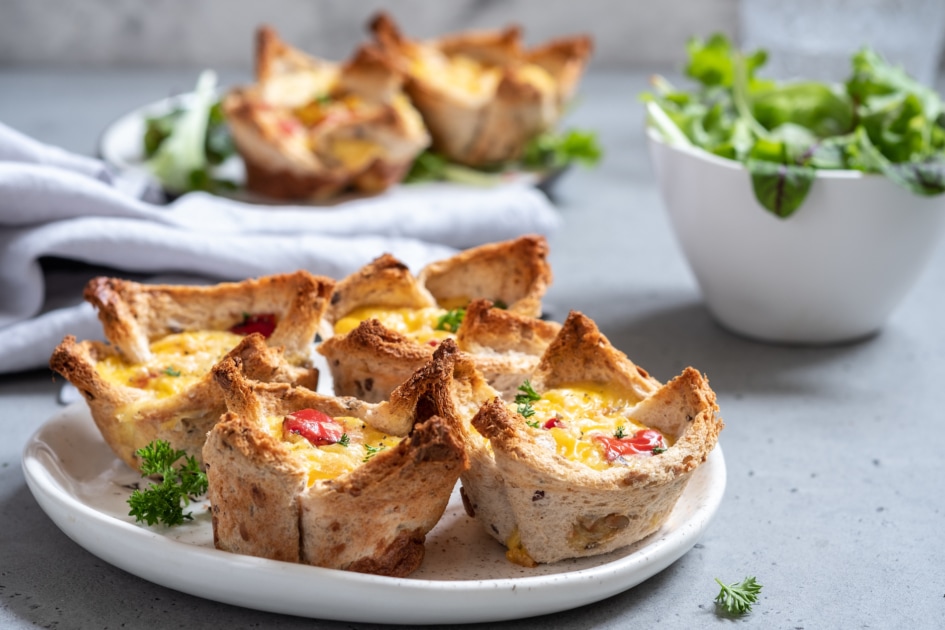 A muffin tin can be quite the multitasking tool in the kitchen, creating a variety of portable and portion-sized meals, snacks, or desserts.
There are so many benefits to making muffin tin meals: they make great party foods, portions freeze and defrost quickly, and they're the perfect portable size for taking on-the-go. For an added bonus, dishes cook quicker when portion sizes are smaller, making muffin tin meals a great option for busy weeknight meals.
Which type of muffin tin should I use?
A standard metal pan is a reliable choice for even browning, but stoneware or cast-iron options also work well. For popping out easy freezer meals, and for recipes that tend to stick (such as egg dishes), a nonstick silicone tray is ideal. (Note: when cooking with a silicone muffin pan, it helps if you put a sheet pan underneath for added stability in the oven).
Muffin tins come in mini, small, medium, and jumbo (Texas-sized), so you can get creative with portion sizes as well!
Try these ideas:
Pepperoni pizza muffins — If you've got pizza dough, cheese, and toppings, just drop them in the muffin cups and bake!
Omelet muffins or breakfast casseroles become perfect portable on-the-go meals when cooked in a muffin tin (recipe below).
Muffin tin crab cakes.
Muffin meatloafs.
Desserts such as cheesecake bites, brownie cups, and mini pies.
Portion out comfort foods: Mac n' cheese cups, stuffin' muffins, spaghetti and meatballs, and mini Shepherd's Pies are sure to please even the pickiest of little eaters.
Freeze homemade soups, broths, and sauces in muffin tins, then store in a baggie once frozen. Take them out and heat up for quick meals.
Breakfast Casserole Muffin Cups Recipe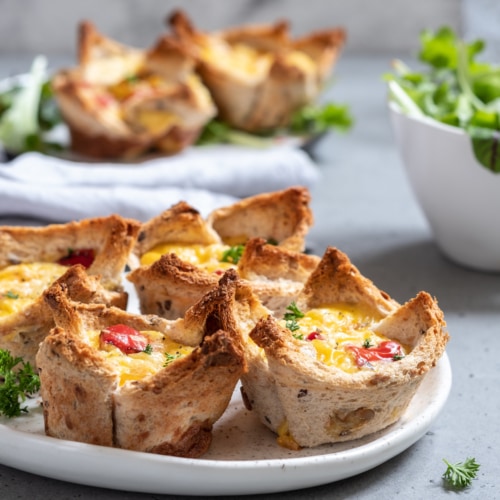 Breakfast Casserole Muffin Cups Recipe
Ingredients
3-4

pieces of whole wheat bread, torn into small pieces

3-4

slices of ham, crumbled sausage, or bacon (optional)

1

cup

shredded cheddar cheese

8

eggs

1

cup

milk

2

teaspoons

of ground mustard

Pepper to taste
Instructions
Drop torn bread pieces into each muffin tin cup until about 2/3 of the way full. Add ham, sausage, or bacon (omit or replace with vegetables for a meat-free option), then evenly sprinkle cheese over each cup.

Whisk together eggs, milk, ground mustard, and pepper and pour egg mixture evenly into each cup.

Bake for 15-18 minutes or until golden brown on top and cooked through the middle. Pop out, serve, and enjoy! 

Natalie LaVolpe is a freelance writer and former special education teacher. She is dedicated to healthy living through body and mind. She currently resides on Long Island, New York, with her husband, children, and dog.