Make Your Own Immune-Boosting Ice Pops
These frozen treats are perfect during cold and flu season to help soothe sore throats, hydrate, and boost immunity. Try these easy recipes!
It's that time of year—cold and flu viruses have officially come a-knockin' and they are making their regular rounds. When over-the-counter remedies don't alleviate symptoms, ice pops are a great alternative for soothing sore throats, boosting your immunity, and hydrating your depleted body. And good news: You can use just about anything for ice pop molds.
Why Ice Pops Are A Great Alternative
Ice pops can be made from classic cold-battling ingredients. They can help to reduce the swelling of a sore and raw throat (think of it like putting an ice pack on a sprained ankle), and they're an easy way to keep the patient hydrated.
Whip up a batch of these throat-soothing ice pops the next time you or a loved one is battling a cold or flu or you just want a boost of immunity at any time:
Elderberry Immune-Boosting Ice Pops
Elderberries are a popular remedy for fighting off the cold and flu. Their antiviral properties pack a powerful punch for your immune system support. When combined with the antibacterial properties of honey, elderberries make the perfect immunity booster. For a quick elderberry ice pop, simply mix a tablespoon of pre-made elderberry syrup (you can find it at most health food stores or online) with a cup of lemonade. Freeze and enjoy!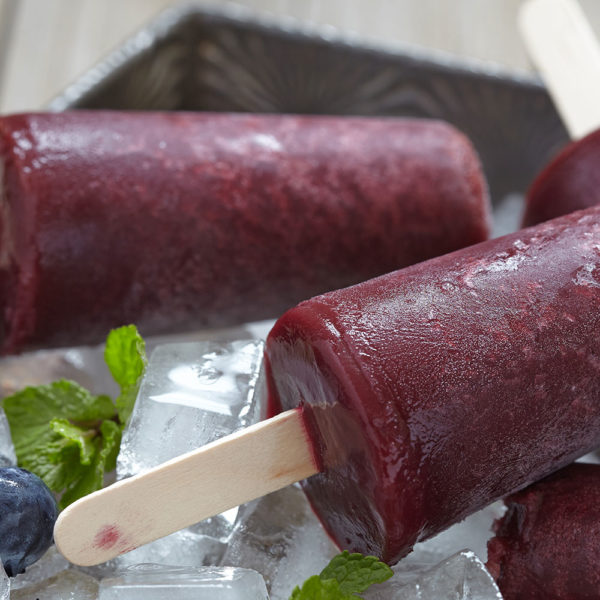 Elderberry Immune-Boosting Ice Pops
Ingredients
Or try this recipe:
10

oz.

coconut water

2

large

oranges, juiced (should make about 5 oz.)

1 ½

cups

tart cherries (frozen work well)

¼

cup

raw cranberries

1

teaspoon

raw ginger, minced

1

tablespoon

elderberry syrup

1 ½

tablespoons

raw honey
Instructions
Mix the orange juice with coconut water.

Blend the rest of the ingredients in a blender or food processor, then add in the coconut water and orange juice mixture.

Pour into ice pop molds, freeze, and enjoy.
Throat-Soothing Ice Pops
Ingredients
3 ½

cups

water

1-inch

piece

of ginger, peeled and grated with a microplane

2/3

cup

of honey

5

tablespoon

lemon (or orange) juice

2

chamomile tea bags
Instructions
In a heat-proof bowl or pot, mix together the lemon juice, ginger, honey, and tea bags.

Pour boiling water over the top and let steep for 10 minutes.

Remove tea bags and strain through cheesecloth or coffee filter.

Let sit until mixture has slightly cooled.

Pour into ice pop molds and freeze completely.

Natalie LaVolpe is a freelance writer and former special education teacher. She is dedicated to healthy living through body and mind. She currently resides on Long Island, New York, with her husband, children, and dog.