October Weather Lore Sayings You Need To Read
Seeing fat rabbits and birds this month? What does it mean when leaves hang on the boughs? We dug into the October weather lore archives to find the answers!
If September is the gateway into autumn, then October is when the season gets into full swing. Temperatures cool, leaves get colorful, and by the end of the month, some areas will see their first snowfall (you folks in Montana know what we mean)!
Throughout history, people have come up with dozens of ways to predict the weather relating to this time of year as it was important to plan for harvests and prepare for harsh weather conditions ahead. We dug into the archives and found the following weather lore associated with October. Have you heard any of these?
Be sure to check out our Fall Weather Forecast!
Weather Lore Sayings For the Month of October
When it freezes and snows in October, January will bring mild weather. If it is thundering and heat-lighting, the winter will resemble April in temper.
A good October and a good blast,
So blow the hog-acorn and the mast.
Warm October, cold February.
As the weather in October, so it will be in March.
If October brings much frost and wind, then January and February will be mild.
When birds and badgers are fat in October, a cold winter is expected.
Much rain in October, much wind in December.
When deer are gray in coat in October, expect a severe winter.
In cold, long winters, rabbits are fat in October and November. In mild and pleasant winters, they are poor in those months.
Gnats in October are a sign of long, fair weather.
Full moon in October without frost, no frost till the full Moon in November.
If we don't get our Indian summer in October or November, we will get it in the winter.
Thunder in October signifies great winds and a dearth of corn.
Ice in October that will bear up a duck foretells a winter as wet as muck.
A hard winter follows a fine St. Denis (October 9th).
If St. Calixtus' Day (October 14th) be dry and windy, the winter will be wet, but if it be rainy and still, the harvest will be good.
If it is fine on St. Gall's Day (October 16th), it will be fine up to Christmas.
October 18th marks the start of St. Luke's Little Summer.
If in October many fall leaves wither and hang on the boughs, it betokens a frosty winter and much snow.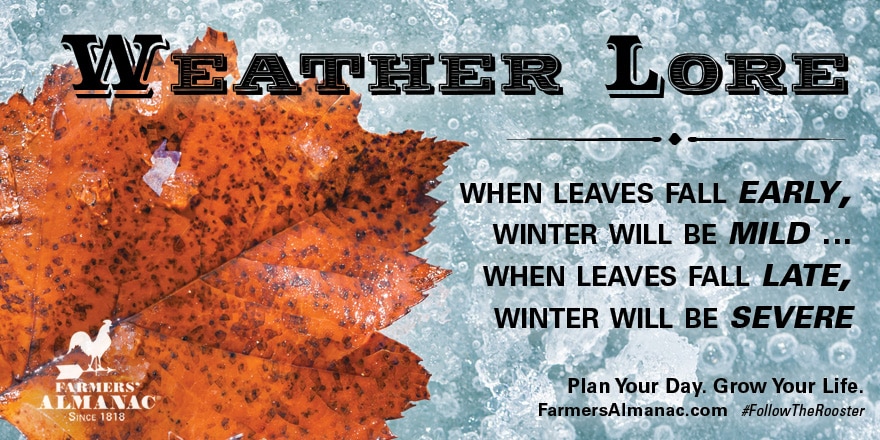 Be sure to check out our 20 Signs of a Hard Winter
Tell Us
Do any of these weather lore sayings for October hold up? What have been your observations?

Amber Kanuckel is a freelance writer from rural Ohio who loves all things outdoors. She specializes in home, garden, environmental, and green living topics.