Love Pink Flowers? These Top 8 Will Brighten Your Garden (And Your Mood)!
There's a good reason pink flowers are trending! These top 8 add the burst of cheery pink you're looking for (and some are even deer-resistant!). See the list.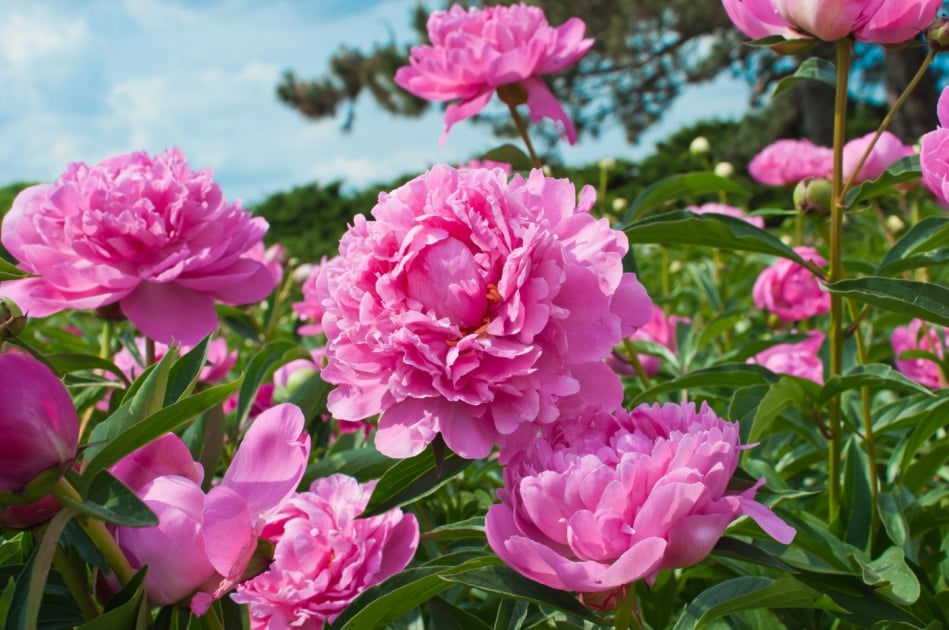 Pink flowers are trending—and there are lots of good reasons why. Bright pink is an attention-grabbing color while soft, light pinks tend to be calming. Either way, loading your garden with pink flowers can be stunning as well as a mood-booster. Flowers in these shades typically symbolize happiness, grace, innocence, youth, and joy. What's more, birds, bees, and other pollinators will enjoy what you're growing, too. If you want to add shades of pink to your outdoor living spaces, we've listed 10 of our favorites that would look lovely in your garden!
Top 8 Pink Flowers To Plant
1. Petunia – Trumpet Pinks
Petunias are a full sun favorite and there are so many colors to choose from. Their pink flowers come in shades ranging from bright pink, hot pink, to salmon shades, as well as muted pastels. There are also variegated varieties with light and dark shades of pink mixing on the petals. Outside of shades, you can choose between different shapes—regular petunias will give you traditional trumpet-shaped flowers (that hummingbirds love), double petunias have pretty ruffled flowers, and mini petunias give you a smaller version of the traditional look of their full-sized cousins.
2. Peony – The Most Popular Pink Flower
No flower is more fragrant than the peony, and their blooms come in all shades of pink. They're one of the most popular and beloved perennials for good reason. These flowers are beautiful and they don't need a lot of maintenance. Choose a location with lots of sun and well-draining soil, as well as good air circulation around the plant. With the proper growing conditions, your peonies can last 50-100 years! Learn how to plant peonies here.
3. Dianthus – Pretty In Pink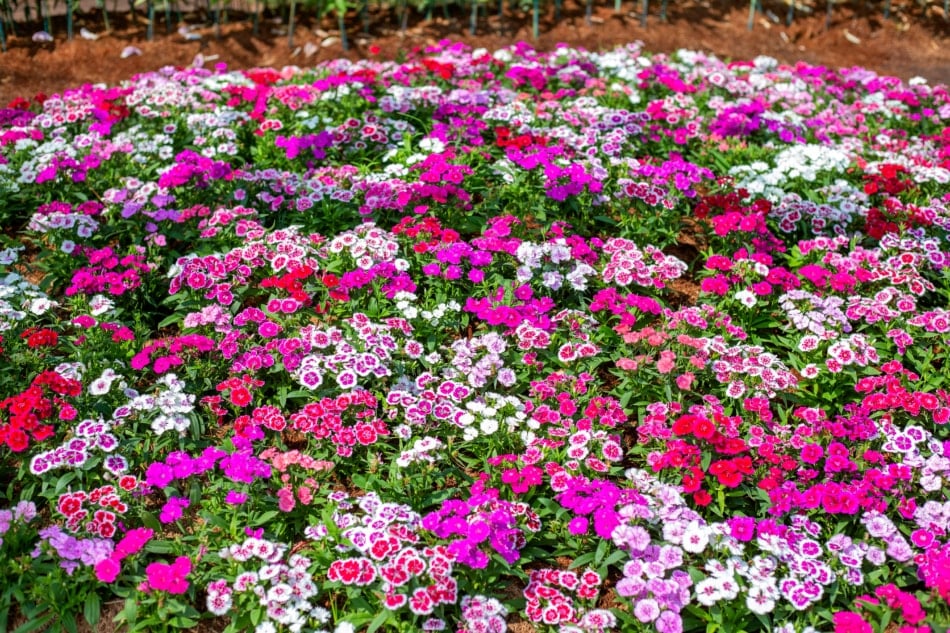 This is another versatile perennial with pink flowers that prefers full sun, but will tolerate part shade. Dianthus, or Sweet William, comes in all kinds of sizes, from miniature varieties that top out at 6 inches to giant dianthus, which can grow up to three feet tall. Search for this plant in shades of pink and you'll find everything from white carnations (which are a type of dianthus) edged in pink, to fiery hot pinks. An added bonus is that deer seem to not like to eat these pretty pink flowers.
4. Astilbe – Vibrant Pink and Unusual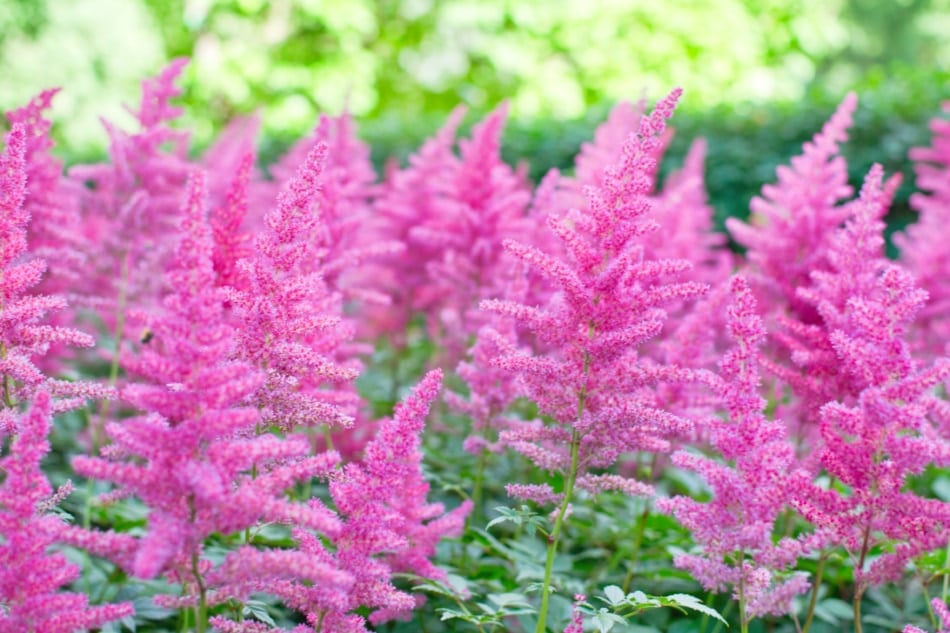 Shade gardens look lovely with a little pink, too, and that's where astilbe (also known as False Goat's Beard) saves the day. Hardy in zones 4 through 8, these plants are known for plumes of tiny flowers and pretty foliage. Astilbe come in light pinks, apricot pinks, deep pinks, and pink-purple and make your shade beds pop. And they're known to be deer resistant because the pink flowers are dry.
5. Bleeding Heart – Pink and Unique
Bleeding hearts are another top pick for shade gardens, not only because they grow well in shade but also because of the unusual fronds of heart-shaped flowers that they produce. They come in a variety of colors, from soft pinks to bold pink and even bright red. They're easy keepers, too, growing in hardiness zones 2 through 9 with a preference for cool shade and moist soil.
6. Daylilies – The Garden Classic
Orange is the color that come to mind when most of us think of daylilies (known as "tiger lilies"), but these flowers come in a number of beautiful shades and shapes. You'll find dozens of varieties ranging from light to dark—and multicolored, too. A few varieties feature unusual double flowers or pretty ruffled edges for an extra stunning touch. Best of all, the daylily is known as a resilient plant. They prefer full sun, but will bloom reliably in a variety of soil conditions. They're even tough enough to grow in hardiness zones 3 though 9.
7. Rose Begonias – Delicate Pinks
Want to fill a shady area with beautiful rosy blooms? Then the rose begonia is what you're looking for. These pretty perennials are perfect for pots on porches, though you can plant them in beds, too. But keep in mind begonias are a tender perennial—in most areas, they won't survive the winter unless you dig up their tubers and bring them indoors. But in zones 9 through 11, they can stay outside so long as there is no danger of freezing. As far as pink flowers go, these come in every shade imaginable—you'll even find white begonias edged in pink, pink mixed with yellow stripes, and other unusual colors.
8. Yarrow – A Tough Beauty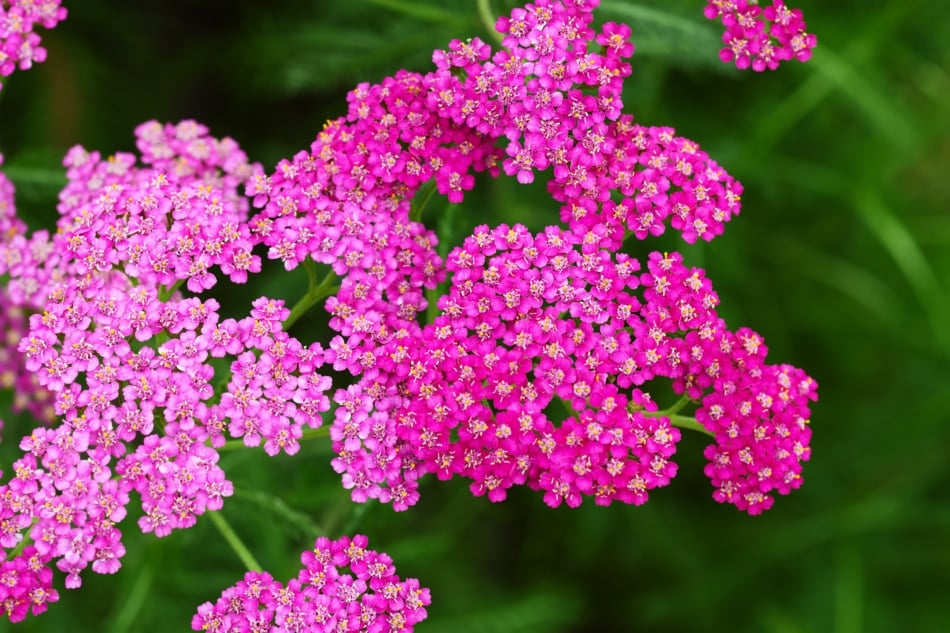 Gardeners love yarrow because it's a tough perennial. It likes full sun but will tolerate partial shade, and you can grow it in hardiness zones 3 to 9. It's drought tolerant, too, which makes it a great option for sandy, clay, or well-drained soils where other plants struggle. If you like pink, common yarrow varieties come in light shades, like the Apple Blossom variety, or deep pink, like "Cerise Queen."
Tell Us
Which of these pink flowers is your favorite, or is there another you plan on planting this year?

Amber Kanuckel is a freelance writer from rural Ohio who loves all things outdoors. She specializes in home, garden, environmental, and green living topics.