Christmas Cactus or Thanksgiving Cactus? Which One Do You Have?
Do you know which holiday cactus you have? We explain which is which and how to get those beautiful blooms!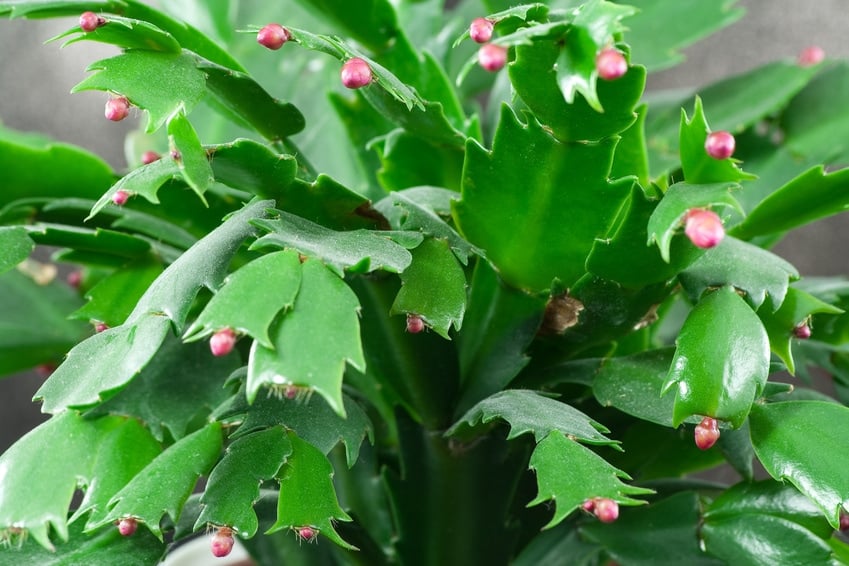 Christmas cacti are such beautiful plants when they flower, and we often hear that cuttings have been passed down from generation to generation, often still thriving after decades. But are you sure you know which holiday cactus you have? They are often confused.
Which Holiday Cactus Do You Have?
Here's a startling revelation: you may have a Thanksgiving cactus instead of a Christmas cactus! Although they look very similar, they're two different plants.
Unfortunately, the confusion between these holiday succulents is perpetuated by the fact that they're often mislabeled in garden centers. And since they both bloom in late fall or early winter it further adds to the confusion. But it's it's nice to know which one you truly have. Here's how to tell them apart:
Thanksgiving Cactus (Schlumbergera truncata)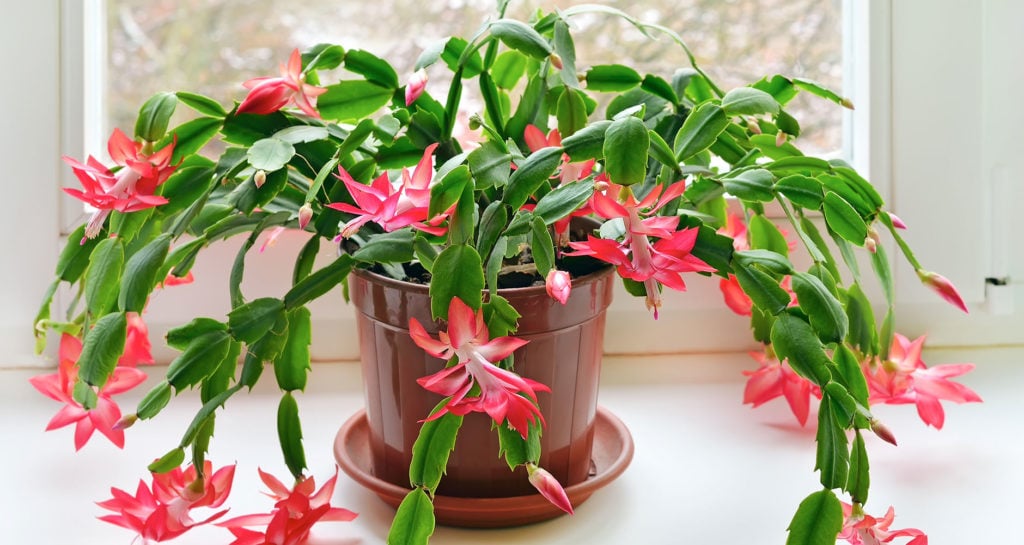 Leaves: You can tell the Thanksgiving cactus apart from the Christmas cactus by the shape of its leaves. The leaf segments, called "phylloclades," are serrated or "toothed," with pointy spines; with 2-4 on each side.
This is why these succulents are referred to as "Crab Claw Cactus." The end of the last segment is slightly concave with a point on each side.
Flowers: Flowers of the Thanksgiving cactus are produced from the tips, or from where the leaf segments join. They resemble a long tube, appearing as if a flower within a flower.
They come in a range of colors, mostly pastels, including red, pink, peach, purple, orange, or white, and typically bloom in Thanksgiving.
Also, look at the pollen-bearing anthers—Thanksgiving cactus anthers are yellow, while Christmas cactus anthers are pink to purplish-brown.
Christmas Cactus (Schlumbergera bridgesii)
Leaves: The leaves of the Christmas cactus have a more rounded, scalloped edge. The tip of each segment is slightly curved but they can look almost straight across.
Flowers: The flowers of the Christmas cactus are usually pink or white and bloom in December. But don't be surprised if you also see blooms between March and May on these plants.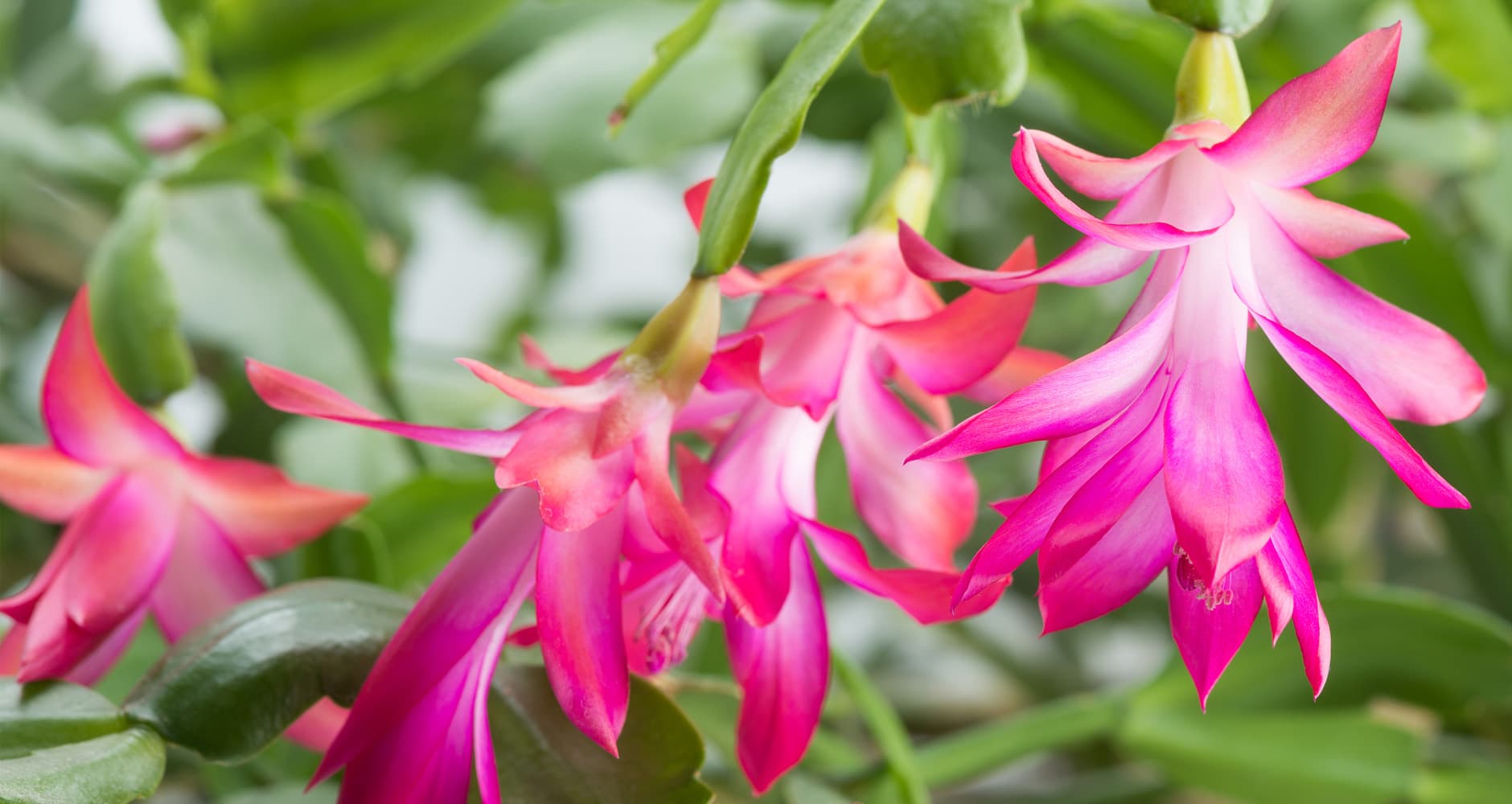 Easter Cactus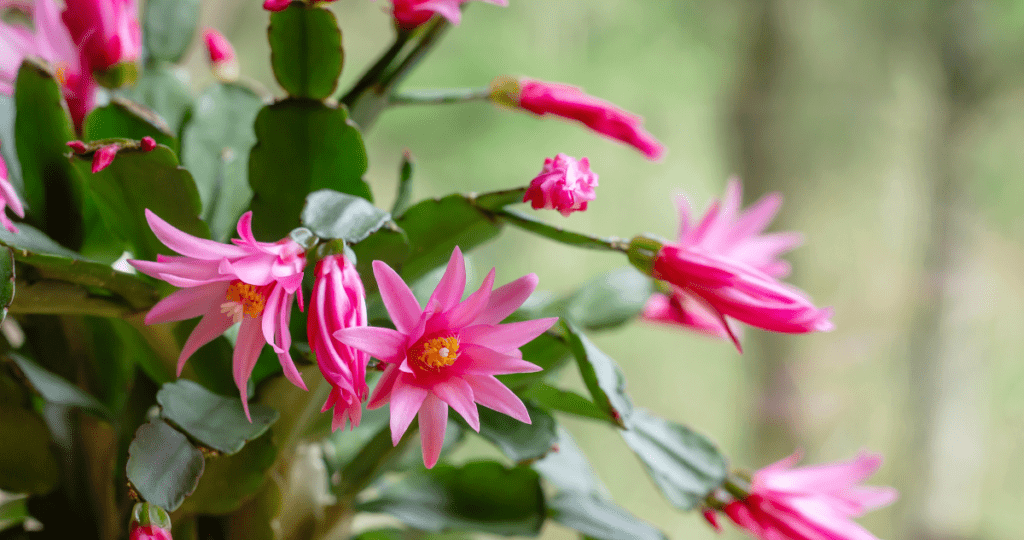 Believe it or not, there's also an Easter cactus (Hatiora gaertneri), which blooms in … you guessed it—spring! These succulents have leaves with small bristles and a thick ridge on one side.
The flowers have more of a star-shape. They're native to the natural non-tropical forests of Brazil. Caution, though, when watering as this cactus is much more sensitive to over- or under-watering.
Read: Tips to Care for your Christmas Cactus and Poinsettias
Getting Your Holiday Cacti to Bloom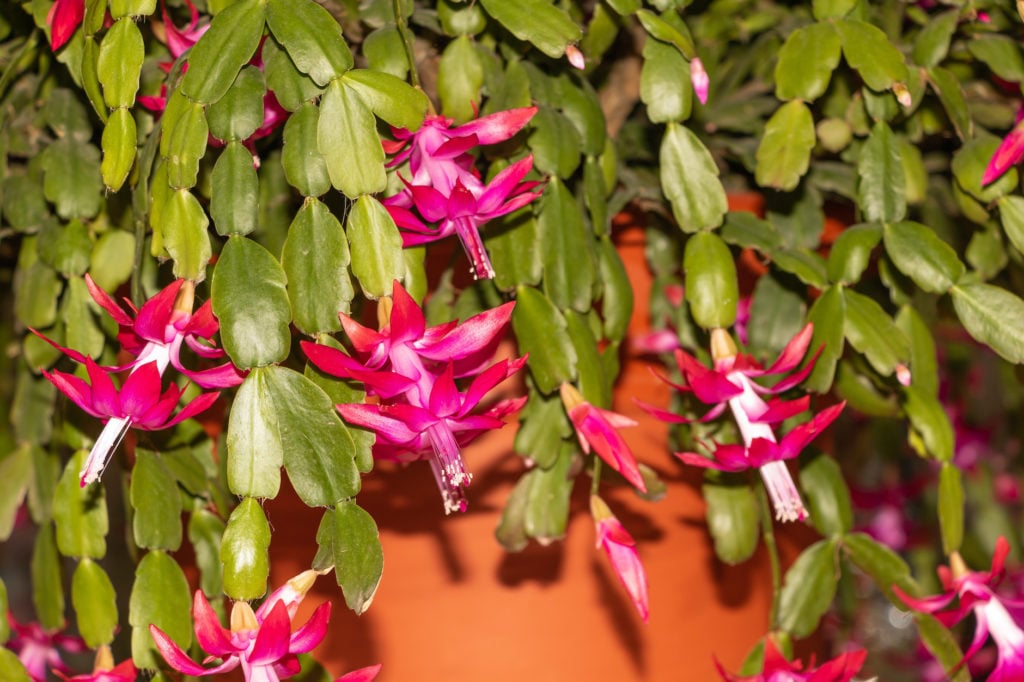 If you're hoping to get blooms in time for Thanksgiving or Christmas, you'll need to begin temperature treatments several weeks before. Your plant will need 12 to 14 hours of total darkness, along with cool nighttime temperatures of 60-65 F for about 3—4 weeks in order for buds to form.
One way to do this is to place the plant in a dark closet from 6 p.m. to 8 a.m. Or, you can cover the plant with a large paper bag in the same timeframe. Once you see buds, you can resume normal lighting, but keep the plants cool.
If you keep the plant in a continuously cool room (around 50—60º F) in September and October, chances are excellent that it will produce flowers, although you'll notice growth will be slower. If temps are too cool, you'll find that the buds may drop off. So it's a bit of a balancing act.
March Blooms?
Sometimes Christmas cacti and Thanksgiving cacti showing prolific blooms in March. It's not uncommon for this to happen. In fact, don't be surprised if you see blooms anywhere from March to May, although usually, these blooms are more sparse than you'll see around the holidays. The reason is that most holiday cacti bloom more than once a year. Check to see if you see any buds forming between the leaf sections. You can encourage them to bloom using the steps above, or just wait and see what happens!
Enjoy those colorful blooms —any time of year—and share your pictures with us on our Facebook page!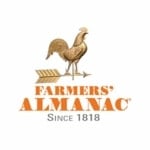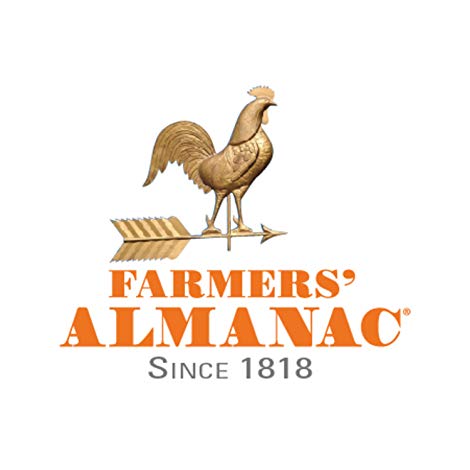 This article was published by the staff at Farmers' Almanac. Do you have a question or an idea for an article? Contact us!