Turnip or Rutabaga: Which is Which?
Many people confuse these two root vegetables. We help you determine which is which, and provide delicious recipes!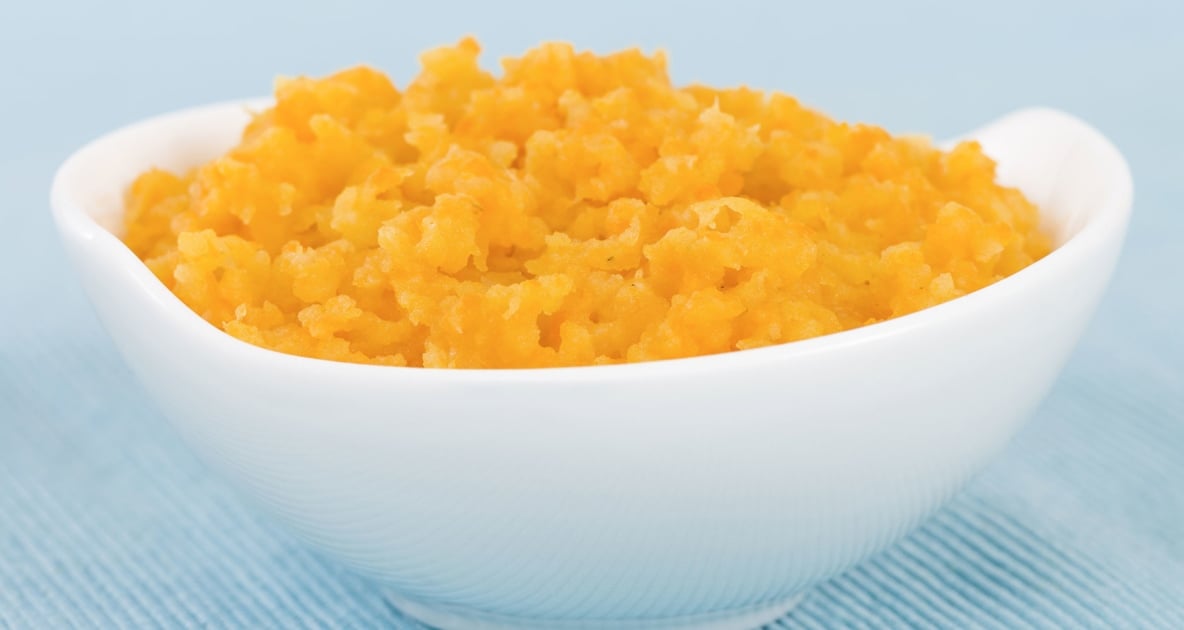 Our supermarkets are chock-full of all sorts of fruits and vegetables. The variety can be awe-inspiring and, at the same time, confusing.
Many times, certain vegetables are confused because of their similarities (see Is It A Yam Or A Sweet Potato?) and two popular root vegetables are no exception: the turnip and the rutabaga. Both are members of the Brassica family, which includes cabbages, but there are key differences. So as you plan your Thanksgiving menu, you'll know exactly which one you're serving.
Turnip or Rutabaga: Which is Which?
Rutabaga: The rutabaga, the least attractive of the two, is larger, less shapely, rougher skinned, and is usually sold coated with food-grade wax. The flesh is golden in color and a bit milder in flavor than the turnip. Often times, rutabagas are marketed as "wax turnips" or "yellow turnips."
They are relative newcomers, introduced to America in the 19th Century by European immigrants. In Scotland, rutabagas are known as "neeps."
Turnip: Turnips are a smooth white or violet-and-white bulb with white flesh and have been around since ancient times. In the early 1800s, seed catalogs began featuring "the cabbage turnip" and "turnip rooted cabbage," which would later be referred to as rutabagas.
Both vegetables are low in calories, and rich in vitamin C, dietary fiber, potassium, and antioxidants.
How To Eat

Both vegetables are peeled before cooking. But before peeling a turnip or rutabaga, trim off the top and bottom, to give you a sturdy surface. Turnip skin is tender enough to peel with a vegetable peeler, however, rutabagas usually require paring with a knife.
You can get away with not peeling a turnip if you grow your own, but supermarket rutabagas must be peeled because of their wax-coated skin. Rutabagas are waxed after harvesting to keep them from drying out. With a wax coating, they can be stored for weeks, like other root vegetables.
Both are often cubed and boiled or oven-roasted until tender (add some butter, salt and pepper, and mash, or leave cubed). Some people actually enjoy eating turnips raw in salads or whole like an apple! And while most people are more familiar with turnips, many cooks prefer rutabagas for their milder flavor and the color they add to dishes.
You can also enjoy turnip greens, steamed or sauteed.
We've included two recipes for you to try, below.
Silken Turnip and Potato Soup
(from The Washington Post)
Try this creamy soup that uses no milk or cream. Easy and delicious.
Ingredients:
1/2 stick butter (4 tablespoons; use olive oil if making a vegan recipe)
2 onions, thinly sliced
4-6 turnips (about 2 pounds), peeled and thinly sliced
3-5 potatoes (1/2 to 1 pound), peeled and thinly sliced
2 quarts chicken stock (use vegetable stock if you prefer)
2 teaspoons salt
1/4 teaspoon nutmeg
Directions:
Melt butter in a large soup pot over medium-low heat. Add onions and sauté until translucent, about 10 minutes. Add turnips, potatoes, and salt. Stir to combine, cover, and let cook for another 15 minutes. Add the stock and simmer 20 minutes or until veggies are soft. Puree with an immersion blender, or in batches in a blender or food processor. Serve hot.
Rutabaga Puff Casserole
Ingredients:
1 large rutabaga, cooked and mashed
4 tablespoons butter, melted
1 tsp fresh dill, chopped
1 tsp salt
dash pepper
dash paprika
4 eggs, separated
Directions:
Combine mashed rutabaga, egg yolks, butter, dill, salt, pepper, and paprika in a large mixing bowl. Beat egg whites until stiff peaks form and fold into the rutabaga mixture. Place mixture in a greased 1-1/2-quart casserole dish. Bake at 375° F. oven until golden brown, about 30-40 minutes.
Keep on Reading: