Yam Or Sweet Potato – How Do You Know Which Is Which?
It's been said that yams have an identity crisis, because they are often mislabeled as sweet potatoes. How can you tell the difference between these tubers? We explain. (Recipes included!)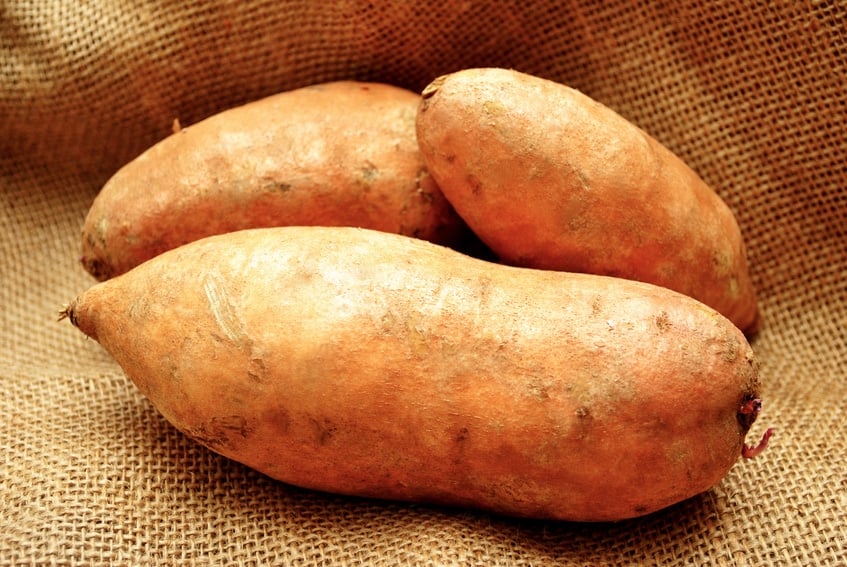 It's been said that yams have an identity crisis because more often than not, the "yams" you find in the grocery store are really mislabeled sweet potatoes. So this Thanksgiving, before you say "please pass the yams," consider this: sweet potatoes and yams are confused all the time, and here in the U.S. the names seem to be used interchangeably, despite the fact that they are two very different items.
To further complicate matters, neither of them are really potatoes—both are tubers, although not even related to each other. In fact, the sweet potato is a cousin of the morning glory flower. There are about 200 varieties of true yams, none of which grow in the U.S.
Yam Or Sweet Potato – How Do You Know Which Is Which?
In spite of all of the confusion, it's quite easy to tell yams from sweet potatoes:
Yams have dark, bark-like skins with a white flesh. Some have purple or red flesh. Yams are drier and starchier than sweet potatoes and are even made into flour.
Sweet potatoes have gold or copper/bronze skins and moister orange flesh.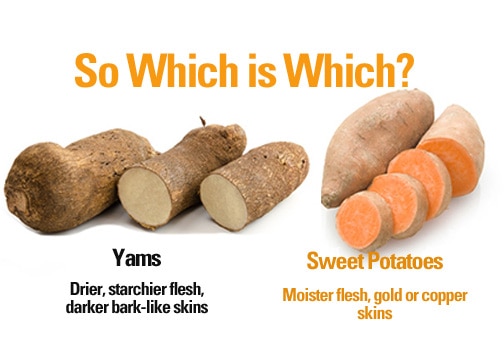 Sweet Potato Casserole
Forget the days of sweet potatoes heaped in a dish and topped with mini marshmallows. This is a sophisticated way to enjoy sweet potatoes that all your Thanksgiving dinner guests will enjoy.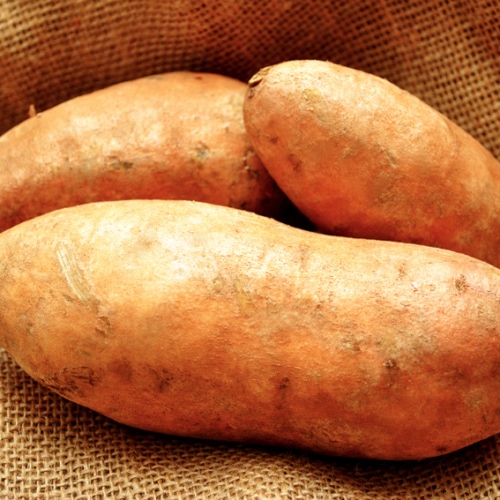 Sweet Potato Casserole
Ingredients
3

cups

sweet potatoes, baked, scooped out into a bowl and cooled

1/4

cup

white sugar

(can be omitted)

2

eggs, beaten

1/4

cup

real butter, melted

1/2

cup

milk

1/2

teaspoon

vanilla

1/2

tsp

salt
Topping:
1

cup

brown sugar

1/3

cup

 flour

1

cup

chopped pecans

1/3

cup

butter or margarine, melted
Instructions
Preheat oven to 350 degrees F.

In a large mixing bowl, combine sweet potatoes, eggs, milk, sugar (if using), vanilla, salt, and melted butter. Mix well with a fork. You can use an electric beater if you'd like.

Pour into a baking dish. In a separate bowl, mix topping ingredients together and top sweet potatoes.

Bake for 40 minutes at 350 degrees F.
Boiled Yams
Ingredients
White yams

(as many as you'd like)

Water for boiling

Dash of salt
Instructions
First, remove the peels and then cut the yam tuber into thick slices.

Place the slices in a colander and rinse with water.

Place in pot with salt and boil for about 25 minutes or until tender.

Drain and serve with your favorite stew or soup as a side dish.

Jean Grigsby is a writer, who lives on the banks of the Kennebec River in Chelsea, Maine. She enjoys working out, reading, and running her marketing and public relations business, The Write Approach. Her article, Where Are All The Birds? appears in the 2021 Farmers' Almanac.