Weather Folklore: What is A Dogwood Winter?
Much like a "badger summer"—a period of unseasonable warmth in the middle of autumn—periods of cold snaps during springtime have a name. Learn more about these "Little Winters."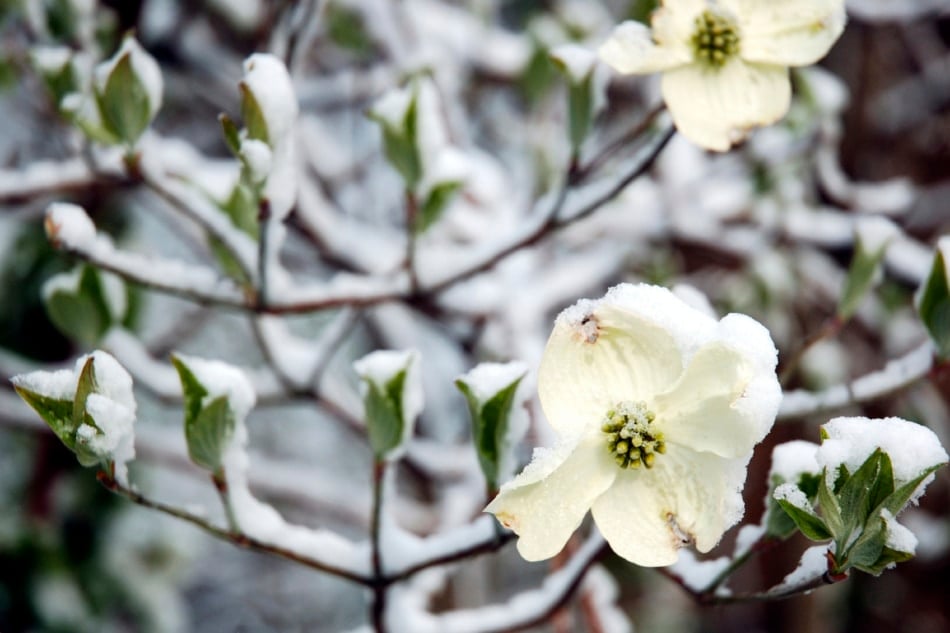 Spring can be an unpredictable time of year, with warm, summer-like conditions one day and snow the next. It's easy to get lulled into a false sense of security that the weather will remain hospitable when—WHAM!—a freak cold snap hits and reminds you that winter only ended a few weeks ago. Here's everything you need to know about the "dogwood winter" phenomenon …
"Little Winters" By Another Name
Much like "badger summer"—a period of unseasonable warmth in the middle of autumn—these periods of springtime cold have a name. Actually, they have several names. The "little winters" in the middle of spring are called variously Dogwood Winter, Blackberry Winter, Locust Winter, Whippoorwill Winter, Redbud Winter, and a few other regional variations.
5 Best Flowering Trees to Brighten Up Your Yard
Though predictable, the climb from cold of winter to the warmth of summer and back again is not completely smooth. Small "blips" in the overall pattern reveal noticeable fluctuations that can be observed from year to year. These blips are called singularities in weather lingo. For a singularity to be recognized, it has to occur during at least 50% of years. Badger Summer is a long-established singularity. Dogwood Winter is another.
Why Is It Called Dogwood Winter?
But why is it called Dogwood Winter, or any of those other names, for that matter? Today, we keep track of the passing of the year with a calendar. If you want to know when the last frost of the year is likely to be, you can simply look up the date in your Farmers' Almanac (or see the average frost dates online). Our ancestors, though, didn't have calendars to consult. Instead, they relied on the signs of nature around them.
A Dogwood Winter usually falls during late April or early May, right around the time the dogwood trees start blooming in many regions. Farmers knew it wasn't safe to plant their crops until after the dogwoods bloomed.
Likewise, it takes a few days of cold weather to stimulate blackberry canes to start growing, which is why Blackberry Winter is another popular term for this weather phenomenon. Locust trees and redbud trees are also seen as harbingers of a spring cold spell. Which name you choose depends on which kind of tree is most abundant in your neck of the woods.
One largely forgotten term for a patch of cold during the springtime is Linsey-Woolsey Britches Winter. "Linsey-Woolsey britches" is an old nickname for long johns, usually spun from a combination of linen and wool. This end-of-spring cold snap marked the day when the Linsey-Woolsey britches could be packed away for the season.
No matter what you call it if you have a garden—or even if you just plan on packing away those winter sweaters—you'll do well to remember that Dogwood Winter could still be waiting to catch optimistic sun lovers unprepared!
Expecting a cold snap, frost, or snow in spring? Here's how to protect your spring plants!

Jaime McLeod is a longtime journalist who has written for a wide variety of newspapers, magazines, and websites, including MTV.com. She enjoys the outdoors, growing and eating organic food, and is interested in all aspects of natural wellness.