What the Heck Is Quince?
Learn more about this fascinating fruit!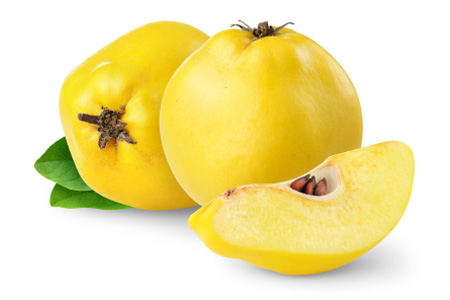 The quince is a hard, yellow, fragrant fruit that looks like a cross between an apple and a pear. Native to southwest Asia, it is now grown throughout the world, including Europe and North America, though in the United States, it grows primarily in New England and the Mid-Atlantic region.
Quince trees are very cold hardy and, in fact, need temperatures below about 45° F to flower. The fruit itself is too hard and bitter to eat raw, so it is usually cooked or made into jams, jellies, or wines. In fact, the word "marmalade" comes from the Portuguese word for quince. When cooked, the fruit transforms into a soft, sweet, incredibly flavorful treat. Because quince contains a high level of anthocyanins, the chemicals that are responsible for turning autumn leaves red, it turns pink, or sometimes even deep crimson, when it is cooked.
In addition to being delicious, quince are packed with vitamins and nutrients. They are an excellent source of vitamins C and A, as well as iron and potassium.
Here are a few recipes to help you enjoy this challenging, but rewarding, fruit: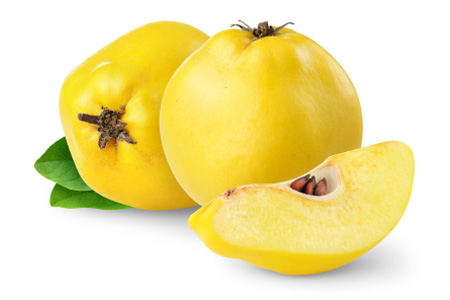 Baked Quince
Ingredients
2

medium

quince

2/3

cup

sugar

2/3

cup

warm water

1

clove

11/2

tablespoons

lemon juice

1

apple

Vanilla ice cream
Instructions
Directions:

Preheat oven to 250ËšF. Peel, halve, and core the quince. Reserve the peel. In a baking dish, combine the sugar, water, clove, and lemon juice. Stir mixture until the sugar dissolves. Add the quince halves, cut side down, and scatter the peelings into the water mixture. Peel the apple and it over the quince halves. Cover and bake for approximately 5 hours, until the fruit softens and turns pink or red. Serve with vanilla ice cream.
Quince Jam
Ingredients
5

medium

quince

4 1/4

cups

water

1/4

cup

lemon juice

1

tablespoon

lemon zest

4

cups

sugar
Instructions
Directions:

Cutting each quince in half and grate it with a cheese grater, peels included, being careful to avoid the core. You should end up with about 6 cups of grated quince. Bring the water to boil in a large saucepan, and add the grated quince, lemon juice, and lemon zest. Reduce heat and simmer about 10 minutes, until the quince is soft. Add the sugar and bring to a boil, stirring until the sugar dissolves. Lower the heat to medium high and cook uncovered for about 40 minutes, stirring occasionally, until quince turns pink or red and thickens. Quickly pour hot mixture into hot sterilized jars, leaving 1/4-inch head space. Wipe the jar rims clean and cover immediately with metal lids, and screw on bands. Process in a boiling-water bath 5 minutes. Carefully remove jars from water to cool.

Jaime McLeod is a longtime journalist who has written for a wide variety of newspapers, magazines, and websites, including MTV.com. She enjoys the outdoors, growing and eating organic food, and is interested in all aspects of natural wellness.