What the Heck Is Starfruit?
Make this strange fruit the star of your table.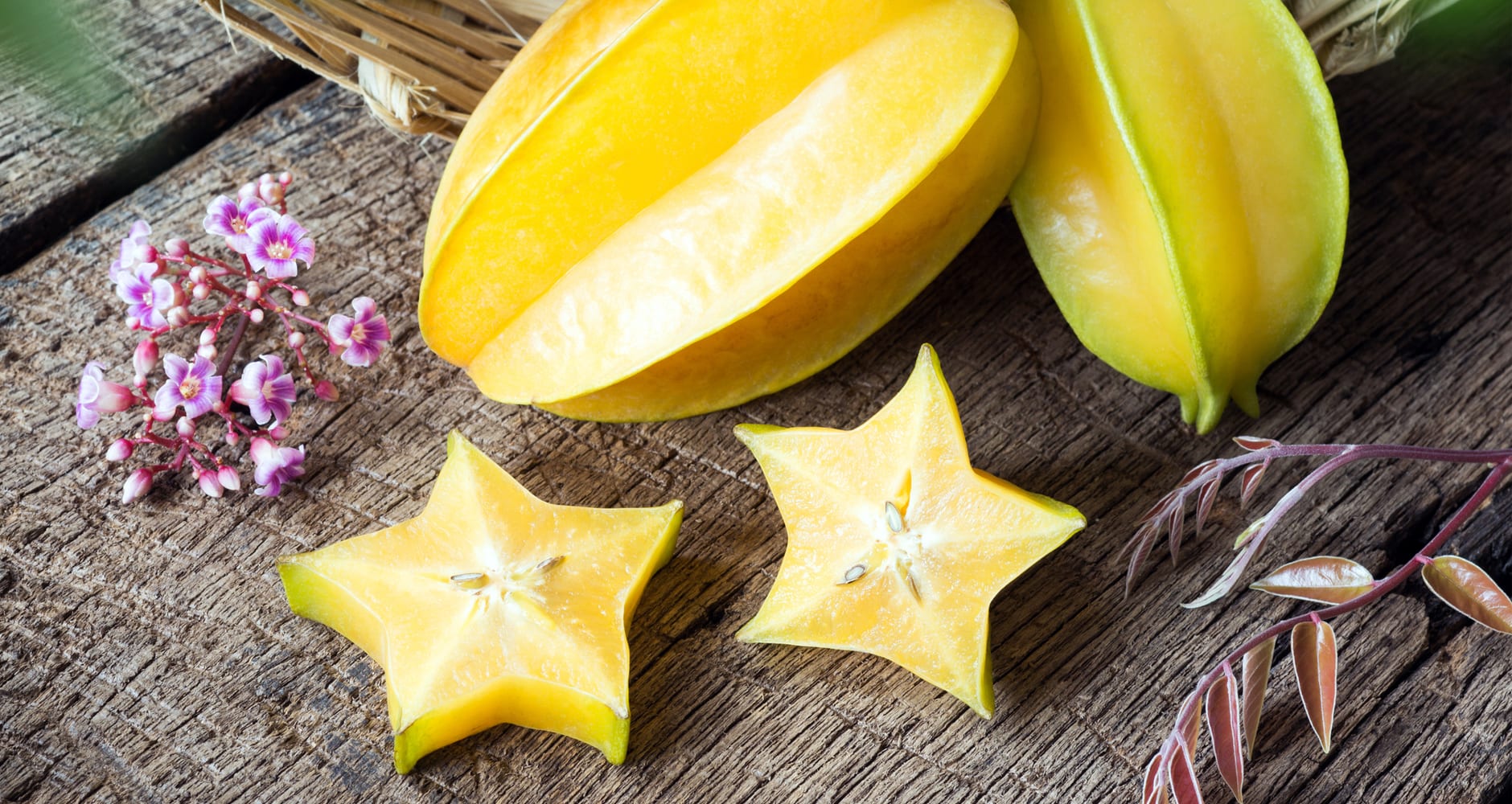 Starfruit, or carambola, is a five-lobed yellow fruit native to Indonesia, India, and Sri Lanka, though it is now cultivated in tropical regions of both North and South America, as well. When sliced into cross sections, starfruit resembles a five-pointed star, which is how it got its name.
Though not technically a member of the citrus family, starfruit's sweetly-sour flavor is reminiscent of many citrus fruits. Starfruit features an edible waxy yellow skin and many contain small dark seeds in the center.
Starfruit is a rich source of antioxidants and vitamin C, and is low in sugar, sodium, and acid.
To choose a ripe starfruit, look for firm fruits that are bright yellow with only light tinges of green. Dark brown coloring along the five ridges is normal.
To eat, simply slice the starfruit to the desired thickness, creating a series of flat star shapes. Remove and discard the seeds you find. You may also wish to scrape off the tough brown ridges prior to slicing.
Here are some more ways to enjoy starfruit:
Starfruit Salad
One head of lettuce, shredded
2 tomatoes, sliced
1/2 red onion, sliced thin
1 avocado, sliced
2 starfruit, sliced
On four salad plates, arrange a bed of lettuce, and layer on the remaining ingredients. Drizzle with your favorite dressing.
Starfruit Bread
2 cups flour
1 1/2 teaspoons baking powder
1/2 teaspoon salt
1 cup sugar
1/2 cup butter, softened
3 eggs
2 cups starfruit, mashed
1 cup chopped coconut
Preheat oven to 350° F. In a small bowl, combine flour, baking powder and salt. In a large bowl, cream sugar and butter, then add and cream eggs and starfruit. Stir in flour mixture, blending thoroughly. Stir in coconut. Pour mixture into a greased bread pan. Bake for 50 minutes.

Jaime McLeod is a longtime journalist who has written for a wide variety of newspapers, magazines, and websites, including MTV.com. She enjoys the outdoors, growing and eating organic food, and is interested in all aspects of natural wellness.
Keep Exploring