Learn How To Forage: A Beginner's Guide
Foraging for nutritious, edible wild plants has been in practice for eons. Today, "wildcrafting" is as simple as heading into your backyard. Learn how to become a part of the movement!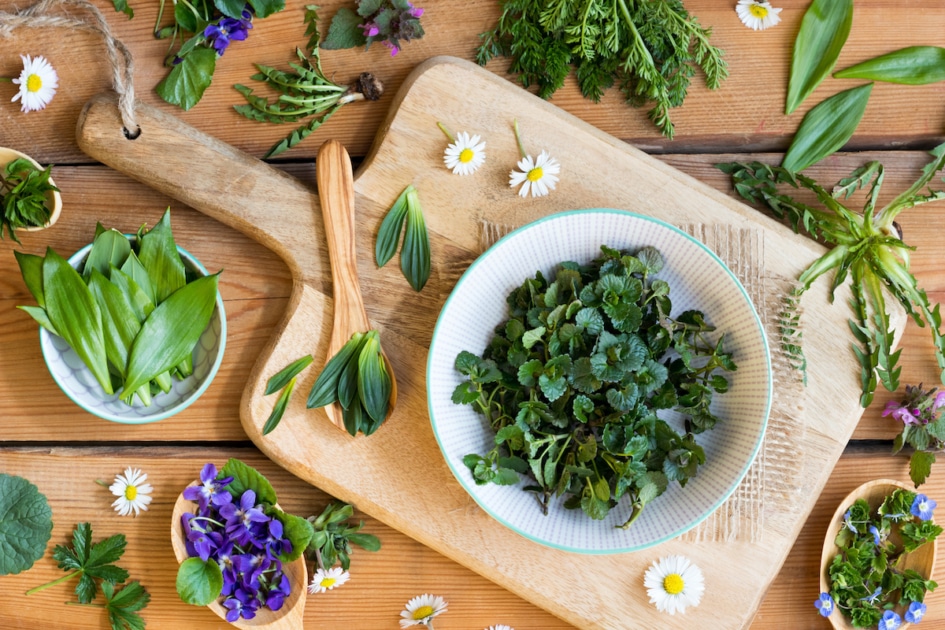 The woods and fields are a table always spread.

Henry David Thoreau
It may seem like a narrow and refined specialty to some, but wildcrafting couldn't be more universal to humans. After the rise of agriculture and more recently, the industrialization of farming, a wildcrafting renaissance began to bloom across modern Western culture.
What is Foraging Or Wildcrafting?
The term "wildcrafting" comes from the old English word wildcrofting, which means "farming the woods." Farming and wildcrafting go hand in hand—before you even have a crop to harvest, you have the crop that Mother Nature planted. So, you have food and medicine for your family or to take to market," says Ila Hatter, a well-known wildcrafter. Hatter teaches the art of wildcrafting, runs the website wildcrafting.com, and is the author of Eating Appalachia: Rediscovering Regional American Flavors.
Sam Thayer, author of numerous award-winning books including Nature's Garden: A Guide to Identifying, Harvesting, and Preparing Edible Wild Plants, says harvesting wild food is the oldest and most basic subsistence activity of humankind, but today we live in a world where these skills are almost lost. "Foraging is the missing link in modern civilized cultures—it is this direct physical connection, in the form of sustenance, that brings us to our deepest appreciation and understanding of the natural world."
Hatter says, "One of my favorites is Lamb's Quarters or wild spinach (which is high in calcium). It can be used in any spinach recipe with no one the wiser. And the same goes for wild violet leaves. It also substitutes well for spinach.
And, she says, it's about more than the simple joy of the harvest. "Knowing what grows in your neighborhood could be vital to your family in an emergency. If stores are closed due to storms, violence, or whatever reason, you can still provide for their needs. And it's free! I tell folks involved in the Local Food Movement, what's more local than 'food underfoot'? There are elderberries, which have potent anti-viral properties for the flu season when prepared as a syrup."
So, if foraging and wildcrafting are so vital to human security, why isn't everyone out on their hands and knees stalking edible wild greens? Or is wildcrafting "unnecessary" in today's world? To many, wildcrafting is important because it fosters an intimate connection to the natural world. It's also a fun way to save money and eat the healthiest and most delicious food that exists.
Jeannine Tidwell, co-founder (along with her husband Tim Corcoran) of Twin Eagles Wilderness School in Idaho, says "wildcrafting gives me deep pleasure and fulfillment in knowing that I not only have the freedom, knowledge, experience, and confidence to gather from my surroundings, but also, as an herbalist and doctor, I am able to heal myself and those around me." She says that it's become part of her and her family's daily lives.
"Last week, I was out gathering rose hips, juniper and all sorts of things. Today, I was processing those plants. Soon, I'll be making elderberry syrup. In the winter I gather, then again in the spring, and so on. It's as common for us as going outside."
Properly Identifying Plants
So how do you tell which greens will make a tasty salad or tea, and which will send you scuttling off to the bathroom—or worse, the hospital ER because of a misidentified mushroom? That's where the human traits of teaching and mentoring come in. For just as long as we've gathered wild food, we've taught our young and each other what is safe to eat. And because of the surge in wildcrafting, resources for learning are more abundant than morel mushrooms sprouting up after a wildfire.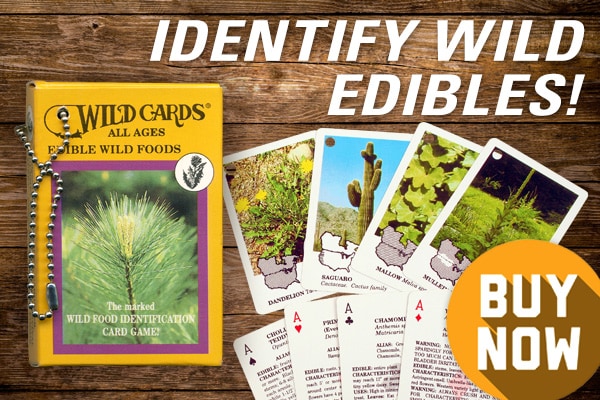 Want To Start Wildcrafting? Start Close to Home
Ask around. Is there someone in your community who knows their wild plants? Lace up your boots, and head into the woods with them and a basket. Be sure your guide is knowledgeable. Have they eaten those mushrooms before?
Some plants are easier to identify than others, so if you're starting out, err on the conservative side. Once you get a taste of the joys of traipsing around in the fields and forests specifically to collect food, tea, medicinals, or other materials, you may find yourself hooked. The good news is you can find an almost endless supply of resources via the Internet and your local library.
Urban Foraging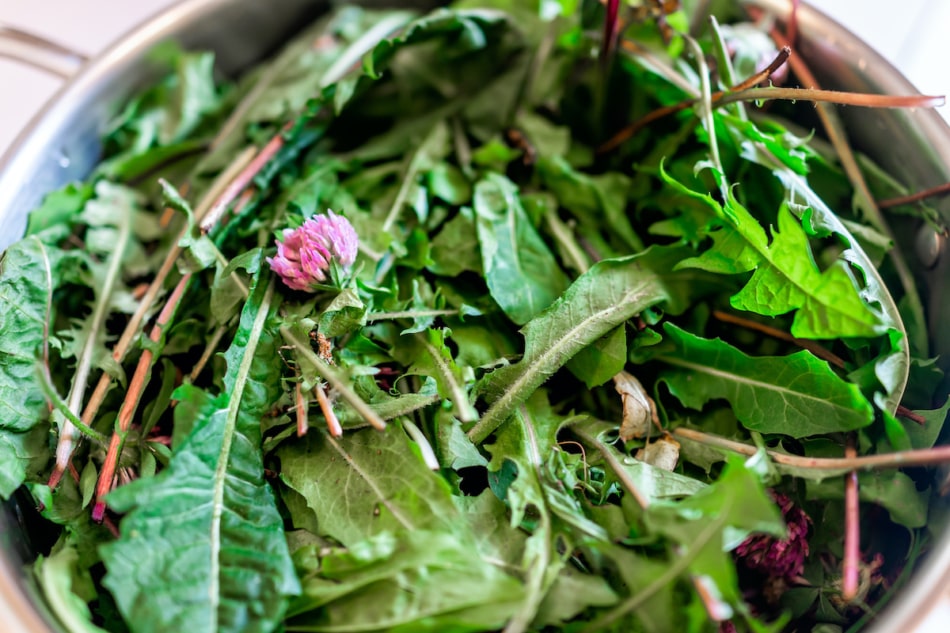 Hatter says there are plenty of options if you are not a rural wildcrafter. "A lot of edibles go to waste in towns and cities just because they are not recognized as such. You can find fruiting crab apples that were planted around public buildings for their spring flowers, but the fruit is ignored. There are always dandelions to be found, and they are more nutritious than most garden plants. Their leaves have more Vitamin A than carrots! Take a walk with awareness, and reach for the good things of the Earth."
Wildcrafting has become so popular that you may just find yourself staring down at a tray full of wild morel or chanterelle mushrooms, fiddlehead ferns, blackberries, or tea leaves at your local grocery store or food co-op. You'll be witness to the remarkable convergence of the ancient practice of wildcrafting and modern farming—a convergence that could benefit everyone for its interwoven reminder of the profound links between humans and the land.
Elderflower Fritters Recipe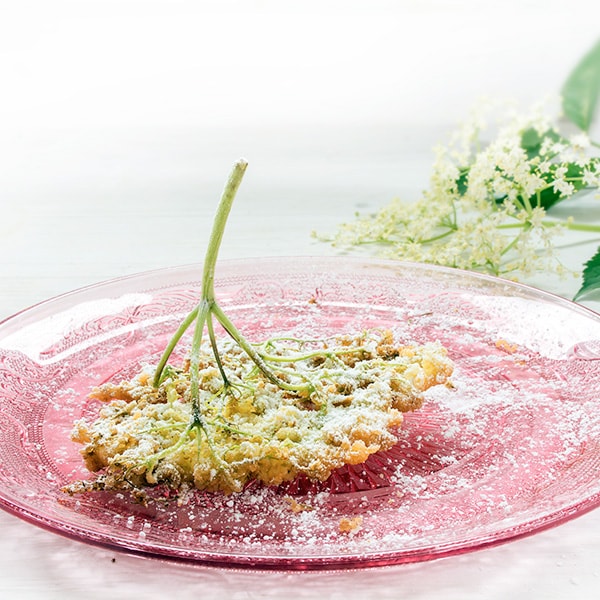 Ingredients:
2 cups flour
1 tablespoon baking powder
1 teaspoon salt
2 eggs
1 teaspoon vanilla
2/3 cup milk
Several bunches of creamy white elder flowers (Snip off the greenish branches connected to the flower clusters, but keep them in a bunch for cooking.) Be sure you're using elderflowers and not their lookalikes!
Directions:
Mix all ingredients together (except the elder flower) until evenly smooth. Dip flowers in batter and lightly fry in a skillet until golden brown. Enjoy with elderberry syrup.
Check out this list of edible plants!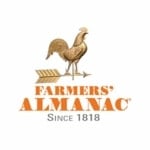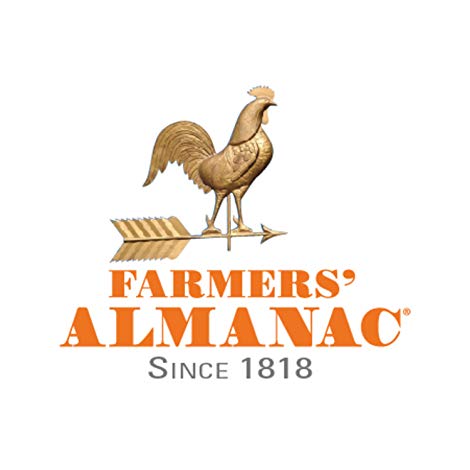 This article was published by the staff at Farmers' Almanac. Do you have a question or an idea for an article? Contact us!