6 Surprising Health Benefits Of Castor Oil
This centuries-old medicine has a rich history, and many are discovering its powerful benefits for hair and skin. Learn more!
Anyone who was a fan of the Little Rascals TV show may remember the many episodes in which Spanky and the Our Gang kids are threatened with doses of castor oil when they misbehaved. Those were the days when the oil was used as a punishment for naughty children because of its bad taste and laxative effect. Thank goodness parenting practices have come a long way! And so have the uses for castor oil.
This centuries-old medicine has a rich and interesting history, and many are discovering the oil's powerful benefits for hair, skin, and more.
This extract comes from the castor bean, which grows on tall, beautifully red-leaved plant, Ricinus communis, that can reach up to 30 or 40 feet in tropical climates. The plant is native to India, and it's a relative to exotics like rubber trees and poinsettias.
Castor Oil Throughout History
Castor oil has been a staple item for at least 4,000 years. The ancient Egyptians (and many other cultures since that time) used it as lamp oil. In ancient Greece, castor oil was used as a laxative, and Pliny the Elder spoke of castor oil as "a strong purgative." People during the Middle Ages found even more uses for castor oil, using it to treat skin conditions like rashes, ringworm, and warts.
Interestingly, while the beans are filled with rich medicinal oil, their skins contain a deadly toxin that can be used to make ricin (Breaking Bad fans may remember this). In fact, castor beans are known as one of the most toxic seeds in the world and they're restricted by law in many areas, and critical processing steps are in a place where the oil is manufactured.
Using Castor Oil the Modern Way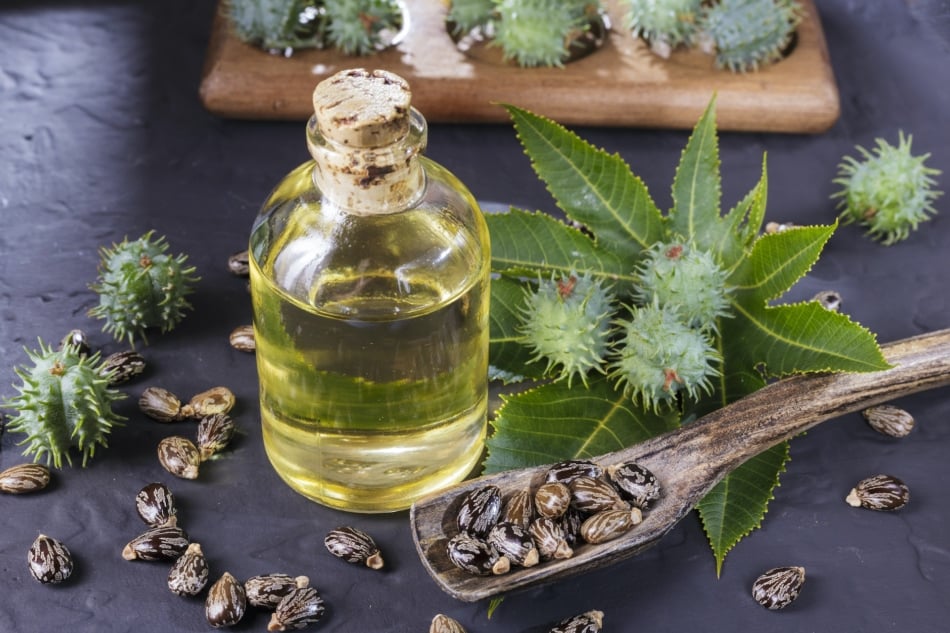 For a while, medicinal castor oil faded from the public's attention. These days, most people don't use castor oil internally because of its very strong laxative effect, and there are many better, safer over-the-counter alternatives. However, when used topically, castor oil has these health benefits that may just surprise you!
6 Surprising Health Benefits Of Castor Oil
Be sure to use 100% pure, cold-pressed oil.
Skin Moisturizer: Use oil from cold-pressed beans to prevent wrinkles and keep your skin looking youthful. Rub a small amount on dry elbows and heels.
Hair Growth: Castor oil is purported to help increase circulation to your scalp, which helps deliver vital nutrients to your hair. Massage a small amount of castor oil into your scalp a couple of times each week for healthy hair growth.
Hair Moisturizer: Castor oil is not just good for the scalp, it's good for your hair, too! Use a very small amount — a dollop the size of a pea — and massage it throughout your hair after you've washed it to keep your hair looking soft, shiny and rich. Work a small amount in dry hair to tame fly-aways and treat brittle ends.
Skin Irritations: With its natural anti-inflammatory properties, castor oil can help soothe abrasions and other minor skin irritations. You can also massage a small amount into the scalp with your fingertips to ease the itchiness.
Skin Tag Remover: Make a paste of castor oil and baking soda, apply it to a skin tag three times daily, then cover the skin tag with a bandage. After one to three weeks, the skin tag should dry out so that it can be removed safely.
Detox with Castor Oil Packs: In the 1990 version of The Doctors Book of Home Remedies (published by Prevention Magazine), castor oil packs are introduced as a way to relieve pain and inflammation. Today, many people, including those with Lyme disease, rely on castor oil packs to stimulate liver detoxification.* Not only is this supposed to have a cleansing effect, particularly on the liver, but it is also purported to keep your lymphatic system healthy.
Castor Oil Pack
To make a castor oil pack, you'll need the following items:
Castor oil (use 100% pure, cold-pressed oil)
Square of wool or cotton flannel, folded to the size of a kitchen sponge
Plastic zipper bag
Heating pad
Terry cloth towel
Directions:
Start by squeezing a good amount of the castor oil on the flannel, and then place it over the affected area (or over your stomach if you want to try a liver detox). Then cover the flannel with the plastic zipper bag so that the oil doesn't damage the heating pad.
Lastly, place the heating pad over the castor oil pack, and then place the towel over the heating pad, and relax for about an hour.
Where to Buy
Castor oil is available online, at most major retailers, or at your local pharmacy. Be sure you're purchasing only the purest form of the oil, free of additives.
*This information is not intended to take the place of the advice and counsel from your doctor. Always seek the advice of a health professional for medical advice.

Amber Kanuckel is a freelance writer from rural Ohio who loves all things outdoors. She specializes in home, garden, environmental, and green living topics.