Best Days To Wash Your Cat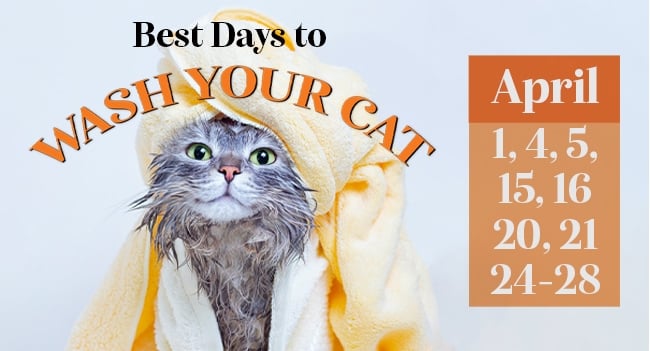 Ever wonder which day is best to wash your cat? We have the answer, along with some important cat-related facts that you need to see.
April Fools!
The Farmers' Almanac is known for our famous Daily Planner with suggested days to Garden by the Moon and "Best Days" to do household activities, but there are no ideal times to wash your cat! In fact many veterinarians do not advise bathing your cat for a variety of reasons. (Most healthy cats naturally groom themselves and don't require additional cleaning.)
But while we're on the topic of cats and humor, we thought you might appreciate this recent note we received from one of our favorite felines, a burgeoning superstar. We were so impressed by him, we invited him to be our first-ever cat guest writer.
Here is an important message from Lou the Cat a/k/a @SophieLovesTuna:
A Day In The Life Of Louie The Cat
Hey! My name is Louie, my friends call me Lou. I was rescued from a shelter 5 years ago. These days, I run the show around here. People say I'm very outgoing and like to be the center of attention. I can't argue with that, I'm a sucker for a belly rub.
My absolute favorite thing to do is to go outside and stalk things. I like to paw through the Farmers' Almanac ahead of time so I know what the weather is supposed to be like for the week. This way I know how early I should start howling by the door each day it's going to be nice out.
Usually I'm ready by 8am. I like to check the perimeter then start my hunting early. We have a lot of squirrels, birds, and rabbits around here that I like to show who's boss. (Sometimes I even refer to the Almanac for the Best Days to hunt. I mean if they are gonna tell me, then why not! Amirite?)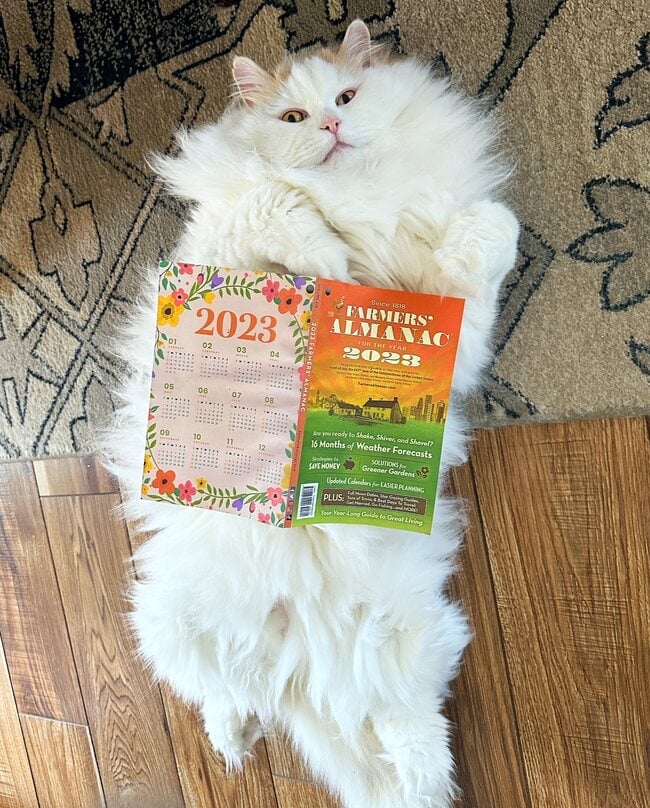 It's not always all work outside for me though. I do enjoy playing with catnip bubbles or batting sticks around. Sometimes I even have my mom pull me in a sled through the snow, or in my wagon when it's warm outside. Other times I like to nap and soak up some rays.
Inside, I love to play and be entertained. My favorite toys are wand toys or anything that makes Mom work for my enthusiasm. I have a lizard toy I'm a big fan of, and if she runs through the house with enough turns and obstacles, I like to chase it. I also like to collect bananas. I have quite the collection in my toy box. I like to see how many puncture holes I can get in them before the seams split.
I have also promoted myself to House Su-purr-visor which I take very seriously. I make sure to position myself in the middle of everything taking place. My mom is always making something, so I'm very busy around here. She likes to bake so when she does, I like to sit on my cat tree adjacent to the mixer and make sure she's doing everything correctly.
She recently tried the prize winning Honey Churro Cookies recipe in the Farmers' Almanac (page 42) and I was a big help. I played a big part in keeping everything organized together on the other counter, away from us. She likes to make things for me to play in too, like tunnel mazes or fun boxes to run and hide in.
When something requires supplies or tools, I try to sit on everything and when she needs what's under me I swat her so she has a game to play too. I also recently showed her the 'Repurposing' article (on page 83), on making things new again and put her to work making me a new bowtie, ya know, since she likes doing things for me. I think it really pops against my freshly brushed floofage.
Anyways, that's me in a nutshell. Speaking of nutshell…Note to Self: Bookmark: 'What Squirrels Don't Want You to Know' (page 26) for tomorrow. I'm intrigued.
Join The Discussion
How much do you love Louie the Cat?
Did you enjoy our April Fools' Day joke? We hope you did!
What is your favorite picture of Louie above? 1, 2, 3, or 4?
Have you tried our winning Honey Churro Cookies recipe yet?
What are your favorite articles in FA 2023? – Purchase your copy now!
Share with your community here in the comments below!
Related Articles
April Fools' Day – Origins And Traditions
Farmers' Almanac Daily Planner with "Best Days"
Louie the cat is an expert in all cat-related things, mostly due to the fact that he is a cat. According to many of his adoring fans across social media (165,000 followers and counting), his magical presence makes all things better — from baking to ... April Fools' Day jokes — really anything you happen to be doing. Unlike most cats who just sit on keyboards, he actually knows how to use one. In fact he has a voracious appetite for books, including the Farmers' Almanac, and is an aspiring writer. In an ever-changing world, Lou rises above the rest as an iconic trendsetter with a bright future, inspiring humans and felines alike. Find him @sophielovestuna on Instagram.