Birth Month Flowers: How To Plant A Family Garden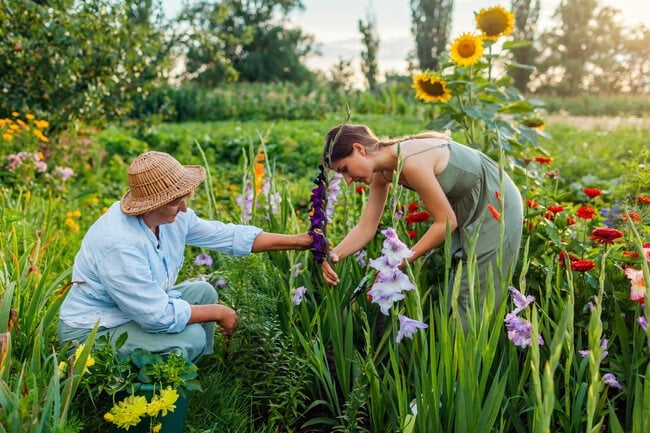 Design a landscape that's meaningful and memorable for you and your loved ones by planting your family's birth month flowers. Categorized by month and blooming conditions, birth flowers hold a special meaning similar to birthstones and zodiac signs. Many believe they can represent your personality, emotions, and relationships — helping you form a deeper connection to nature. Ahead, we'll cover the details on traditional birth flowers by month, along with their best design and planting tips.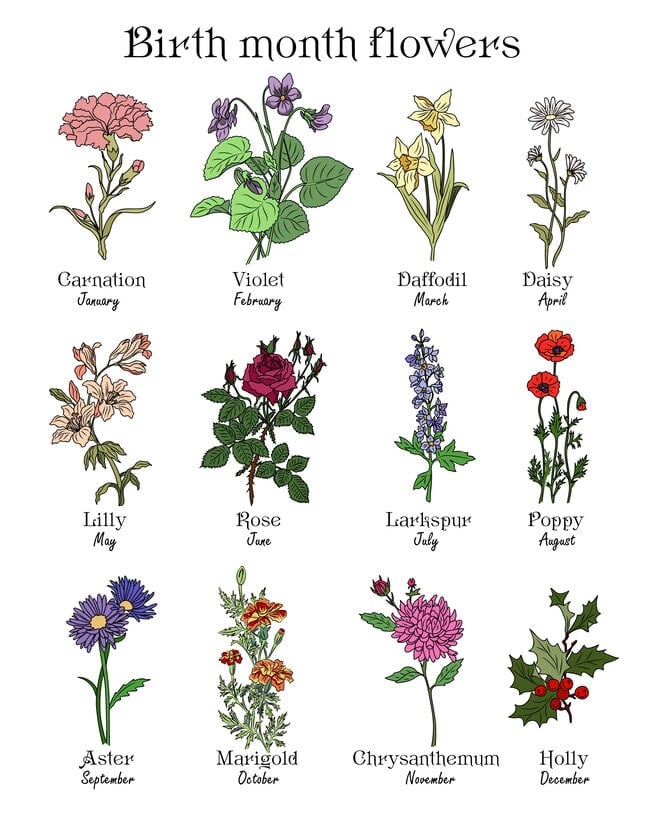 Where Did The Birth Flower Tradition Come From?
Birth flowers have been used for centuries, but their exact origins are unclear. Some historians believe they originated in Ancient Rome (as flowers were a common gift and decor staple of the Roman Empire). Plus, the Romans were one of the first civilizations to celebrate birthdays, possibly leading to the assignment of different flowers by month. With time, a "language of flowers" developed, enabling people to send messages using symbolism and secret meanings of different blooms.
What Is My Birth Flower?
Every month has one primary and secondary birth flower. This is because not all cultures agree on which ones fit each month (and some flowers are not readily available by region). To find your birth flower pair, glance at the following table organized by month:
Birth Flower Chart – By Month

Birth Month
Primary Flower
Secondary Flower
January
carnation
snowdrop
February
violet
primrose
March
daffodil
jonquil
April
daisy
sweet pea
May
lily of the valley
hawthorn
June
rose
honeysuckle
July
larkspur
water lily
August
gladiolus
poppy
September
aster
morning glory
October
marigold
cosmos
November
chrysanthemum
peony
December
narcissus (paperwhite)
holly
Will My Birth Flower Match My Zodiac Flower?
Yes (and no). Although there is a connection between birth flowers and zodiac signs, some sources disagree on which bloom corresponds with which month. Still, each zodiac sign's flower seeks to represent the personality traits of the person born under that sign. For example, orchids and ivy are zodiac flowers that both fall within the month of January, but January's primary traditional birth flower is the carnation.
Therefore, how you choose your flower is a personal choice, dependent on your beliefs. To dive deeper into the zodiac perspective, here is a second table that lists flowers accordingly (along with their meaning):
Birth Flower Chart – By Zodiac Sign

Zodiac Sign
Birth Flower
Meaning
Aquarius (January 20 – February 18)
orchid
perfection
Pisces (February 19 – March 20)
water lily
purity
Aries (March 21 – April 19)
honeysuckle
happiness
Taurus (April 20 – May 20)
lilies
purity
Gemini (May 21 – June 20)
lavender
devotion
Cancer (June 21 – July 22)
white rose
innocence
Leo (July 23 – August 22)
sunflower
adoration
Virgo (August 23 – September 22)
morning glory
affection
Libra (September 23 – October 22)
rose
romantic love
Scorpio (October 23 – November 21)
chrysanthemum
optimism
Sagittarius (November 22 – December 21)
carnation
fascination
Capricorn (December 22 – January 19)
ivy
fidelity
How to Plant and Pair Birth Month Flowers
Planting Conditions
When planting and pairing, consider each flower's Plant Hardiness Zone, bloom time, soil type, watering and sunlight requirements. Match blooms with similar needs to ensure your partnerships are successful. (These details are usually listed on "plant tags" and on the backs of seed packets.) For example, do not pair short, sun-loving plants alongside taller iterations that may cast shadows over them.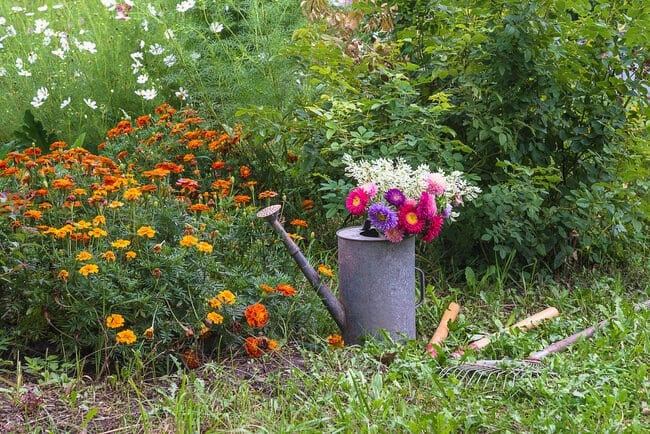 Marigolds (October birth flower) and asters (September birth flower), for example, have similar growing requirements. Marigolds grow in USDA Hardiness Zones 2-11, while asters grow in USDA Hardiness Zones 4-8. Marigolds bloom from early summer through late fall and asters tend to bloom in late summer into early fall, so this is an example of a great pairing.
Related: What Are Plant Hardiness Zones?
Color, Design, And Aesthetics
Blooms can pack a hardy punch to your landscape design, elevating its beauty, texture, and aroma. To maximize your design impact, consider the colors and shapes when pairing those with similar bloom times.
A splash of a similar hue is lovely, but it may prevent you from showcasing individual flowers. Instead, give each birth flower a chance to be a showstopper, by using complementary hues like yellow and purple. Or alternate your arrangement by using smaller petaled flowers to border larger-faced blossoms for a stunning display.
Birth Flowers As Companion Plants
Adding appeal to any space, birth flowers can also have a utilitarian value that shouldn't be overlooked. Flowering plants conserve water, reduce soil erosion, and improve soil quality, while some species keep pests away from vegetable gardens.
Marigolds, for instance, produce a chemical called alpha-terthienyl, which inhibits nematode egg development and deters root-knot nematodes from damaging crop yields and killing ornamental plants. Marigolds keep smaller pests like squash bugs, aphids, and whiteflies away, as well as larger pests like cats, deer, and rabbits. French marigolds are the best type of marigold to prevent insects from damaging your garden.
Related: 9 Flowers That Make Great Companion Plants
How to Care for Birth Flowers
Always look at your flower pairings to see if any may require special treatment. But, in general, it's best to care for each flower based on its specific needs. For example, gladiolus, the August birth flower, requires regular pruning and a balanced, slow-release fertilizer every 4-6 weeks during its growing season.
Carnation (January birth flower), need 4-6 hours of daily sunlight and fertilized soil with a pH of 6.7-6.9. Jonquil (March birth flower) on the other hand, must be planted in well-draining soil and watered regularly.
Join The Discussion
Will you use this guide to plant a special garden to honor your family this year?
Which flowers will you plant and what questions do you have?
Share with your community here in the comments below!
Related Articles
Birthstones By Month — Facts And Folklore
Shivani Vyas is a home and garden expert for Farmers' Almanac who covers interior design, decorating, gardening, and home improvement. Vyas also writes for Better Homes & Gardens, Martha Stewart, The Spruce, MyDomaine, Domino, and Atlanta Magazine. She has more than five years of industry experience and works as a residential interior designer in Macon, Georgia.