January Flower Lore: Carnations
Learn more about January's official flower, the carnation.
Flowers are fascinating—perhaps more than any other part of the natural world—because of the many layers of meaning people have shrouded them in throughout history. There is a whole sub-category of etiquette surrounding which flowers are appropriate to give—at what times, and to whom. The unending rules surrounding something so simple as a flower can be dizzying. Learn more about flower language.
Another aspect of flower lore concerns the designated flowers for each month of the year. January's official flower is the carnation.
What Are Carnations?
Carnations are a perennial herb native to the Mediterranean region. A staple of a traditional English garden, they are believed to have been brought to the island by Roman soldiers. Carnations were originally known as corona, the Latin word for crown.
Carnation stems can grow to be at much as 30 inches tall, and the flowers are 2-3 inches wide with a large number of sweet smelling petals. Their natural color is a bright pinkish-purple, but other colors have been cultivated, including red, white, yellow, and green. Their formal name, dianthus, comes from Greek for "heavenly flower."
Carnations are said to be primarily a symbol of unconditional love, though the meaning can differ depending on the color. In France, carnations are the traditional funeral flower, and are it is considered bad luck to give them for any other occasion.
The leaves of carnations were once mixed with wine to control fevers, while the flowers were believed to be an effective antidote some poisons. The plant was also once popularly used to add flavor to beer and wine.
Carnation Legends and Lore
One legend about the origin of carnations states that the plants sprang up from the tears of the Virgin Mary as she watched Jesus carrying his cross to Calvary. This is probably why pink carnations are, to this day, the symbol of motherly love.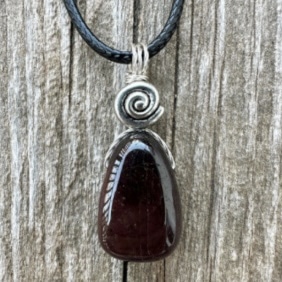 January Birthstone – Garnet Necklace
Garnet is the traditional birthstone for January. It is believed to inspire courage, especially during times of trauma.
Known as the "Karma stone" it is thought to bring good luck to those who do kind deeds.
This necklace makes for a wonderful gift for someone who could use some extra strength right now.
– Limited quantity –
Join The Discussion
What do you think about carnations?
Let us know in the comments below!

Jaime McLeod is a longtime journalist who has written for a wide variety of newspapers, magazines, and websites, including MTV.com. She enjoys the outdoors, growing and eating organic food, and is interested in all aspects of natural wellness.