Why Blueberries Are A Must-Eat Food: History and Recipes
Blueberries are one of Mother Nature's most healthy superfoods. Here's why you should be eating them, with delicious recipes to try!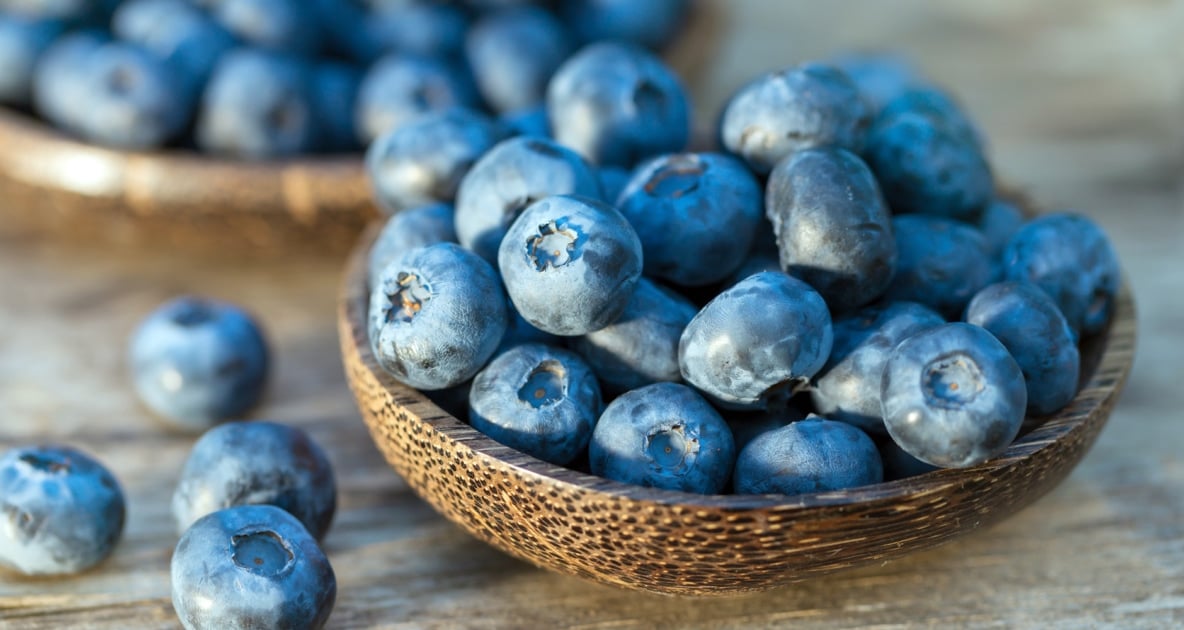 "If you want to be cancer-free, don't forget the blueberry!" is a little ditty I wrote years ago for a Farmers' Almanac special event. In the intervening years, I've learned a lot about various superfoods. Yet, the blueberry remains at the top of my go-to superfoods list as the healthiest and most delicious.
Blueberries: A Little History
Blueberries are native to America and readily lend themselves to being the "blue" in many patriotic dishes, so eating them is a great way to express your nationalism! Berry season is a great time to celebrate not only their utter scrumptiousness and wholesomeness but their astounding number of health benefits, too. They are high in fiber and low in calories and have practically no fat. This makes them perfect for satisfying your appetite and sweet tooth, managing your cholesterol and weight, and maintaining your digestive regularity and heart health.
Eat The Colors of the Rainbow
If you strive to "eat a rainbow" of whole foods each day to help your body get a complete range of nutrients, then blueberries should be a welcome part of your diet. Blueberries get their blue color from plant pigments called anthocyanins, the same pigments that give the red coloring to the autumn leaves.
Anthocyanins are among the many polyphenols contained in blueberries. Studies suggest that polyphenols have antioxidant, anti-inflammatory properties that play an important role in helping to lessen the inflammatory process associated with chronic conditions, such as cancer and cardiovascular disease. Not only are polyphenols helpful in preventing health problems, research indicates they promote health by warding off common problems and certain effects of aging, such as age-related cognitive decline.
Blueberries' Health Benefits
Blueberries are high in …
Vitamin C, which is needed for the growth and repair of tissue throughout the body and is an antioxidant that blocks some of the damage caused by free radicals, thereby promoting a healthy immune system. Blueberries are the fruit that has the highest antioxidant levels.
Vitamin K, known as the clotting vitamin because without it blood would not clot. Some studies suggest that it helps maintain strong bones in the elderly.
Vitamin B6, to help the body make antibodies needed to fight many diseases; maintain normal nerve function; make hemoglobin to carry oxygen in red blood cells to the tissues; break down proteins, and regulate blood sugar.
Phosphorus, the second most abundant mineral in the body, which is important for growth and cell reproduction. It also helps to break down nutrients.
Manganese, important for bone and connective tissue formation and for brain and nerve function. It is also involved in fat and carbohydrate metabolism, calcium absorption, and blood sugar regulation.
Eating and Storing Blueberries
Now that you're super knowledgeable about this fantastic fruit, go out and get yourself some blueberries! When you do, eat them as soon as possible, because they begin to lose their nutritional value as soon as they are picked. Some say that the best time to wash blueberries is never because it's the best way to ensure they won't get moldy or spoil quickly. Barring that, wash them just before you eat them or use them in a recipe. Use a minimal amount of water and definitely don't soak them—you don't want them to get water-logged. But berries carry mold spores so rinsing them before eating is important.
As for storage, a colander or berry bowl that affords some air circulation works best. Pick through them first to ensure there isn't a moldy one in the bunch which can speed up rotting in the container. If need be, you can always freeze them. Scatter them on cookie sheets to initially freeze them, and then transfer them to storage bags or containers for further storage in the freezer.
Blueberry Varieties
There are two types of blueberries: high bush (which are cultivated and larger) and low bush or wild (which are smaller—a Maine staple!). Regardless of which type you prefer, there are many ways to enjoy blueberries. Most people eat them for breakfast—in muffins (see recipe below) and pancakes or on cereal—or for dessert—in cobblers, pies, and sauces. Why not give these blueberry recipes a try?