Cherry Thumbprint Cookies Recipe — A Great Holiday Gift Idea!
Have you ever made thumbprint cookies? This recipe will make your knees buckle! It comes from a collection of recipes passed down to our friend Lauren of Must Love Herbs. Lauren is a part of a long line of Appalachian bakers who create stunning treats by weaving together tradition, nature, and art. Her grandmother's recipe book is a cherished possession containing over 200 years of magic! (Something we at the Farmers' Almanac know a little about!) Become a part of Lauren's family history by making her grandmother's thumbprint cookies. They make a great gift for the holidays or any occasion.
Do you have an old recipe book that you cherish? Tell us about it in the comments below!
A Note From Lauren of Must Love Herbs:
These "Sesame Cherry Cookies" are a handwritten recipe I found in my late grandmother's recipe box! However I do not remember her making this recipe. I was so intrigued by them that I decided to give them a chance. I am certainly glad I did!
They're buttery, fluffy, and almost biscuit-like. The "dollop" of cherry preserves mixed with the sesame seeds is a match made in heaven. I have made very few updates from her original recipe. These are certain to become a family and friends' favorite!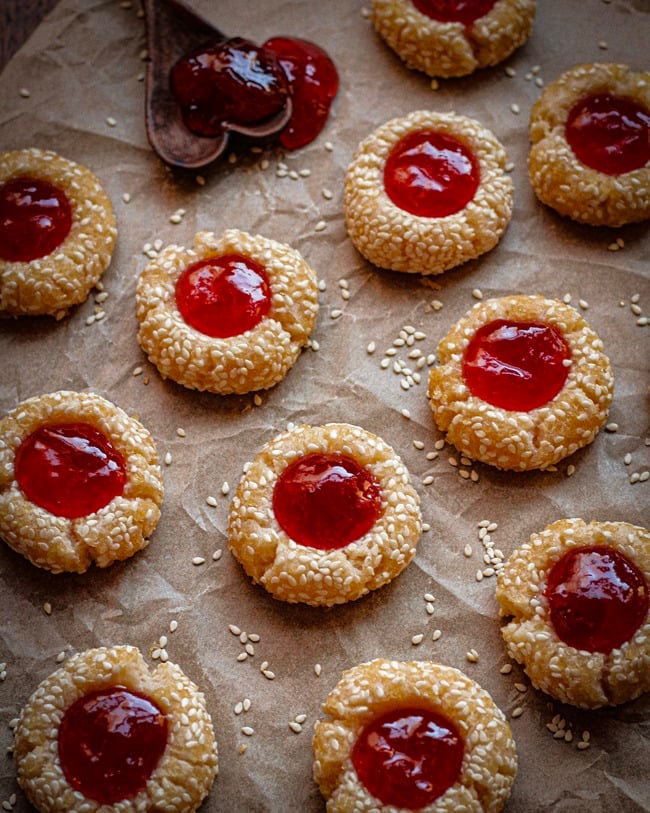 Cherry Thumbprint Cookies Recipe
Ingredients
1 cup unsalted butter, softened
1 tsp almond extract (or vanilla extract if you prefer)
½ – 1 cup cherry preserves (or any good quality jam)
Directions
Put room temperature butter and sugar into a mixing bowl. Cream together until fluffy.
Add almond extract, flour, and salt. Mix until evenly incorporated. (Use a stand mixer if you like.)
Wrap dough tightly and chill for a minimum of 1 hour.
Preheat your oven to 400°F.
Add the sesame seeds and turbinado sugar into a small bowl. Set aside.
Form the dough into 1 inch balls.
Roll the dough balls in the sesame seed and sugar mixture until fully coated.
Place the dough balls on a parchment paper lined baking sheet.
Allow 2 inches between cookies. (If time allows, chill again for 30 more minutes. This helps the cookies hold their shape better, but is entirely optional.)
Bake for 5 minutes.
Remove them from the oven. Use a round teaspoon to gently press a "well" indent into the center of the cookie dough (for the jam filling).
Return to oven and bake for 5-6 more minutes.
Allow cookies to cool completely before filling each indent with preserves or jam.
Enjoy!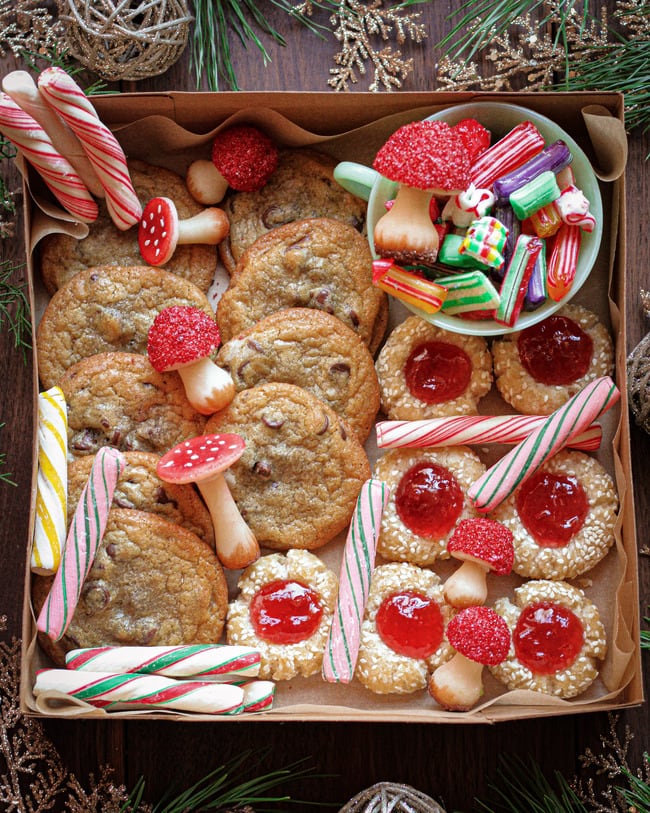 Related Articles
Grand Prize Winner Shares New Recipe – Holiday Starbread
How To Make Cookies With Edible Flowers
Join The Discussion!
Have you ever made thumbprint cookies?
Do you have a family recipe book that you cherish?
What is one recipe from it that you haven't tried in a long time?
What is your favorite kind of cookie?
Let us know in the comments below!
Lauren "Herbs" May is a gardener, forager, and recipe developer based in the Appalachian Mountains of Kentucky. Her imaginative dishes weave together nature, artistry, and 200 years of family tradition. Learn more and become inspired by  her many creations at MustLoveHerbs.com.