Fun Facts About Spring Peepers
Spring peepers are one sure sign of the new season. When will you start hearing their call? Learn more about these very vocal frogs and why they sing.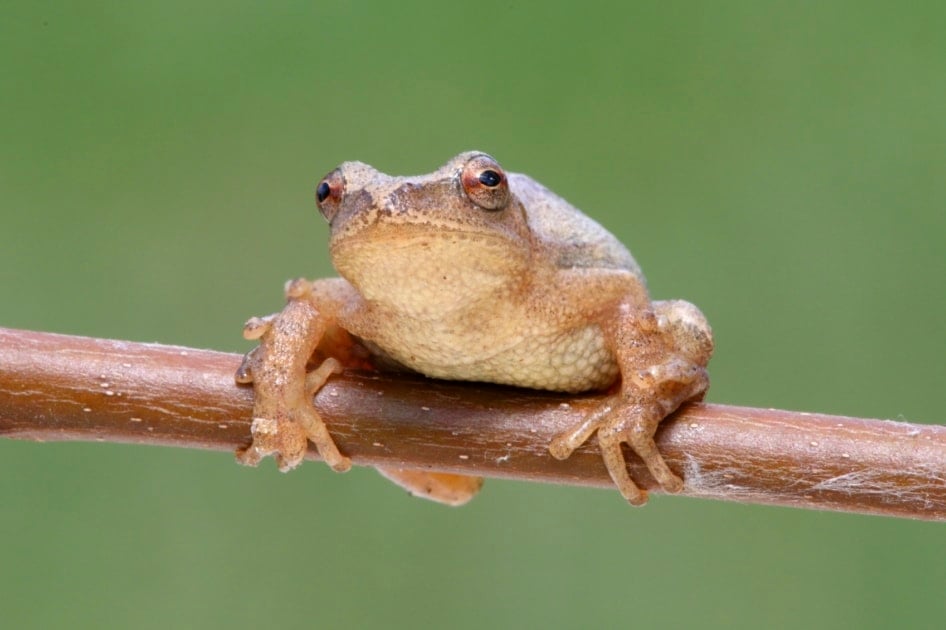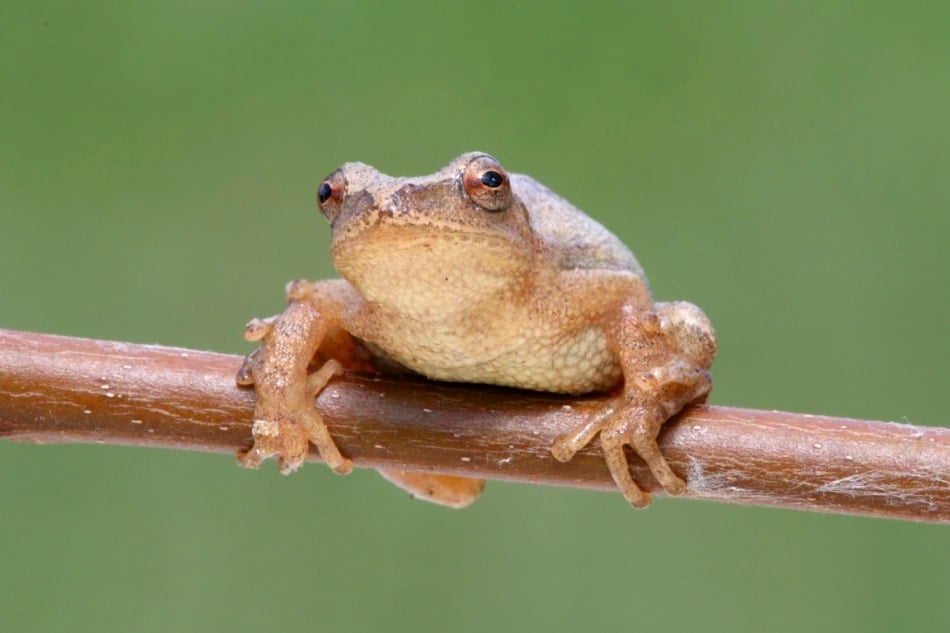 There are unmistakable signs that spring has finally sprung—flowers blooming, the return of the robins, and the unique sound of spring peepers. If you live anywhere east of the Mississippi River, you're probably very familiar with the sleigh bell-like sound of hundreds of these chirping frogs around swampy areas. But why do peepers peep? And are they the only frogs that sing all night long? Here are some interesting facts about this tiny frog with the big sound.
Are Peepers the Only Noisy Frogs?
While spring peepers, pseudacris crucifer, are the most famous of all the chirping frogs, they're not the only species native to North America. In fact, spring peepers belong to a group of frogs known as "chorus frogs." Spring peepers live in the eastern half of North America, from northern Florida up into Canada. Then there are Western and boreal chorus frogs that have a range spanning between Ohio and Arizona, and north into central Canada.
How do you tell the difference between these frogs and regular frogs?
The easiest way is to listen to their chirping. Spring peepers make a distinctive peeping noise that can sound a lot like jingling bells when there are a lot of peepers around. Western chorus frogs make a high pitched creaking sound, and boreal chorus frogs have a raspy chirp that sounds like the noise that you make when you run your fingernail over a fine-toothed comb.
Why Do Peepers Peep?
That nightly chorus that you hear on warm spring nights is actually a spring peeper mating ritual. The males of this species are calling out to the females, who are drawn to their chirping suitors. After the frogs mate, the females will lay eggs underwater. Those eggs hatch in approximately 12 days.
What's Up With the Bubble on a Frog's Chin?

If you've ever seen a peeper peeping, then you've probably noticed the peculiar bubble that seems to form under the frog's mouth. It's not just spring peepers that can puff up their throats — many frogs can do this, but peepers are more numerous and therefore more easily spotted.
This bubble is actually the frog's vocal sac. To make their calls, peepers close their nostrils and mouths and squeeze their lungs, which causes the vocal sac in the throat to inflate like a balloon. The peeping sound happens as air leaves the lungs, passes over the vocal cords and into the vocal sac.
Did You Know Spring Peepers Can Survive Being Frozen?
Not all frogs in cold climates bury themselves deeply enough to avoid freezing temperatures in the winter. There are actually five species of frogs in North America that can freeze and survive. Two of these frogs are the spring peeper and the Western chorus frog. As temperatures dip below 32 degrees, these frogs start producing their own "antifreeze" to help preserve the most essential organs. Up to 70% of the frog's body can freeze, to the point that the heart stops pumping and the frog appears to be dead. Scientists still aren't sure how frozen frogs can wake up again, but once they thaw out and wake up, most frogs will go through a period of healing before they resume their normal lives.
Habitat, Diet, and Other Froggy Facts
Because chorus frogs need still water to lay their eggs, you'll find spring peepers, boreal chorus frogs and Western chorus frogs in predominately marshy areas. Peepers especially love wooded wetlands or swampy areas near forested areas because they like to hibernate under tree bark or fallen logs.
Most chorus frogs are quite small — spring peepers and Western chorus frogs will grow to a maximum of 1.5 inches, while boreal chorus frogs top out at just over an inch. Because of their minute size, these frogs feed on small bugs like ants or small beetles.
When it comes to looks, spring peepers are easily identified by a dark X-shaped marking across their backs. Other chorus frogs have spotted or striped markings.
Warm weather is almost here! If you have the chance, spend an evening outside listening to the sounds of spring. Among them, you'll hear the chirps of these amazing little frogs.
Take a listen to the sounds of the chorus of spring peepers here!

Amber Kanuckel is a freelance writer from rural Ohio who loves all things outdoors. She specializes in home, garden, environmental, and green living topics.