Easy Steps To Roast Chestnuts At Home (No Open Fire Needed)
Chestnuts roasting on an open fire was once a popular Christmas tradition. You can bring it back and make them at home with this easy method.
Nat King Cole's "The Christmas Song" introduced most of us to "chestnuts roasting on an open fire." But sadly, it's a Christmas tradition that has fallen out of favor over the years. But what do chestnuts have to do with Christmas? What do they taste like? Can you make them at home?
About Chestnuts: Part Nut, Part Vegetable
At one time, the American chestnut once dominated the eastern half of the United States. But it succumbed to a lethal fungus known as the chestnut blight, during the early 1900s to mid-1900s. It's estimated that 3.5 billion of the nearly 4 billion American chestnut tree population died. As the American Chestnut Foundation puts it, "the American chestnut tree thrived for 40 million years, then disappeared within 40."
The chestnut, which has been cultivated for over 2,000 years, is unlike any other nut. It's encased by not one, but three coatings: an outer, prickly pod, known as the "burr;" a smooth mahogany shell, and an inner peel that surrounds the meat of the nut itself.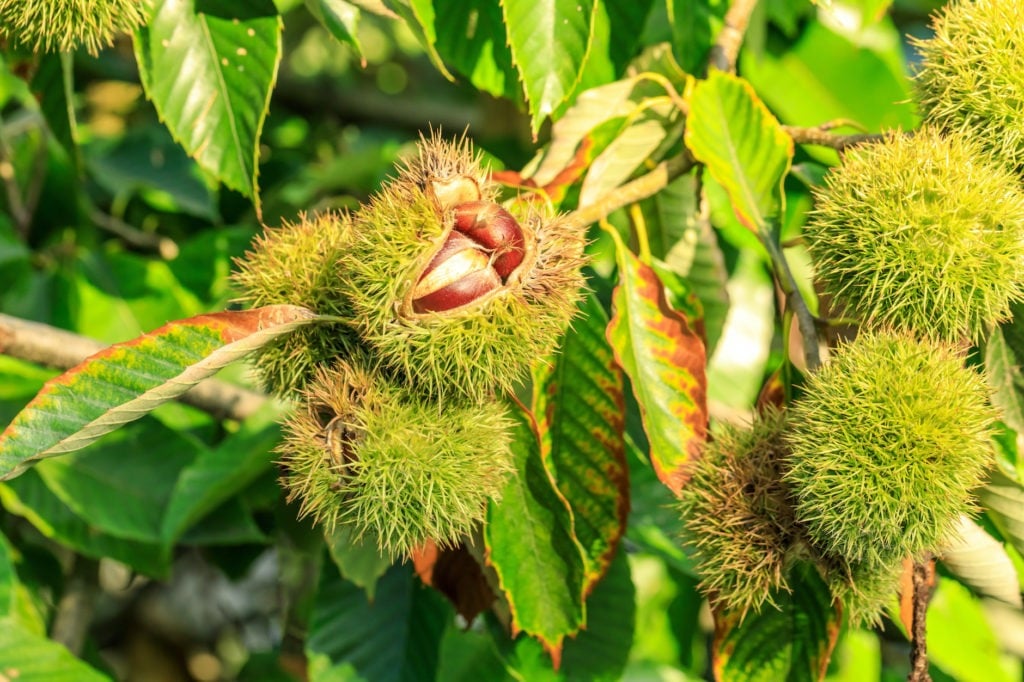 Although we refer to chestnuts as nuts, their meat is soft and starchy like a vegetable and not crunchy like a traditional nut. In fact, fresh chestnuts are comprised of roughly 50-60% water, so, if they aren't kept refrigerated and used within weeks, they will spoil.
Several varieties of chestnuts exist, including the American chestnut, European chestnut, and multiple species of Asian chestnuts, all of which are edible. Water chestnuts aren't true chestnuts. And horse chestnuts, known as "buckeyes" shouldn't be eaten as they are toxic.
It's easy to tell edible chestnuts from inedible horse chestnuts. While both have a smooth, round shape, edible chestnuts always have a "tassel," or point on the end of the nut. The horse chestnut is rounded and smooth with no point or tassel.
A Christmas Tradition?
Why chestnuts are popular at Christmastime isn't exactly known, but their harvest time and short shelf life might have something to do with it. After being picked from mid-September to November, chestnut growers process the nuts and keep them fresh by storing them in climate-controlled environments just until they're ready for selling, making them available around the holiday season.
Thousands of years ago, Europeans and North Americans relied on chestnuts as a substitute for grains and potatoes. Because of this, chestnuts found their way into old-world recipes. This might be another reason for their reputation as a holiday nut, since cooking traditional foods is a holiday pastime in many homes.
Fun Fact: Roast Chestnuts Day is December 14th!
What Do Chestnuts Taste Like?
You don't want to eat them raw! Chestnuts taste quite bitter and astringent and they need to be cooked. Roasting them brings out a mildly sweet, buttery flavor that's reminiscent of a sweet potato. Today, roasted chestnuts are still sold by street vendors, especially in New York City and in European towns across Italy and Portugal, and their distinct roasting fragrance wafts through the city streets.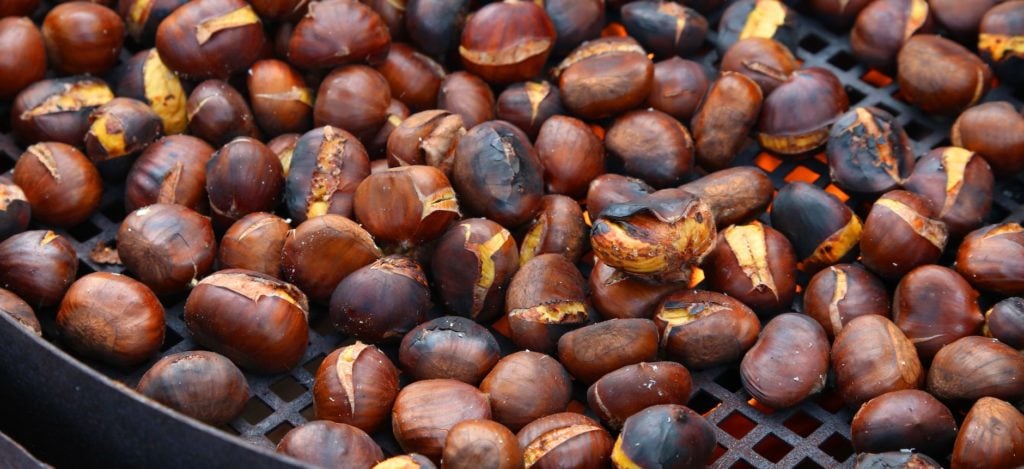 Roasting chestnuts and snacking on them straight from the shell isn't the only way to eat them. They're also tasty in both sweet and savory dishes, including pastries, soups, and stuffings.
Where To Buy
Although the species remains endangered in the United States, pockets of blight-free American Chestnut trees can be found on family-owned farms nationwide. Still, the majority of the chestnuts you can find in your grocery store are likely imported from Italy, France, and China.
You can usually find fresh chestnuts at your local supermarket and farmers markets. Look for unblemished, glossy exteriors, and should be firm to the touch. They can also be purchased online from nut retailers.
Roasting Chestnuts At Home (No Open Fire Needed)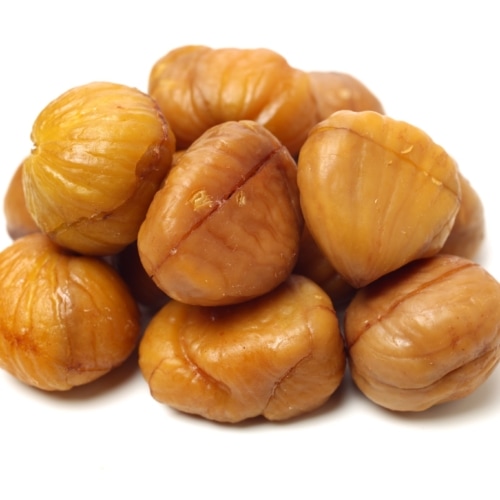 Roasting Chestnuts At Home (No Open Fire Needed)
Ingredients
1-1/12 

lbs.

fresh chestnuts in shells
Instructions
Place chestnuts flat side down on a cutting board. Using a paring knife, score an 'X' into the rounded side of each nut. Be careful when cutting as the shells are slippery! Be sure you score deep enough to reach the inner layer. You can also use scissors: see how this method is illustrated in the video, below.

Place nuts in a bowl of hot water and let sit for 1 minute. (This encourages steaming while cooking, and easier peeling.) Drain and pat dry.

Place the chestnuts on a baking sheet, cut side up. Bake at 350°F for 20 to 25 minutes, or until shells begin to curl away from the meat inside.

Remove chestnuts from oven and wrap them up in a clean tea towel for about 10-15 minutes. Peel the skins off once nuts are cool enough to handle (cold chestnuts don't peel well). Enjoy with your favorite fireside beverage!
Be sure to also try our recipe for cranberry and chestnut stuffing!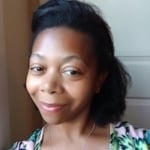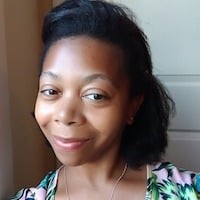 Tiffany Means is a freelance writer and a degreed meteorologist. She specializes in weather forecasting and enjoys making the subject of weather (and the science behind it) more relatable. She currently resides in the Blue Ridge Mountains of North Carolina.