Important Thunder And Lightning Safety Tips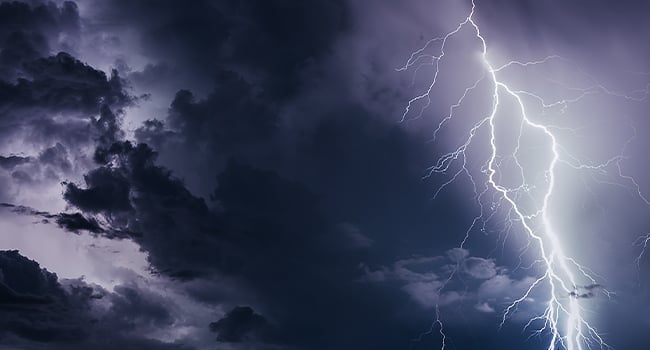 Is it still risky to talk on the phone during a thunder storm? How about all the other advice you've heard in the past about avoiding a lightning bolt strike? Come in from your golf game. Don't stand under a tree. Stay out of the bathtub. You're protected if you're riding in a car, etc. What's true? Most of the advice your parents gave you still applies.
Learn what is safe and what is not safe to do during thunder and lightning in the following article.
Is it safe to talk on your phone in a thunder storm?
On June 28, 1901, my great-grandfather Henry Delaney made the fatal mistake of speaking on the telephone during a thunderstorm."The powerful current came into the house over the wire, and the circuit to the ground was completed through his body, instantly killing him," read several newspaper accounts of his death.
Back in the day, telephones were still a novelty in rural areas. Probably only a handful of people in town had one in their homes. It's likely folks were unaware of the danger of using this newfangled convenience during a storm.
Wired phones (landlines) still pose a risk for lightning strikes today, but you're safe on a mobile phone, according to experts at the US Centers for Disease Control (CDC) and the National Oceanic and Atmospheric Administration (NOAA). That's because a wireless phone doesn't provide lightning with the same deadly pathway between you and the ground.
However, you're probably not safe if you're talking on the cell phone while standing outside on a hill, in a fishing boat, or under a tree! Those were and continue to be dangerous situations for lighting bolt strikes. And these lightning dangers have remained consistent through recorded history.
How likely are you to be struck by a lightning bolt?
Your chances of being struck by lightning in any given year are about 1 in 500,000. It is estimated that 10 percent of those struck by lightning die of their injuries, usually from a heart attack. But many factors make you more or less likely to be injured, or to be one of the 50 or so people who are killed by lightning in the US annually.
See current annual statistics about lightning bolt strikes.
You are less likely to be struck by lightning if you are a woman, child, or senior citizen.
According to the CDC, men account for 85 percent of those struck by lightning, and about half of victims are in the 15 – 34 age group. That's because most strikes happen to people working or pursuing leisure activities outside, and men are more likely to be in those situations.
Interestingly, though, the age group least struck by lightning is 30-39 years, most likely because people in that age group have young families and are more careful to avoid being caught in a storm.
Your location is also important.
The threat of a lightning strike is greatest in the southeastern US and generally diminishes as you head northwest, with the exception being certain lightning-prone areas in the Rocky Mountains.
Florida is considered the "lightning capital" of the world, as it has accounted for nearly 2,000 injuries and 50 deaths over the past 50 years. Other states with a large number of strikes include: Alabama, Colorado, Georgia, Missouri, New Jersey, North Carolina, Ohio, Pennsylvania, and Texas.
The danger is most severe in the summer months during outdoor activity.
Typically, most lightning-related injuries and deaths are reported in July, followed by June and August. People often think of golfers being struck while holding their clubs on the fairway.
However, the most dangerous sporting activity is actually soccer, which accounted for almost twice as many fatalities over a 15-year period, according to a 2020 study by the Lightning Safety Council. And with regards to lightning-prone leisure activities in general, fishing, boating, camping, and playing on the beach also topped the list.
Learn more about heat lightning.
What is safe and what is not?
Though we know a lot more today than 100 years ago, much of the practical advice to avoid lightning strikes remains the same as what your parents and grandparents taught you:
• You are safe from a lightning storm in the car as long as you are not in contact with the metal frame (don't touch the doors) that surrounds you and deflects the electrical current. (It's actually the metal roof and sides that protect you, not the tires, as was once suggested.)
• Go inside and stay off the wired phone. Avoid using any electronic devices or appliances that are plugged into an outlet.
• Avoid taking a bath or shower, or washing dishes, as lightning easily travels through a building's plumbing and can transfer through water.
• Don't stand under a tree. Lightning is attracted to high spots and targets in open areas, so if you are caught outside, avoid tall trees, hills, and ridges. And don't lie or crouch down. Run to a substantial building or hard-topped vehicle.
• Watch the weather forecasts if you are planning an outing and pay attention to approaching storms while you enjoy outdoor activities.
Join The Discussion!
Did you find these thunder and lightning safety tips helpful?
What is one new piece of information you learned today?
Do you know anyone who has been hit by a lightning bolt?
Let us know in the comments below!
Related Articles
Lightning Kills, Play It Safe!
Struck By Lightning: True Tales

Jim Kneiszel is a freelance writer based in De Pere, Wisconsin. He edits a number of trade publications and runs The Word House with his wife, Judy. His article, Infuriating and Frightening Invasive Species appears in the 2021 Farmers' Almanac.