The Orionid Meteor Shower: Named After Our Most Famous Constellation
Love shooting stars? Then you'll love the annual Orionid meteor shower, which is caused by debris from the most famous of all comets, Halley's Comet. Will this be a good year for viewing?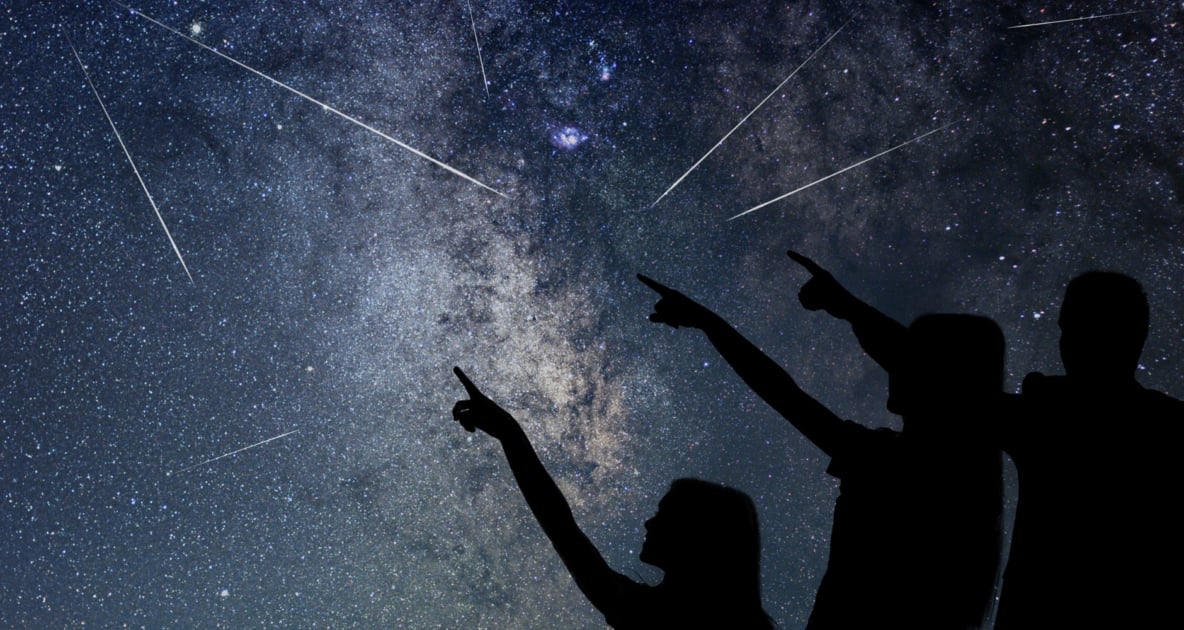 The Orionid Meteor Shower, the second meteor shower of October, which peaks during the overnight hours of October 21-22 each year. They are called Orionids because the meteors seem to emerge or radiate from the constellation Orion, near the Orion-Gemini border in Orion's upraised club.
What Are the Orionids?
The Orionids are an annual meteor shower caused by debris from the most famous of all comets, Halley's Comet. The comet last visited Earth in 1986 and will return next in 2061. Each time that famous comet passed around the Sun, it would leave in its wake a trail of cosmic dust and grit along its orbit. Our Earth passes closest to Halley's orbit every mid-to-late October, and in the process, encounters this comet debris. The particles ram into our atmosphere at speeds in excess of 40 miles per second, and thanks to friction, they are raised to white heat in the span of a heartbeat, creating the effect of a "shooting star" in our sky.
When To View The Orionids
The Orionids shower will be visible from October 16th-24th, with the highest period of activity on the 21st. The meteors can be seen with the naked eye. The best time to observe any meteor shower is during the early morning hours, from 4 to 5 a.m. local daylight time, with the numbers of meteors increasing until morning twilight interferes. Generally, observers can expect to see anywhere from 10 to more than 30 meteors per hour. A few Orionids may appear as early as the start of October and as late as November 7th.
An observer who plots these meteors on a star chart will notice that they seem to radiate or spray outward from northeastern Orion, between Betelgeuse and Gamma (γ) Geminorum, also known as Alhena; this region of the sky will be about two-thirds up from the southern horizon when morning twilight begins.
What's In Store for 2021?
Sadly, 2021 will be a poor year to watch the Orionid meteor shower, expected to peak on the morning of October 21st. This comes just one day after the Full Hunter's Moon that will light up the sky all night and obscure all but the brightest Orionid meteors.
Under more favorable conditions past displays have yielded 10 to 20 meteors per hour under similar conditions, especially during the wee hours before dawn when the constellation Orion the Hunter is positioned high in the south-southeast sky.
These meteors tend to have dusty trains, and a few Orionids may be seen up to a week before and after maximum. Like the May Eta Aquarids, the Orionids share a seeming relationship with the orbit of Halley's Comet. The swift streaks that we see from both of these displays are probably caused by tiny pieces of debris that have broken off the nucleus of this famous comet and have been left behind along its orbit.
Do All Comets Produce Meteor Showers?
All comets shed dust in their wake. Some comets are dustier than others. However, for a comet to produce a meteor shower, its orbit must cross/intersect our orbit in order for us to encounter/interact with that dusty debris to produce meteors. In 2020, Comet SWAN did not cross Earth's orbit, so it did not produce meteors.
We intersect the orbit of Halley's Comet twice. Once in early May (creating the Eta Aquarids) and again in late October (creating the Orionids).
A fresh/new trail of dust that has been recently shed by a comet might produce a meteor shower lasting only a few hours. On the other hand, a comet that has circled the Sun numerous times and has shed many different dust trails may produce a meteor shower that can last several days, or even weeks.
Encke's Comet, which takes only 3.3 years to circle the Sun, has probably been shedding debris for many hundreds or thousands of years and its associated shower (the Taurids) takes Earth many weeks to go through.
See the list of all meteor showers for the year here.
Joe Rao is an astronomer and contributes regularly to the Farmers' Almanac.
Keep Exploring