On the 1st Of The Month Say "Rabbit Rabbit" for Good luck!
Need good luck? We explain where this quirky tradition and superstition came from.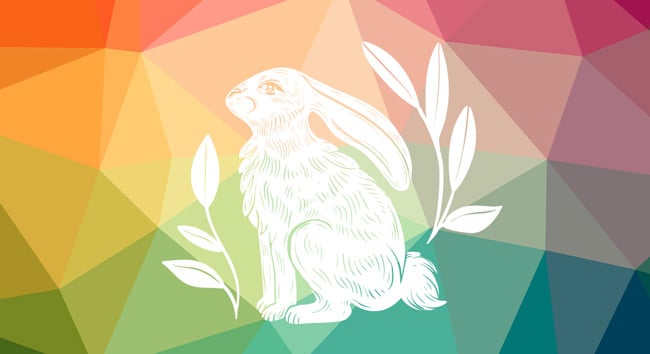 Saying "Rabbit, rabbit" before any other words on the first day of the month is a quirky little tradition that many people follow for good luck. But where did it come from and what does it mean?
Rabbits And Good Luck
Rabbits are a common symbol of good luck, positivity, fertility, and growth in many cultures—from North America to Europe and Asia. Most prominent in spring, they are associated with renewal and rebirth after winter. Rabbits are typically gentle, peaceful creatures favored as pets, though they may destroy in your garden! Learn how to keep them out.
"Rabbit Rabbit" Origins And Tradition
According to superstition, saying "rabbit rabbit" before anything else on the first day of the month will bring you good luck for 30 days. Saying "bunny bunny" is said to have the same effect, while some people opt for "rabbits" or "white rabbit."
The origin of the superstition in the United Kingdom may have been inspired by Lewis Carroll's Alice in Wonderland (1865) in which a young girl is "luckily" guided by a white rabbit through fantastical adventures.
The first written record of the phrase being said for luck was in the English periodical Notes and Queries (March 27, 1909). A parent noted that his children spoke "rabbit rabbit" up the chimney on the first of each month, in the hopes of receiving a present. Over the following decades, the expression was said by many people in hopes of making other wishes come true, bringing financial prosperity, and encouraging general monthlong good luck.
President Franklin Delano Roosevelt claimed to say "rabbits" on the first of each month. He was known to carry a lucky rabbit's foot during the 1932 presidential election, which he won by a landslide—becoming the first Democrat to win both the electoral college and the popular vote in 80 years.
During World War II, many British fighter pilots opted for even greater luck by using the phrase daily–notably, the Royal Air Force successfully repelled the German Luftwaffe in both the Battle of Britain and the Blitz.
Other notable figures to practice the superstition include Saturday Night Live actress Gilda Radner, who used to say "bunny bunny" for her luck, and British-American journalist Simon Winchester noted in 2006 that he had recited "white rabbits" for 696 consecutive months and counting, ever since 1948, when he was four years old.
Alternative Associations
In The Chinese Zodiac
Rabbits are particularly lucky in the Chinese zodiac, as the fourth symbol in that set of beliefs. Considered one of the most beautiful signs, rabbits also represent longevity, peace, and prosperity. Those who are born under this sign are considered to be skillful, responsible, and quick-minded, as well as gentle and attractive.
Chinese New Year runs from late January through early February, at which time one of twelve animals in the Chinese zodiac is celebrated and revered. Learn more.
In Native American Culture
In many Native American cultures, rabbits are tricksters or represent cleverness and problem solving for their ability to evade predators. For the Ojibwe, for example, Mishaabooz was a great hare form of the god Nanabozho, a trickster who named the plants and animals during the world's creation. For the Cherokee, the hare was a mischievous, less-than-trustworthy trickster (who lost his tail by playing tricks on a bear), but who often learned from his lessons.
Join The Discussion
Ever hear of this fun tradition? Do you practice it?
Do you know of different variation not listed above?
Let us know in the comments below!
Related Articles
How To Keep Your Garden Safe From Pesky Critters