Remove Pet Stains And Odors Naturally!
Pet owners rejoice! Try these natural ways to tackle the tough smells your pets leave behind!
We love our pets, but there's no question that they can generate their fair share of bad smells. No matter how often you bathe the dog, or change the cat's litter box, pet odors and bacteria can permeate the air. Scented air sprays mask the smell without killing the bacteria, and usually contain chemicals that can be harmful to breathe.
Non-Toxic Pet Odor Solutions
Try these easy, effective, non-toxic DIY solutions to naturally remove pet odors from your home:
Disinfectant and Room Spray – Mix ¼ cup vodka, 1 cup water and 15 drops lavender essential oil in a spray bottle. Shake and spray lightly on pet bedding or use as a purifying air spray. Let dry completely before allowing pets to use. NOTE: Never apply essential oils to your pets' fur directly as it can be toxic.
General Purpose Cleaner – Pour 1 cup of distilled white vinegar and 2 cups of water into a spray or squirt top bottle. Shake before using. Use to clean and disinfect floor tiles, counters, litter box, and other pet items.
Pet Bedding and Carpet Cleaners
Pet bedding, rugs and carpets harbor germs and odors. To clean and deodorize, try these natural powder solutions.
Baking Soda. Sprinkle over pet bed, rug, or carpet. Leave powder on pet pillow or bedding for an hour and then vacuum. Leave on carpets for 15 to 30 minutes, and then vacuum. Baking soda can also be used to clean a wet tub or sink after bathing Fido.
Borax Powder. Sprinkle Mule Team® Borax (available where laundry detergents are sold) over pet bed or carpet. Once the powder has been applied, keep your pet(s) away from the bedding or carpet. Leave on bedding for one hour and vacuum. Leave on carpet for 15 to 30 minutes, and then vacuum. Bonus: Borax is effective against fleas. Borax should set on the carpet or area rugs overnight. Close off the room during treatment. If you have thick carpet, work the powder into the carpet with a broom, then vacuum.
Laundry Boost. Add ½ cup 20 Mule Team® Borax to the washing machine with laundry detergent when laundering pet bed liners, towels, and pet sweaters, etc. to disinfect and remove strong odors.
Removing Pet Stains From Carpets and Rugs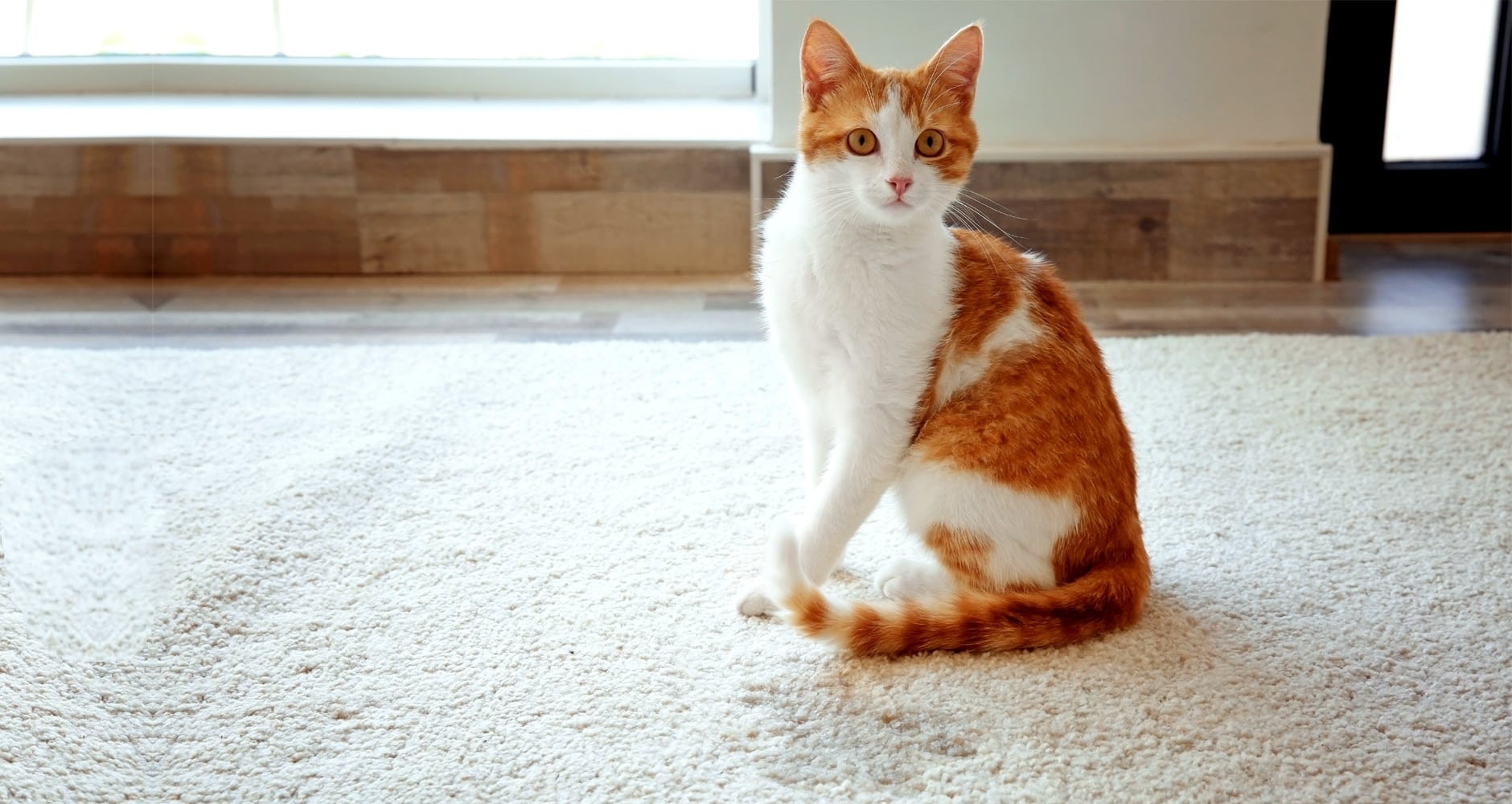 Accidents happen. And when they happen, not only can the carpet get saturated with urine, but it usually soaks through the carpet to the pad underneath, making it especially challenging.
When puppy or kitty makes a fresh puddle on the carpet, lay cotton rags or paper towels on top of the urine and blot up as much as possible. Next, pour plain water directly on the soiled area and soak up the liquid again, blotting with additional paper towels. Repeat the process if necessary until the moisture absorbed into the towels is no longer yellow.
To discourage repeated offenses, you will need to remove the urine stain and scent from the carpet. Pour white distilled vinegar on the spot. Then, sprinkle baking soda on top. The mixture will bubble and fizz as the baking soda absorbs the urine. Place a basket or plate upside down over the treated spot and allow it to set undisturbed for at least one day. After a day or two, vacuum up the baking soda and hopefully the stain and odors will have vanished. Stubborn pet stains may require a specialized pet formula enzyme-based cleaner.
Baking Soda/Vinegar/Peroxide Method
For tough urine stains, try this method, as recommended by CarpetColorSolutions.com:
1. Place paper towels on the mess and tread on it to absorb as much liquid as possible.
2. Mix a solution of 50% white vinegar and 50% water and pour liberally on the stain and work the solution in with a brush to ensure it penetrates the carpet fibers below. Blot the area again using the paper towel method above. The vinegar will neutralize the ammonia in the urine. If you own a wet/dry vac, use that to remove excess moisture. Let dry.
If the stain is older and dry, repeat the above steps, adding a few drops of liquid dish soap to the white vinegar and water. When the area has dried or nearly dry, sprinkle the area with a handful of baking soda.
3. Then, mix 1/2 cup of 3% hydrogen peroxide with a teaspoon of the dish soap. Using gloves, slowly pour the hydrogen peroxide and dish soap solution over the baking powder (use only as much as needed). Work the dissolving baking soda well into the carpet, first with your fingers and then with a brush. Allow the area to dry completely and then vacuum thoroughly.
Important: Only use 3% hydrogen peroxide and test your carpet for color fastness in an area that won't show.
Further Considerations:
Avoid using cleaners containing ammonia in areas where pets frequent indoors. Ammonia has a scent similar to urine, and pets may urinate in the area where it was used.

Deborah Tukua is a natural living, healthy lifestyle writer and author of 7 non-fiction books, including Naturally Sweet Blender Treats. She has been a writer for the Farmers' Almanac since 2004.