Ever Spot A Ghost Rainbow?
Fog may be a nuisance, and can even be dangerous, but sometimes it can give us a magical, ghostly phenomenon known as "fogbows." Read how they form, and how you can spot one!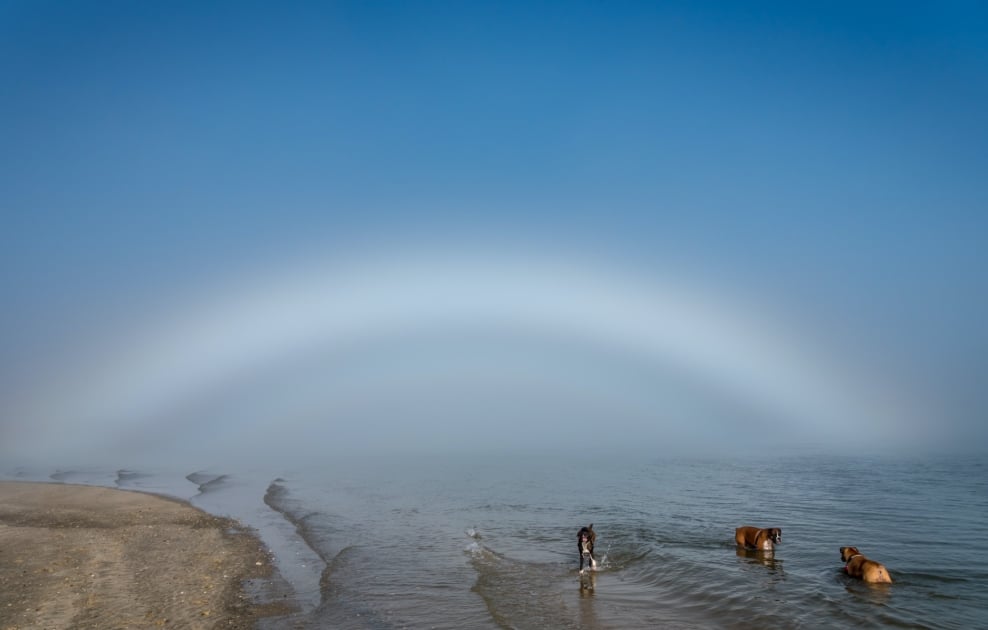 Wherever the Sun meets water, magical things happen. When sunlight shines through the pouring rain, you're likely to see a rainbow. The same is true for fog—when conditions are right, sunlight mixing with fog can cause a beautiful natural phenomena known as "fogbows."
What Are Fogbows?
Unlike rainbows, fogbows normally appear as a band of bright white, sometimes with hints of red or blue. Because of these differences, fogbows are often referred to by other names like cloud bows, white rainbows, or ghost rainbows. How do they form, and where can you see one?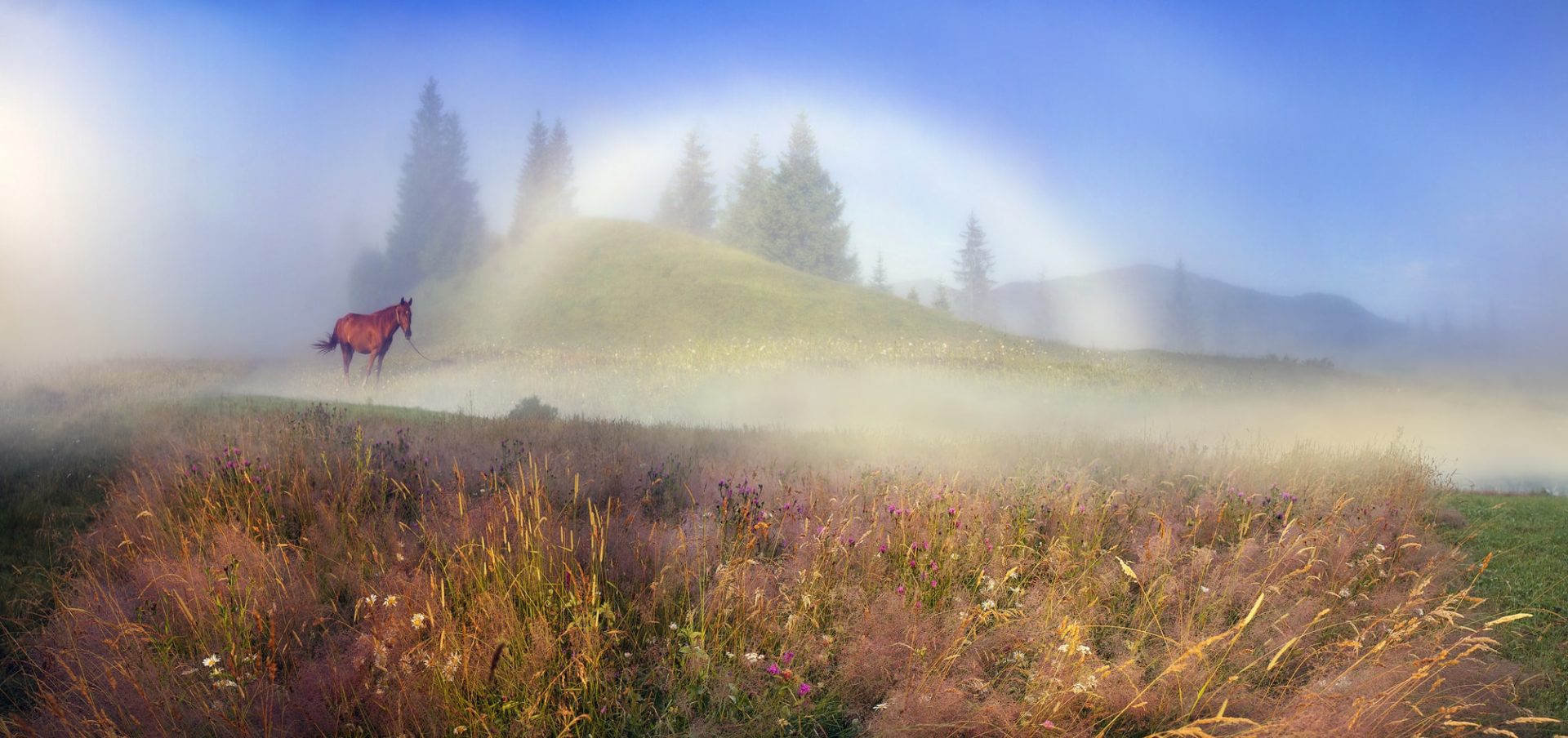 How Are Fogbows Like Rainbows?
Like rainbows, the two primary ingredients for a fogbow are sunlight and water droplets. For a fogbow to form, the Sun needs to be at a low angle to the existing fog in the atmosphere—about 30 to 40 degrees high. This is the reason why fogbows are most commonly spotted in the mornings and evenings, or from high vantages that place the viewer above the fog, like on a mountainside, seaside cliff, or even from an airplane.
Another similarity to rainbows is that fogbows appear centered over your antisolar point. It sounds complicated, but your antisolar point is actually the point on the ground that is the exact opposite of the Sun's position in the sky. To find it, and the fogbow, turn to face your shadow. Your antisolar point will be at the top of your shadow's head. Look straight up from there, and if the Sun is positioned right, you'll find a fogbow.
How Can You See A Fogbow?
Your best chances of catching a fogbow are when the Sun is shining brightly and the fog is thin—they'll appear as the Sun breaks through the fog behind you. You'll often find fogbows as the cool sea mists roll in over the ocean or as fog makes its way down a hillside or mountainside. And, if you happen to be in the middle of a fog or a cloud – say, in an airplane – you might see a full circle rather than an arch.
Why Aren't Fogbows As Colorful As Rainbows?
Most fogbows form an arch that is every bit as tall and wide as a rainbow, but the similarities end there. Fogbows don't show as many colors as rainbows do because the water droplets that make up the fog are much smaller than raindrops – light enters the droplets the same way as it does raindrops, but the smaller droplets don't reflect as much light, which is why you'll only see a little bit of color, if any at all. In fact, you can tell how "wet" a fog is based on the colors you see. If it's white, the mists are very fine, but if you see a little bit of blue and red, the fog is made of larger droplets.
Other Phenomena That Occur With Fog Bows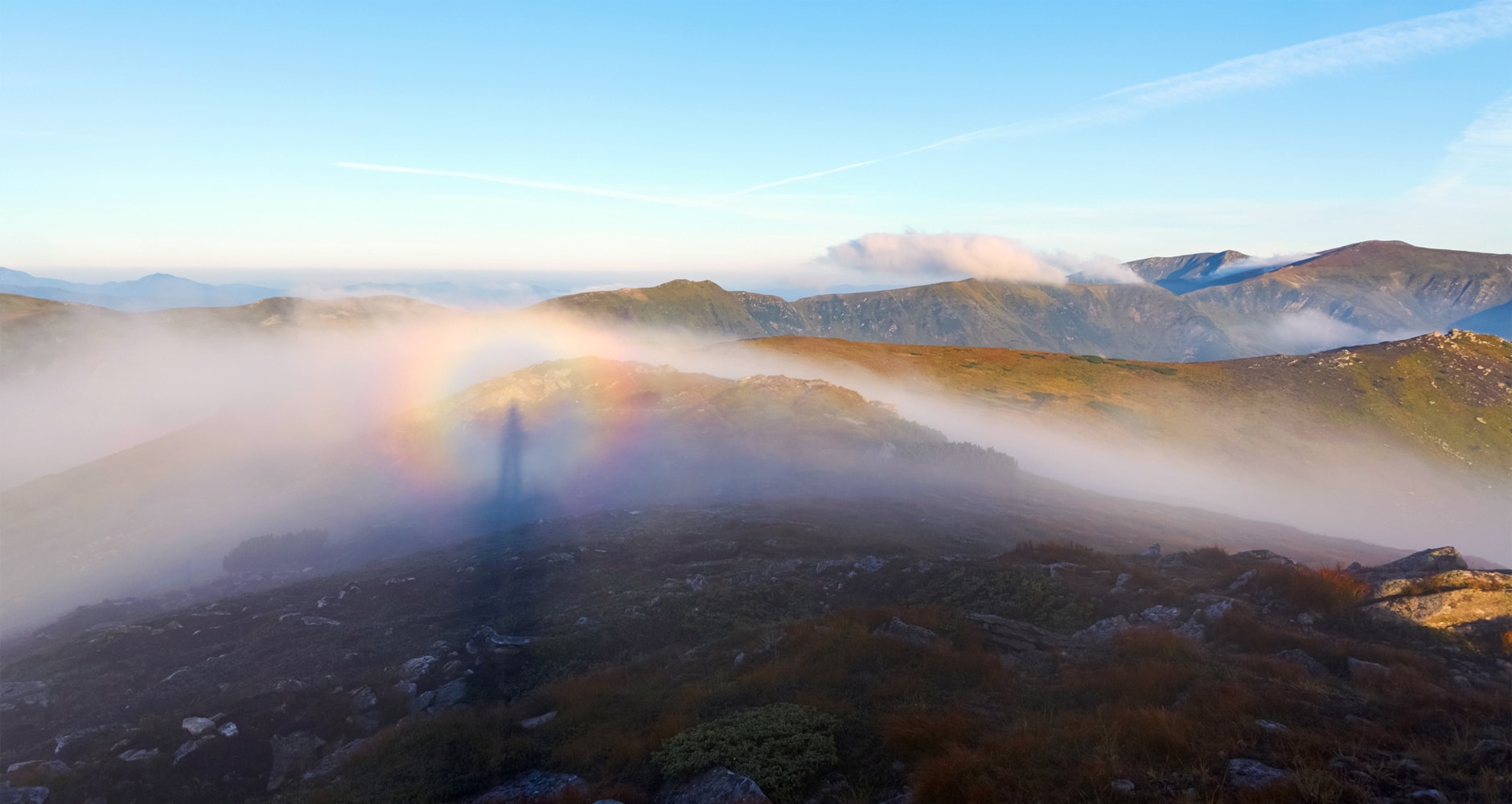 On rare occasions, you might see a solar glory or a Brocken spectre within a fogbow. Glories look just like halos, and they're normally centered on a Brocken spectre or an object within the fog. These colorful rings are created by sunlight reflecting off water droplets in much the same way that rainbows and fogbows are created. A Brocken spectre is a spooky phenomenon that looks like a ghost within the fog. These shadowy shapes are named after a peak within Germany's Hartz Mountains where Brocken spectres are commonly seen. Brocken spectres are caused by a shadow thrown on the fog—either your own or that of a nearby object.
Fogbows, solar glories, and Brocken spectres are all rare and beautiful occurrences. If you keep an eye out the next time fog rolls in, there's a good chance you'll get see a fog bow. If you're really lucky, you might spot a solar glory or a Brocken spectre, too!

Amber Kanuckel is a freelance writer from rural Ohio who loves all things outdoors. She specializes in home, garden, environmental, and green living topics.