Do You See A Moon Halo Or A Moonbow?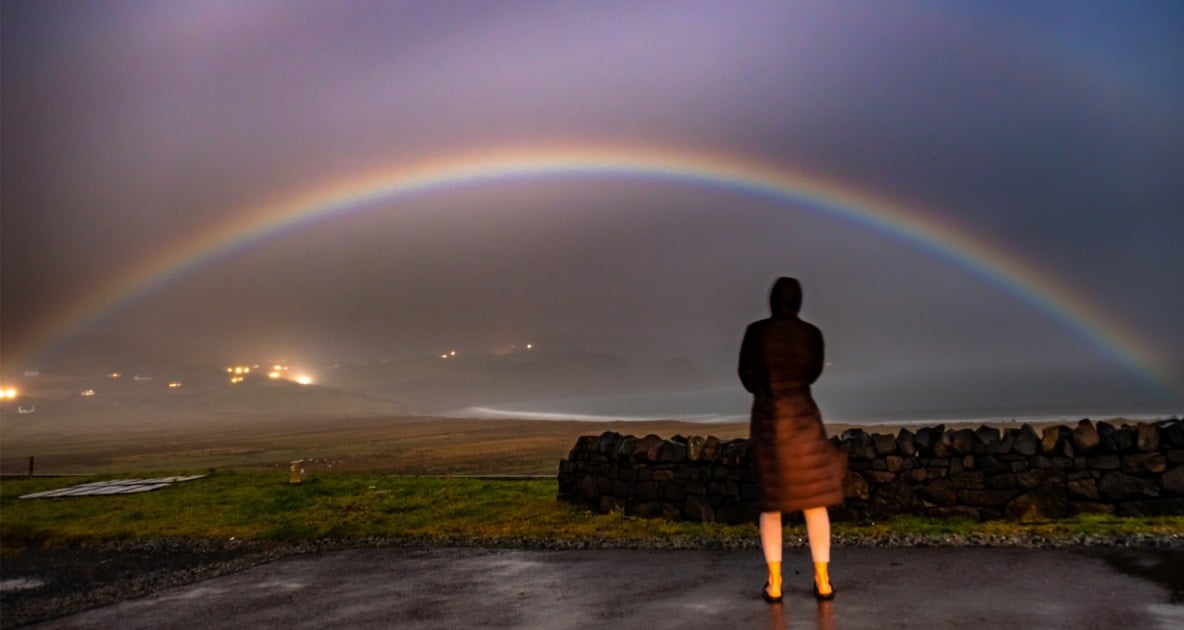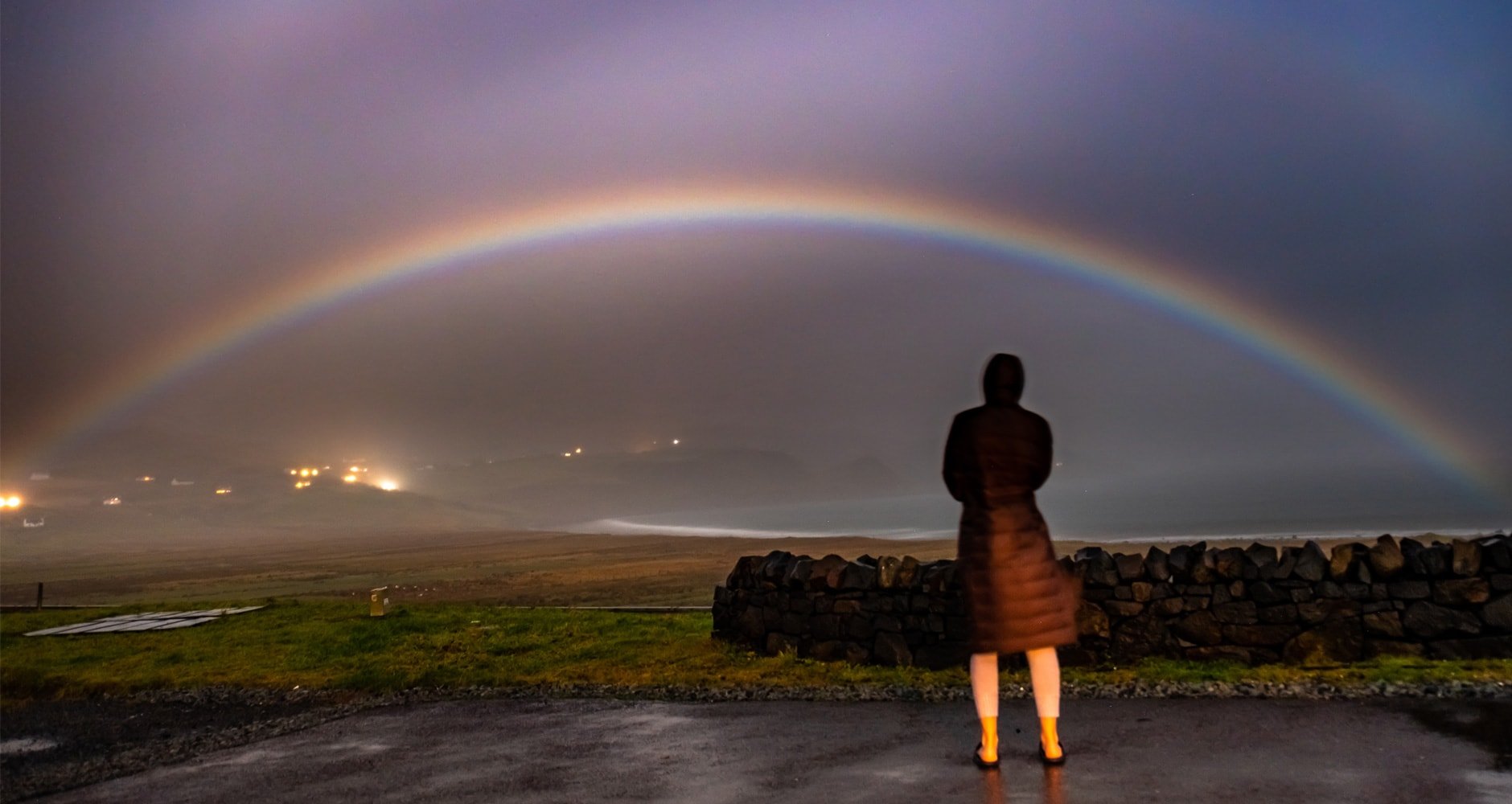 It's late at night, light wispy clouds float gently by as the nearly full Moon shines down. But then you notice a faint, ghostly glow in the sky. It looks like a ring around the Moon, a delicate circle of off-white light with the Moon sitting perfectly in its center. This rare event is called a Moon halo. It happens when moonlight bends through lots of six-sided ice crystals in the Earth's atmosphere to create a huge, perfect circle of light.
Moon halos may occur all year round but are slightly more noticeable during colder months in the Northern Hemisphere when more ice crystals can form at high altitudes. Legends say that a Moon halo is a warning that bad weather is coming soon. Although it may not be true every time, meteorologists have documented that high cirrus clouds that help form Moon halos often come before storm systems.
The radius of a Moon halo is always the same—about 22 degrees from the Moon. You can use your hand at arm's length to measure that angle in the sky. (See our illustration here.) Spread out your fingers, cover the Moon with your thumb, and your pinkie should reach the edge of the ring around the Moon.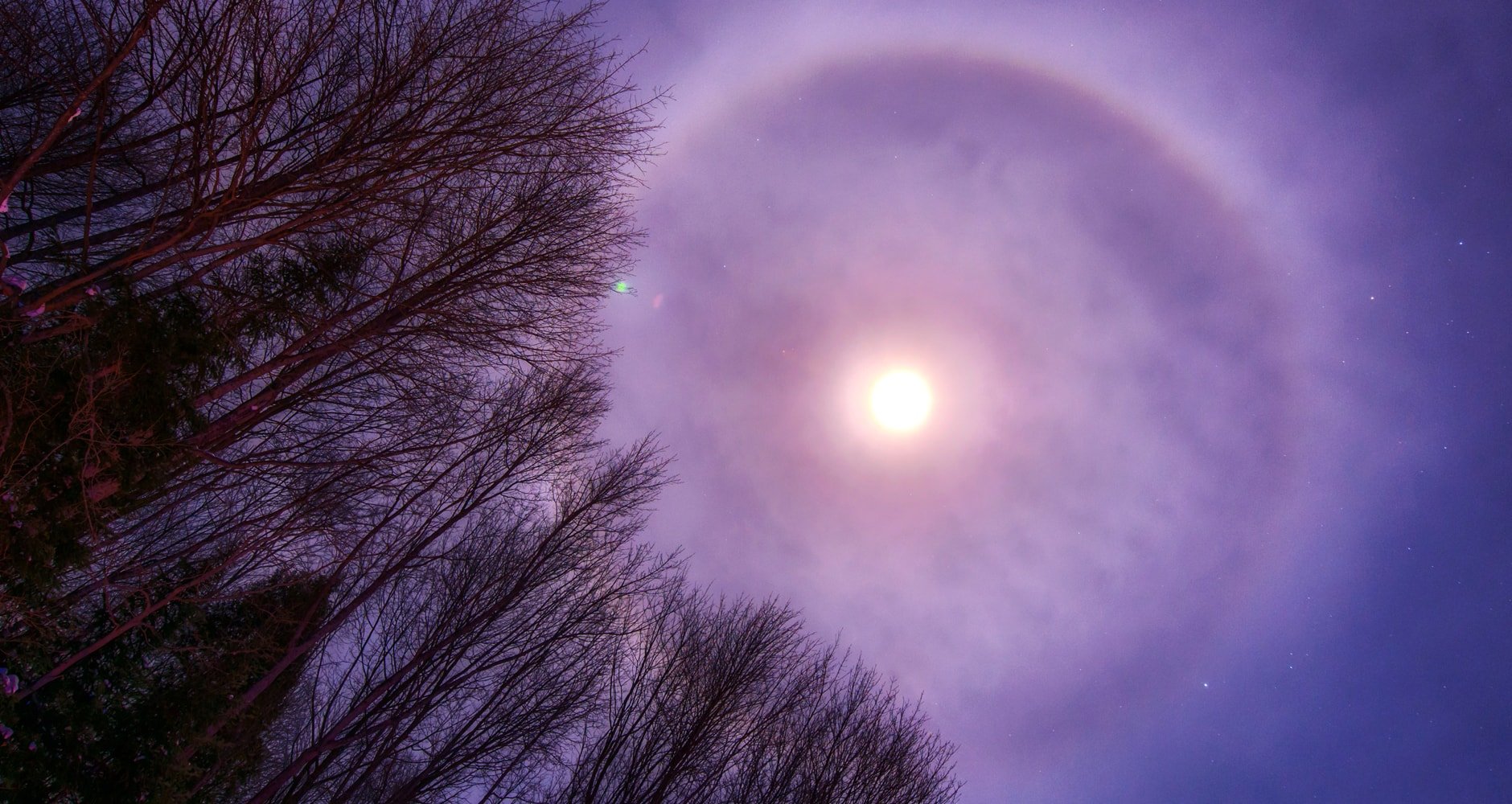 How About A Moonbow (Night Rainbow)?
Experiencing a rainbow shining majestically before a bank of dark clouds is one of the most amazing sights on Earth. Sunlight is passing through water vapor in the atmosphere which shines in a colorful arc. But can the Moon be bright enough to cast a similar shape during the nighttime—a moonbow? It can, but only in very select places and under perfect conditions.
First you need water vapor, lots of it, off which the moonlight can reflect. This could be kicked up by large waterfalls or forest mist that spread over a large area.
Then you need an almost full Moon. Only the light of the Moon near its brightest phase casts enough light on the water vapor to create a suitable moonbow (night rainbow) your eye can detect.
Also you need a location with no trees between the mist and the Moon. And just like a rainbow that appears on the opposite side of the sky from the Sun, the mist must be on the opposite side of the sky from the Moon.
Other things that help is a location far from city lights where the sky is naturally darker. A moonbow can also only form if there are no clouds and the Moon is low in the sky. This means the best viewing times are usually 1-2 hours after sunset, which is when a full Moon rises.
There are only three places in the United States where moonbows are regularly seen: Niagara Falls, New York, Yosemite Falls, California, and Cumberland Falls, Kentucky. Moonbows have been spotted through mists and light rain in forests of Hawaii and Costa Rica, but they are harder to predict.
Even under perfect conditions from the perfect location, a moonbow is still incredibly faint. Long exposure photography can bring out all the usual colors from red to violet. To your naked eye, however, the arc of light from a moonbow appears mostly white with very little color evident.
Check out the dates of the next full moons and take a pilgrimage to a waterfall on a clear evening. See if you can catch a nighttime rainbow in the mist.
Join The Discussion
Have you ever seen a ring around the Moon or a moonbow (night rainbow)?
Share your experience (and photos!) with your community here.
What questions do you have? Let us know in the comments below!
Related
A Halo Around The Sun (Sundog)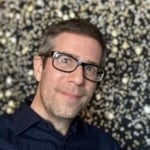 Dean Regas is an expert astronomer and a renowned author who has written six books, including 100 Things to See in the Night Sky and How to Teach Grown-Ups About Pluto. An astronomer with more than two decades of experience, Dean is a dynamic writer and public speaker who brings the complicated field of astronomy down to Earth for students of all ages. From 2010-2019, he was the co-host of the PBS program Star Gazers. He is a frequent guest on National Public Radio's Science Friday with Ira Flatow and NPR's Here & Now. He also hosts a popular astronomy podcast called Looking Up with Dean Regas. Learn more about him at www.astrodean.com