10 Surprising, No-Waste Uses For Strawberry Tops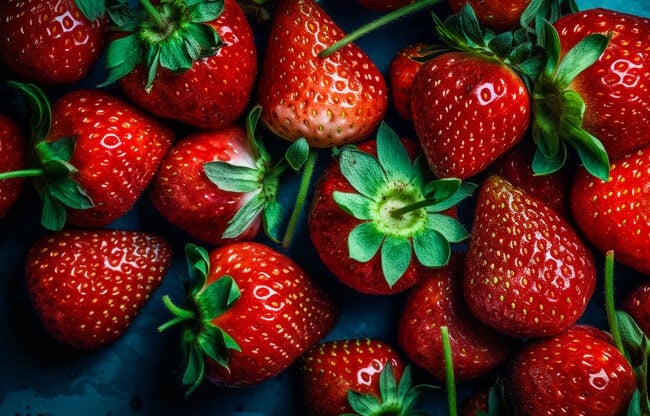 Don't toss 'em, use 'em! You'll love these clever waste-not, want-not ideas to put those vitamin-packed strawberry tops and scraps to use.
For over 200 years, Farmers' Almanac has been sharing "waste-not, want-not" wisdom to help readers "make do" with what's on hand. That includes "think before you toss" advice when it comes to everything from eggshells to coffee grounds. Many items considered scrap have a second, or even third life in them. Strawberries are no exception. Believe it or not, strawberry tops—the part you cut and toss into the garbage or compost—can be repurposed in a variety of creative ways. While munching on the green tops itself doesn't sound all that appetizing, you'll be surprised at how they can be used.
Strawberry Tops Have Health Benefits
Strawberries as a berry are a nutritious, healthy snack, and it turns out, even their leaves and stems pack a powerful nutritional punch, carrying many health benefits. According to the University of Maryland Medical Center, strawberry leaves are high in vitamin C, iron, and calcium, as well as contain tannins, which helps with digestion, nausea, and stomach cramps.
Strawberry tops are loaded with caffeic acid, a compound that alleviates inflammation which is good news for arthritis sufferers.
10 Things You Can Do With Strawberry Tops
1. Make A Refreshing Water Infusion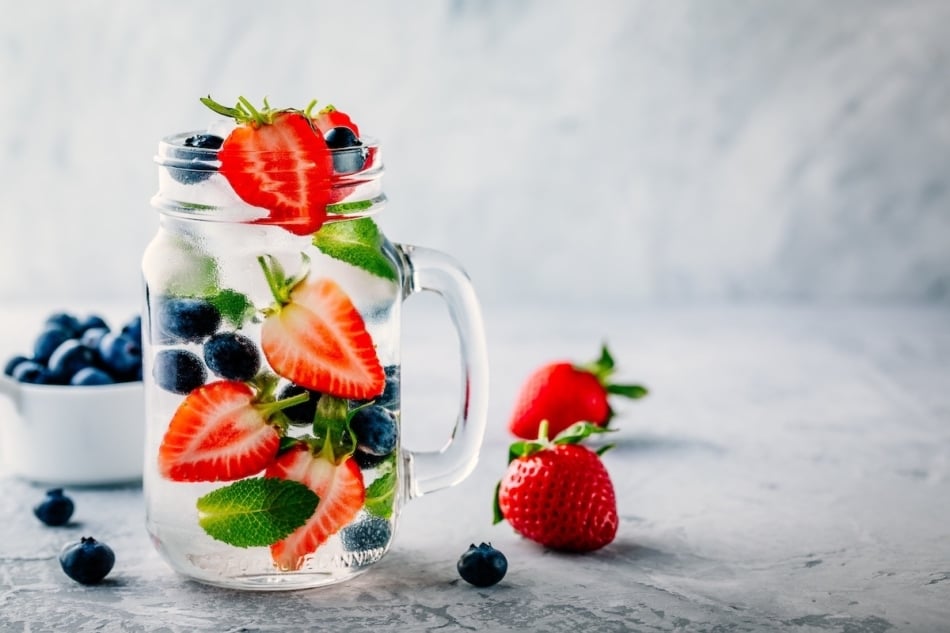 Infusing your water with the leafy tops of strawberries adds flavor, and helps to use up those excess pieces that are headed to the compost bin. This works especially well if you've cut off too much of that precious strawberry meat. To make, place your cleaned strawberry tops into a lidded container and top with water. Let sit in the refrigerator for a few hours, and sip (you can strain if you prefer). Ten to twenty tops should do the trick, but you can play around with the amount depending on how strong you want the taste. Strawberry infused water also pairs nicely with some cucumber peels or fresh mint.
2. Make Strawberry Vinegar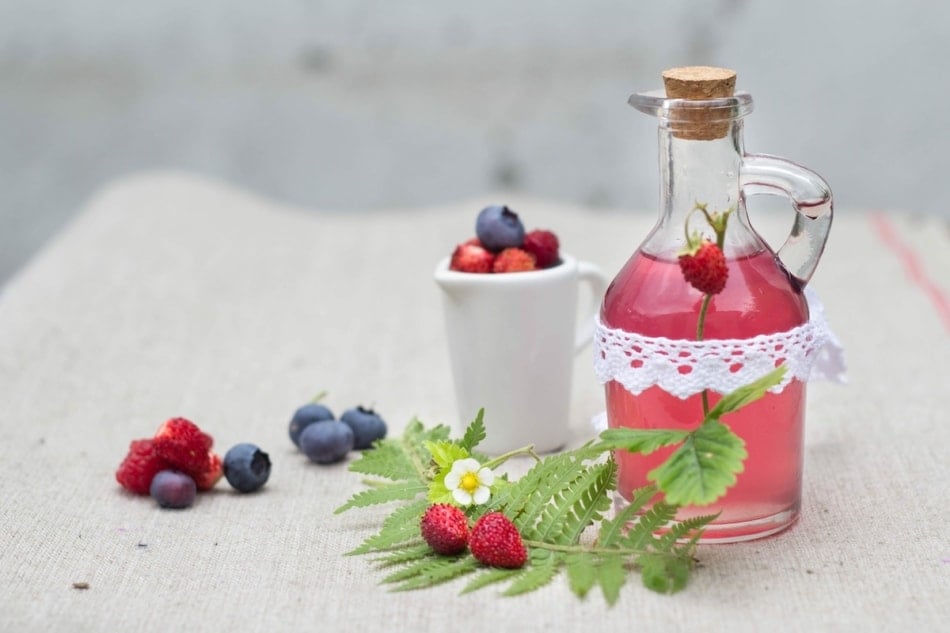 Fruit-scrap infused vinegar recipes are popping up everywhere. Strawberry vinegar made from your strawberry tops is delicious drizzled on a salad, mixed into a BBQ sauce (or any vinegar-based sauce), or added to a cocktail. To make, cover your strawberry tops with a vinegar of your choice (white, apple cider, red wine, or balsamic). Cover, and allow it to steep for about a week in the cupboard. Strain the mixture and use your strawberry infused vinegar however you would normally use vinegar. Delicious!
3. Go Sweet With Strawberry Syrup
Turn your discarded strawberry tops into treasure by making scrumptious strawberry syrup. Perfect for pouring over ice cream, pancakes, waffles—the sky's the limit. You can also add this syrup to flavor lemonade, home-brewed kombucha, iced tea, or smoothies.
To make: In a bowl, combine the tops from two quarts of strawberries, 1 cup granulated sugar, and one tablespoon of lemon juice. Stir, cover, and place in refrigerator overnight to allow the contents to soften. Blend until smooth, and then strain through a metal sieve, scraping the sides of the strainer with a rubber spatula making sure to get all the delicious strawberries. This makes about 2-3 cups of syrup and can be stored in the refrigerator for up to two weeks, or longer in the freezer.
4. Blend Them into a Nutritious Smoothie
Leafy greens are often tossed into smoothies for an additional nutritional boost, but don't stop at spinach or kale—toss in your leftover strawberry tops in as well. They'll give your smoothie an extra boost of nutrients. Simply drop the whole berry, top and all (or saved tops) right into your blender. You can also freeze the tops after they have been hulled, saving them for smoothies down the road—making it easy to grab a handful when needed.
5. "Lift" Your Spirits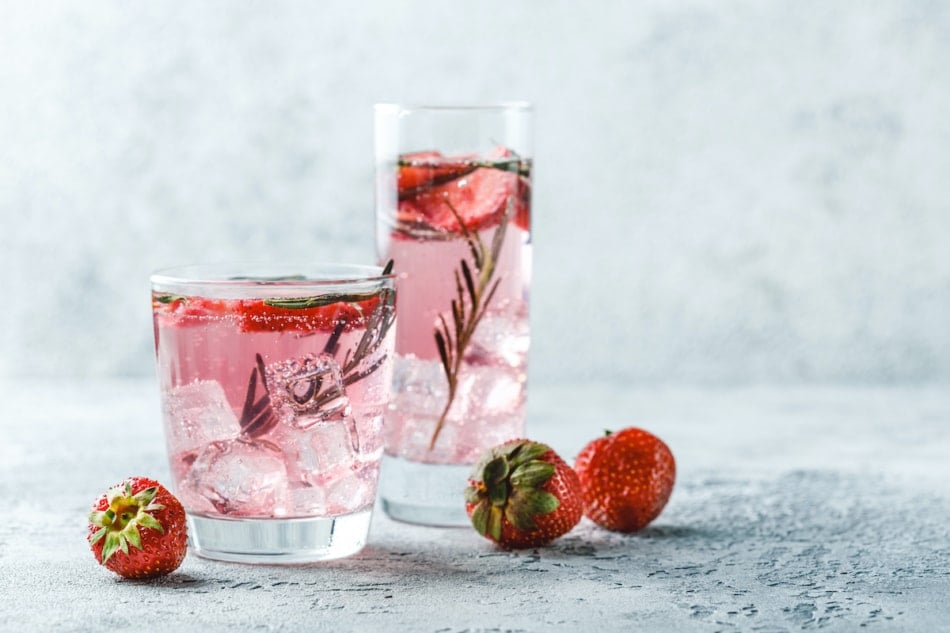 Kick your favorite cocktails up a notch! Just like water, you can also infuse your favorite alcohol with strawberry tops to make your own custom flavored rum, vodka, or gin. Toss tops into a lidded bowl or mason jar, fill with your choice of liquor, and let the boozy concentration sit for about two days. Strain, and use to shake up a new summer cocktail.
6. Make A Healing Tea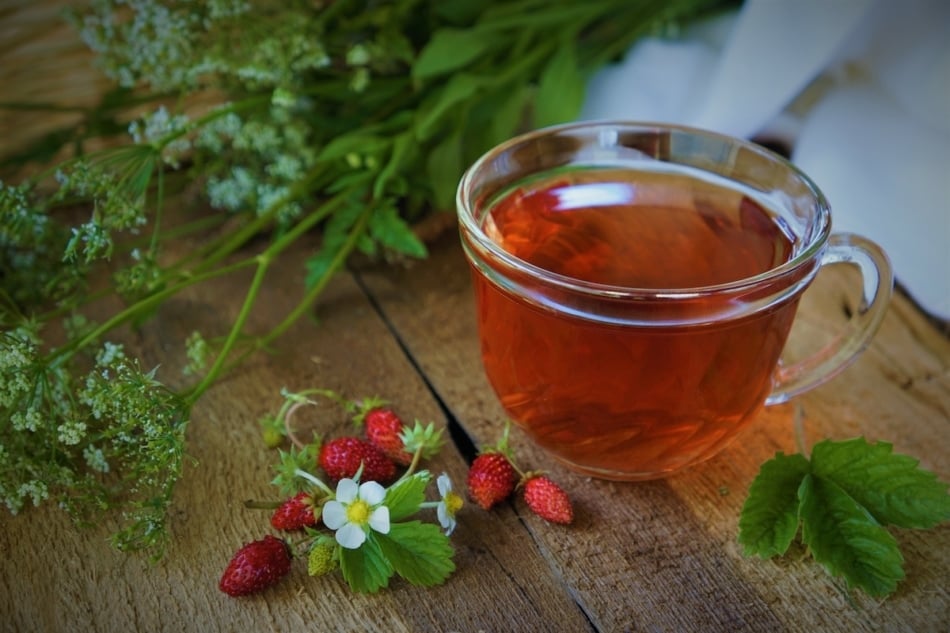 Strawberry leaves have a long history of being used as an herbal remedy. Wild strawberries have more condensed healing properties, but conventional ones will get the job done. Strawberry leaves, like other leaves and herbs, can be used to make a healing tea to treat diarrhea, aid in digestion, combat nausea, and settle an upset stomach. One cup of strawberry leaf tea contains enough tannins to ease symptoms.
Drying the strawberry tops in an oven or food dehydrator will allow you to preserve them for later use when needed. Add three to five fresh or dried strawberry tops to your teacup. Optionally, you can add a teaspoon of other fresh or dried herbs of your choice (mint, verbena, rosemary, lavender, basil). Pour boiling water over the tops and let steep for five to ten minutes. Add a squeeze of lemon or sweetener of your choice. The cooled tea can also be used to soothe sunburned or inflamed skin.
7. Clean and Whiten Teeth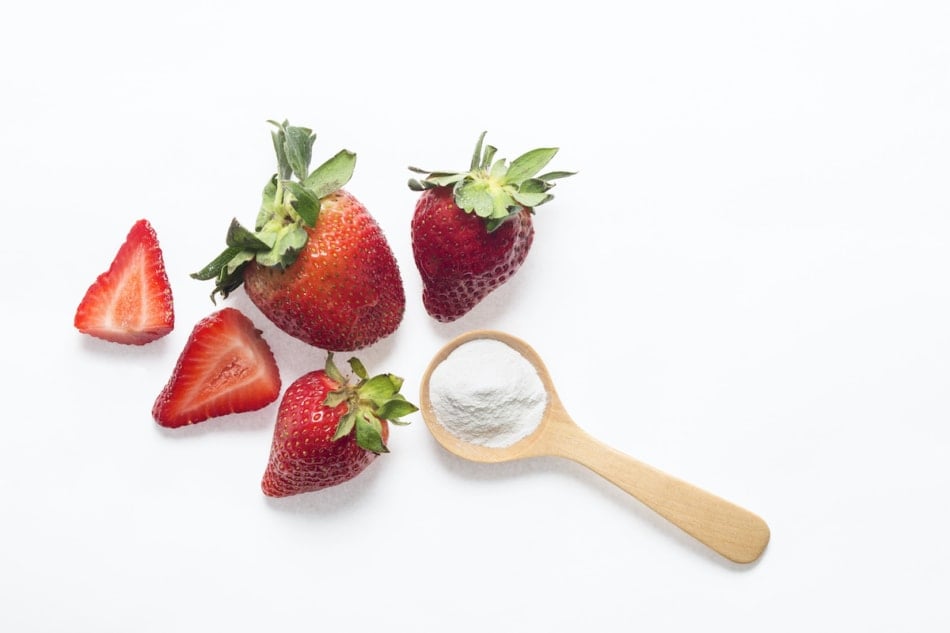 Your dentist will probably never tell you this secret, but strawberry leaves are an effective tooth and gum cleaner. Those tannins act as a powerful astringent, helping to fight plaque and keep gums healthy. Or for a whiter smile, dip your strawberry top into baking soda and rub it onto your teeth. Leave the mixture on your teeth for a few minutes before brushing as usual.
8. Add Them To These Yummy Recipes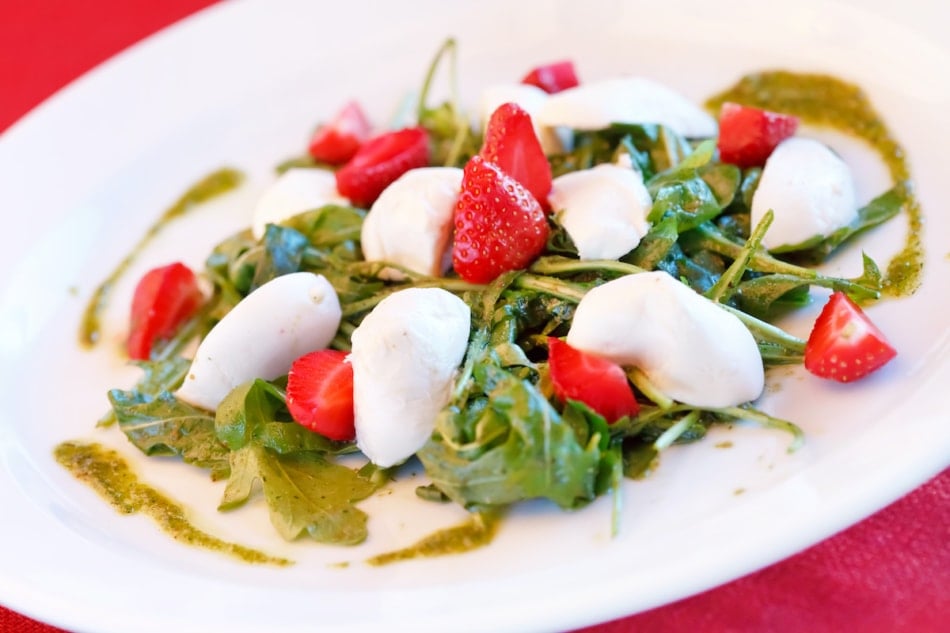 Pesto doesn't have to be all about basil. You can make pesto out of almost anything including strawberry tops. Use them alone or add them to other pesto greens in this no-cook sauce. Strawberry tops combined with parsley, with a touch of garlic or ramps is a delicious and healthy way to use them up. You can also thin out your strawberry top pesto with more oil and lemon juice and turn it into a tasty salad dressing. Or try adding some fresh strawberry leaves to your salad greens–the small leaves add a nice contrast to bigger leafy salad greens.
9. Make An Itch-Relieving Bath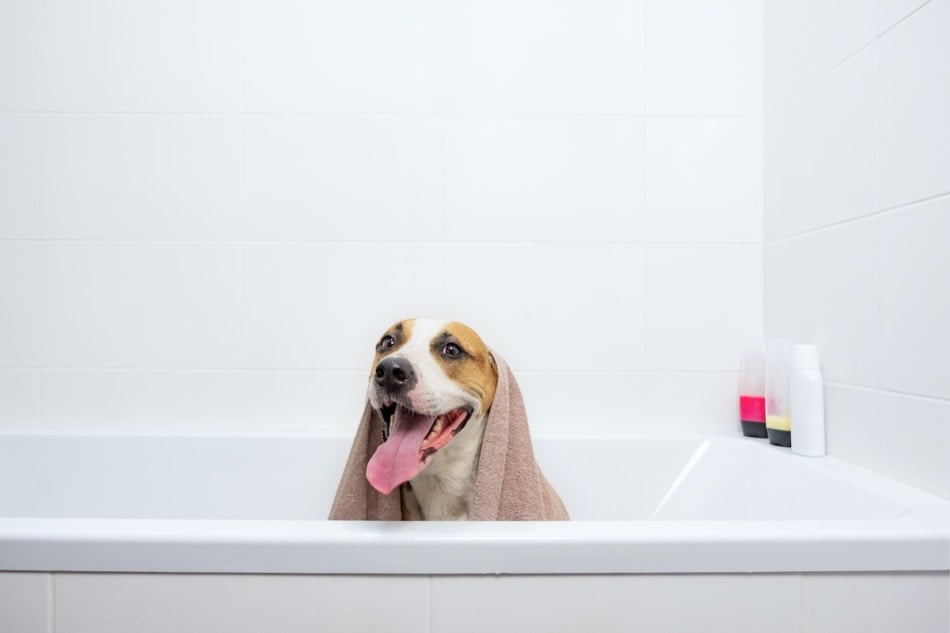 Not only are strawberry leaves nourishing for the inside of your body, but they are also beneficial for the outside. That inflammation-reducing property helps with skin inflammation, too, helping to alleviate rashes, eczema, and even acne. The vitamin C and antioxidants found in the tops are also beneficial for aging skin. Simply fill a tea bag or tea ball with some strawberry tops and toss into the bath with you. Your four-legged furry friends will also love a strawberry top bath, which is especially helpful for pets with dry, itchy skin.
10. Livestock Treats
Share these tasty scraps with your farm animals! Strawberry tops make a great snack for chickens, goats, ducks, rabbits, pigs, horses, and more. It helps recycle your scraps, while also gaining your flock's love and trust.
Kitchen Scrap Gardening?
We offer many tips on kitchen scrap gardening, so you may be asking, "can I regrow strawberries from strawberry tops?" The short answer is, no. Strawberry plants can't propagate. But you can grow this other favorite fruit from scraps!
Some Notes About Choosing Strawberries
When possible, buy or pick organic strawberries to avoid pesticide residue. Better yet, why not forage for some wild strawberries? You can even grow your own with our strawberry growing tips. If organic isn't an option, be sure to wash, soak, and rinse your strawberries throughly.
Images of chickens enjoying strawberry tops provided by Lisa Steele of Fresh Eggs Daily.

Natalie LaVolpe is a freelance writer and former special education teacher. She is dedicated to healthy living through body and mind. She currently resides on Long Island, New York, with her husband, children, and dog.