What The Heck Are Ployes?
If you're from Aroostook County, Maine, you know all about these special buckwheat pancakes, which are a treasured culinary tradition. Learn their interesting history and how they're made.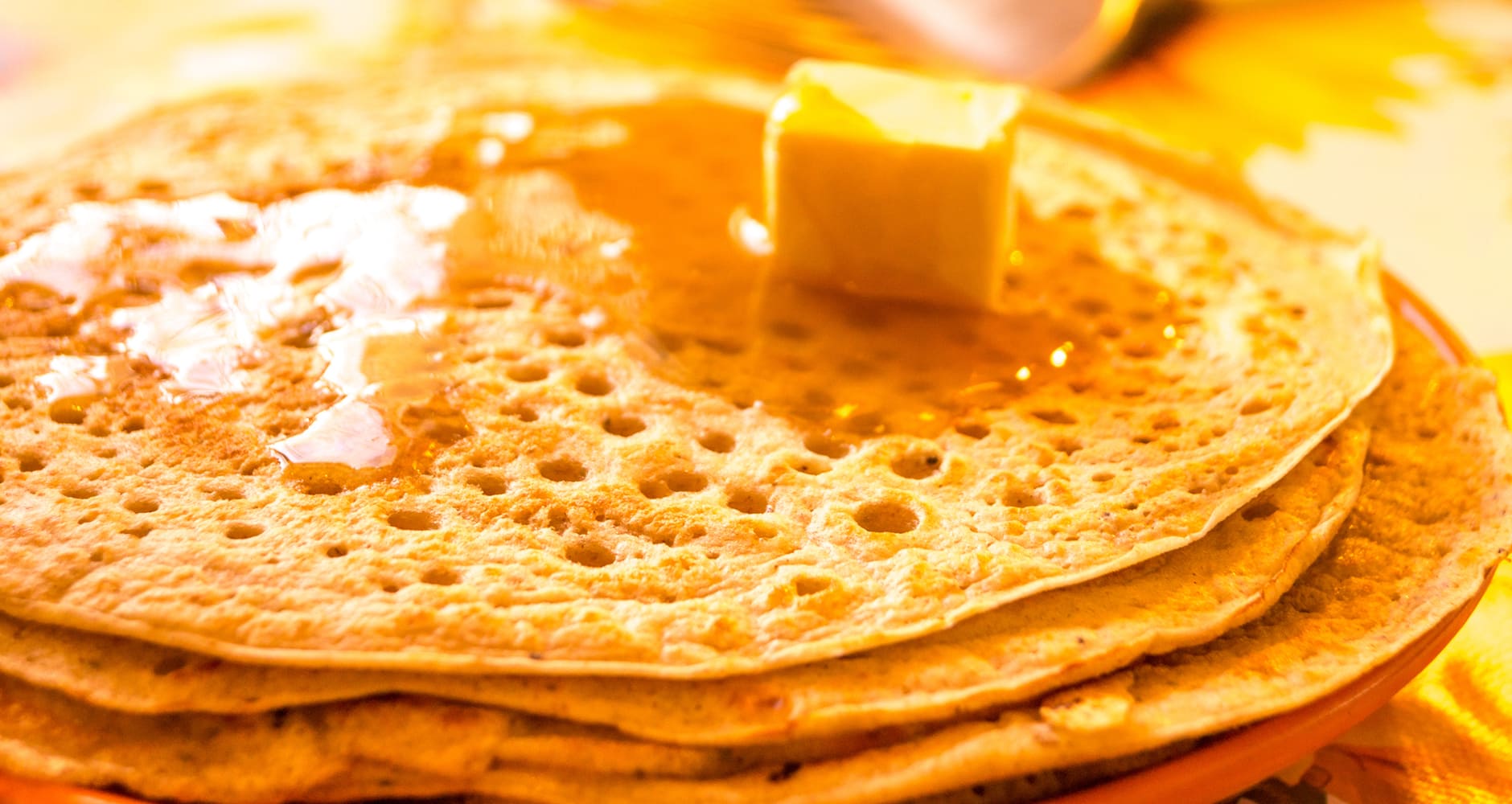 Here at Farmers' Almanac, we love exploring the many different regional foods enjoyed by our readers and learning about their history and origin. Recently, we were asked if we had a recipe for a special food eaten here in Maine and in parts of Canada, called ployes, but we didn't have one in our archives. So we did a little investigating (it is our home state, after all!) and what we uncovered was delicious!
What Are Ployes?
At first glance, it looks like a misspelling of "ploy" (it's pronounced the same way), but in the simplest terms, a ploye is a cross between a pancake and a crumpet, made with buckwheat flour, which gives them a nutty flavor. The texture is generally light and crispy on one side, with lots of little bubbles, called eyes.
How Do you Eat Them?
Ployes are very versatile. Top with fruit, add some maple syrup, jam, whipped cream, or even a couple of eggs, and you've got breakfast. At lunch and dinner, serve them in place of bread. You can dip them in soups and stews, add some homemade baked beans inside and roll them up for the perfect snack. Ployes are sometimes topped with cretons, which is a pork spread, similar to pate.
Ployes were meant to be inexpensive but filling. That is why the ingredient list is always so basic — just buckwheat, flour, water, and perhaps a bit of salt and baking powder. Eggs, oils, milk and other expensive ingredients were precious among early settlers, usually reserved for special occasions or dishes that really needed the extra ingredients.
A Brief History of Ployes
Ployes started as a French tradition that came to North America with the French Acadians. In the 1700s, they settled in Nova Scotia, making ployes with a slightly altered ingredient list compared to similar foods made in Europe. In the Americas, Japanese buckwheat was used because the black buckwheat common in Europe was not available to Acadian settlers.
In 1783, the Acadians settled along the St. John River Valley, which would become the Canadian-American border. With them came ployes, the recipe for which was passed down from generation to generation, resulting in the traditional dish that people of northern Maine enjoy today.
Why Are They Called Ployes?
No one is quite certain exactly how this name came about but it is thought that the name could come from the word "plier," which means to fold or bend, the way ployes are traditionally eaten. It could also be onomatopoeia; the word "ploye" sounding similar to the sound that is made when one mixes batter.
Ployes Recipe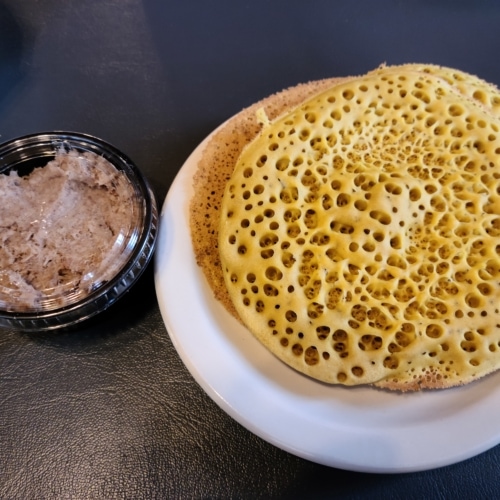 Ployes Recipe
Ingredients
2

cups

buckwheat flour

1

cup

all-purpose flour

3

teaspoons

baking powder

1

teaspoon

salt

2

cups

water

1

cup

boiling water
Instructions
Sift the dry ingredients together, then add two cups cold water.

Once the batter is mixed, add the boiling water and mix well. The batter should be thin, often compared to the consistency of half-and-half or milk with cream. If it isn't thin enough, add water, 1/4 cup at a time, until the desired consistency is reached. Then let the batter rest before cooking, about ten minutes.

When you're ready to cook, pour the batter in 8" – 12" circles on a hot griddle. Ployes are only cooked on one side, so don't flip them! Cook until the "eyes" appear and the batter sets.

When ready, a ploye should look dry on top, crispy golden-brown underneath and the edges should start to curl. Don't worry about too many eyes in the finished ploye — more bubbles means a better ploye!

Once finished, top your ployes any way you like — jam, butter and syrup, cretons, or leave them plain to dip in soups and stews.
(Acadian Buckwheat Pancakes)

Amber Kanuckel is a freelance writer from rural Ohio who loves all things outdoors. She specializes in home, garden, environmental, and green living topics.