10 Major Cities That Had To Shut Down Because of the Weather
When the weather gets tough, these cities shut down. Find out if your hometown made our list!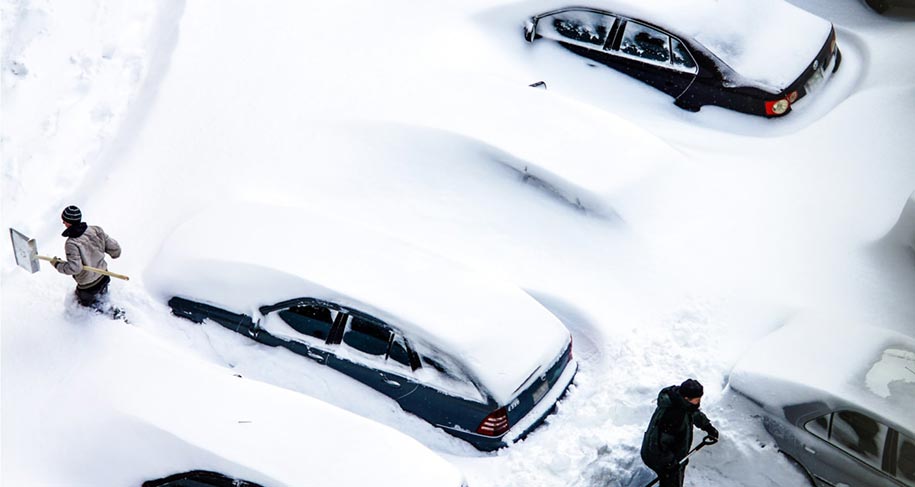 In this day and age, it's hard to believe that weather still shuts down some of our major cities, but it does. While you may think that all of the cities that we name would be in the northern section of the country, you may be surprised at what cities came out on our list. Read on!
1. WASHINGTON, D.C.- This city has seen some heavy snowfalls, but they are usually few and far between. There was the legendary Knickerbocker Storm of 1922, which dropped 28 inches and caused the collapse of the Knickerbocker Theater, killing 98 people. Then there were two Presidents' Day storms, 1979 and 2003, each dropping about two feet of snow. The D.C. area had seen more than a foot of snow only 13 times since 1870, according to the National Weather Service. On December 19, 2009, a severe storm dropped 18 inches on the city, a portent of things to come. That same year, in early February, two major storms combined to shut down Washington for several days. On February 5, the city was hit hard by its fourth heaviest snowfall, with nearly 18 inches recorded at Reagan National Airport. At nearby Dulles International Airport, the record was shattered by a huge 32-inch snowfall. President Obama called this storm "Snowmageddon," while others named it "Snowpocalypse."
And if that wasn't enough, just four days later, another massive snowfall hit, dropping 12 to 18 more inches across the region, also earning the nicknames "Snoverkill" and "Snomageddon 2.0." The result of all this was a complete shutdown of the nation's capital: flights were canceled; schools were closed; and the federal government sent workers home, where they were stuck for several days because the region was ill-equipped to deal with so much snow.
2. CHICAGO, Illinois – Natives of the Windy City are certainly used to wintry weather. Usually, their typical winters average 38 inches of snow, which falls in light accumulations. But every three or so years, Chicago experiences a storm that deposits 10 or more inches of snow over a span of a few days. It is rare when snow freezes Chicago to a standstill, but there have been some notable instances. On January 26, 1967, 23 inches of snow stranded thousands in offices, in schools, and on buses. About 50,000 abandoned cars and 800 buses littered the streets and expressways. On January 13—14, 1979, a blizzard hit Chicago, leaving 19 inches of snow and an after-period of unrelenting bitterly cold weather. Much of that snow remained unplowed for many weeks, causing ongoing transit delays and significant problems with trash collecting. Just as happened to New York's Mayor Lindsay ten years earlier, Chicago's inadequate response to the blizzard was blamed primarily on Mayor Michael Blandic. On February 1, 2011, over 20 inches of snow fell, accompanied by 70 mph winds, causing hundreds of cars to be abandoned along Lake Shore Drive and bringing Chicago–a city that prides itself on its ability to conquer any snowstorm that happens to it–to a complete stop.
3. ATLANTA, Georgia – "The Big Peach" is located in the foothills of the southern Appalachians, and the mountains to the north tend to obstruct southward moving frigid polar air masses. As a consequence, Atlanta winters are usually rather mild. Cold spells are not unusual, but they are rather short-lived and seldom disrupt outdoor activities for any extended period of time. The average annual snowfall varies widely from year to year, with a snowfall of 4 inches or more occurring about every five years. Heavy snowstorms, on January 12, 1982 (six inches that coincided with the afternoon rush hour), on March 13, 1993 (a rare blizzard), and on January 9, 2011 (snow mixed with ice), all brought the city to a halt. Ice storms and freezing rain or glaze occur in this Georgia city two out of every three years, causing hazardous travel and disrupting its utilities. Severe ice storms occur about every ten years, causing major disruptions to businesses and utilities and significant property damage. Among the worst was the severe ice storm of January 8, 1973, when 300,000 people went without power for more than a week. A December 15, 2010 storm left a leaf-thin sheet of black ice coating the roads, just as dusk fell on the height of rush hour, causing more than 1,000 accidents as motorists slid off roads or crashed into each other. In many cases, people simply abandoned their cars. A similar story on January 28, 2014: although the city only received 2.6 inches of snow, hundreds of people were forced to abandon their cars on the interstate and seek shelter in nearby stores as everyone in the city was attempting to head home at the same time. Ninety-nine school buses were stuck in the traffic until midnight while 2,000 students were forced to spend the night at school.
4. NEW YORK, New York – In spite of being "the city that never sleeps," a good snowstorm can shut down a big portion of this nation's largest metropolitan area. Located in the Northeast, the city is no stranger to winter storms, but two, in particular, stopped life in the Big Apple. The first was the "Lindsay Storm" on February 9, 1969. That was a storm that local weather forecasters felt would fall primarily as rain after a brief start as snow. The storm began early on Sunday morning as snow, but never changed to rain, with snow falling at better than an inch per hour. The N.Y. Sanitation Department, whose job it is to clear streets and roadways, was slow in getting out the snowplows, and, ultimately, major thoroughfares became clogged with snow. Some locations, such as the borough of Queens, received more than 20 inches and were nearly paralyzed. New York Mayor John Lindsay ran into political misfortune after some sections of the city remained unplowed for a week. On the day after Christmas in 2010–also a Sunday– a blizzard enveloped the city, dropping about two feet of snow. While this storm was anticipated (the Daily News blared "BLIZZARD COMING!" on its front page), city officials, for unknown reasons, failed to declare a snow emergency and were unprepared for the tremendous snowfall, which reached two feet in some areas. Trains were frozen to platforms, the major airports were shut down until six o'clock the next evening, and many minor streets went days before they were plowed.
5. LOS ANGELES, California – In the City of Angels, weather can be anything but angelic. This city can experience dynamic changes, between mild sea breezes from the Pacific Ocean and either hot or cold winds from the interior, which results in a variety of weather conditions. Like most other Pacific Coast areas, Los Angeles receives most of its rainfall during the winter, with nearly 85 percent of the annual total occurring from November through March. It is also during the winter that destructive flash floods occur. A standout in the weather annals is the pre-Christmas storm of December 23, 2010. This storm caused tremendous flooding in Los Angeles and much of southern California. The amount of rain that fell on Los Angeles in the span of one week equated to half the annual rainfall that the city typically receives (7.96 inches in downtown Los Angeles). In outlying communities, homes and cars were awash in mud; and hillsides pushed onto major highways, flooding urban streets and threatening a countless number of homes. The Pacific Coast Highway was closed and tens of thousands were without power. Sound familiar? Winter 2017-2018 in southern California is nearly a repeat, with mudslides causing the deaths of at least 19 people, and forcing the closure of the 101 Freeway for over a week.
6. DALLAS, Texas – It may be hard to believe that any town in the warm state of Texas would have winter worries. After all, Dallas is categorized as "humid-subtropical," with hot summers. But while winters are usually mild, and its snowfalls average only 3 or 4 inches about two or three times each month from late December through mid-March, this region can be invaded by "Blue Northers." These sharp cold fronts that sweep from north to south across Texas cause a sudden drop in temperature, sometimes up to 25 degrees F within one hour. Brief periods of extreme cold, with temperatures plummeting through the 20s, the teens and even the single digits, are followed by deep blue skies. If a storm emerges from the Gulf of Mexico and happens to interact with such a sweep of cold air, the result can be a devastating, life-stopping winter storm. An excellent example came on January 10, 2011, when just such a combination crippled the Dallas/Fort Worth Metroplex. Up to a half-foot of snow and ice shut down a majority of the school districts and severely disrupted businesses; everybody acknowledged the dangers in driving over iced bridges and passages. Thousands of residents were affected by power outages, schools and businesses closed, and thousands of flights were canceled.
7. BOSTON , Massachusetts – In almost 100 years of National Weather Service records, Boston had not experienced a single snowfall of 20 inches or more, until February 24—28, 1969, when a long-duration (100-hour) storm dropped 26.3 inches. But even that storm didn't completely stop the city. On February 6—7, 1978, one of the most intense storms of the 20th century hit the Northeast U.S., accompanied by hurricane-force winds and record-breaking snowfalls. Boston was recovering from a mammoth snowstorm it had gotten 17 days earlier, which had dropped 21.5 inches. Then they had to deal with a storm that ultimately dropped 27.1 inches. Some parts of nearby Rhode Island recorded an incredible 50 inches. Across all of southern New England, including Boston, businesses and schools were shut down for a week or more by the "Blizzard of '78."
During the winter of 2015, Boston saw back-to-back storms that wreaked havoc on the city. Not only were new snowfall records broken from multiple storms during the month of February alone, but The Valentine's Day blizzard caused the city's transit system, one of the oldest in the country, to shut down after 22″ fell.
8. NEW ORLEANS, Louisiana – We could not talk about weather closing down a city without mentioning the effects of Hurricane Katrina on New Orleans. The New Orleans metropolitan area is virtually surrounded by water. Lake Pontchartrain borders the city on the north, while in other directions there are bayous, lakes and marshy deltas. A massive levee system surrounding the city and along the Mississippi River seemingly offered protection against river flooding and tidal surges. But that was before Katrina. Hurricane Katrina was the costliest natural disaster, as well as one of the five deadliest hurricanes, in the history of the United States. On August 29, 2005, the Category 3 hurricane, with winds of 125 m.p.h., made landfall in southeast Louisiana, near the city of Buras-Triumph. It caused severe destruction along the Gulf Coast, much of it due to storm surge. The surge was pushed into New Orleans, where the levee system catastrophically failed, in many cases hours after the storm had moved inland. The surge caused more than 50 breaches in the levee system; eventually, 80 percent of the city and large tracts of the neighboring parishes became flooded. With some parts under 15 feet of water, the floodwaters lingered for weeks. Many who remained in their homes had to swim for their lives, wade through deep water, or remain trapped in their attics or on their rooftops. As this was being written, nearly six years later, thousands of displaced residents in Louisiana were still living in temporary accommodations.
9. ST. LOUIS, Missouri – In a city where 18 to 21 inches of snowfall during a typical winter, January 30—31, 1982, saw a once-in-70-years snow event occur, with 18 to 21 inches of snow blanketing St. Louis. According to the National Weather Service, this snowstorm was "remarkable and crippling to the St. Louis metropolitan area." The snow paralyzed the area, with government offices, many businesses, and schools canceling work or classes for as long as a week, after the snow ended. The airport, Amtrak, and bus services were shut down. As many as 4,000 motorists were stranded on highways because of blizzard-like conditions over the region. Many people became stranded for days, with hospital and emergency workers working two and three shifts because their coworkers were unable to make it to work. The Missouri National Guard was eventually called in to ease a disastrous situation, while residents of the Gateway City helped each other dig out from their worst snowstorm since February 20, 1912.
10. BUFFALO, New York – If there is one city that certainly knows snow, it's Buffalo. "The City of Good Neighbors" is situated on the eastern shore of Lake Erie. When winter begins to settle in, cold winds that blow across the lake can pick up moisture and deposit it onshore in the form of heavy snow showers and squalls. If the winds are persistent and blow for many hours, the snow amounts can become substantial and measured in feet. Even so, there have only been a few cases where snow has brought this city to a complete halt. During January 28—31, 1977, it wasn't so much the snow (only 10 inches fell) as it was the sustained winds that blew at the near-hurricane force of 69 m.p.h. Lake Erie was actually frozen over but was covered with 33 inches of puffy snow that the winds picked up to create whiteout conditions which brought everything to a complete standstill. Eight years later, on January 18, 1985, Buffalo was hit by the "Six-Pack Blizzard." The city was buried by 33 inches of snow, combined with winds gusting to over 50 m.p.h. Why "Six Pack"? Because at the height of the storm, Mayor Jimmy Griffin urged his constituents to "Stay inside, grab a sixpack, and watch a good football game." Finally, on November 20—23, 2000, a 60- hour lake-effect snowstorm dumped nearly 3 feet of snow. The storm had frequent lightning and thunder. The most intense snowfall coincided with the afternoon drive, and area workers leaving work early clogged the roads. Thousands were reported to have spent the night in autos or stores.
In November 2014, the Buffalo area was hit by a ferocious a lake effect snow storm that dropped 5 feet of snow in a 24 hour period. Read the story here.
Did we forget any cities? Be sure to share your thoughts and opinions about cities that shut down when bad weather hits below!

Caleb Weatherbee is the official forecaster for the Farmers' Almanac. His name is actually a pseudonym that has been passed down through generations of Almanac prognosticators and has been used to conceal the true identity of the men and women behind our predictions.