Prepare and Freeze Fresh Pumpkin Easily!
Put those decorative pumpkins to use! With just a little effort, you can get a generous amount of nutritious fresh pumpkin for all your favorite pumpkin recipes.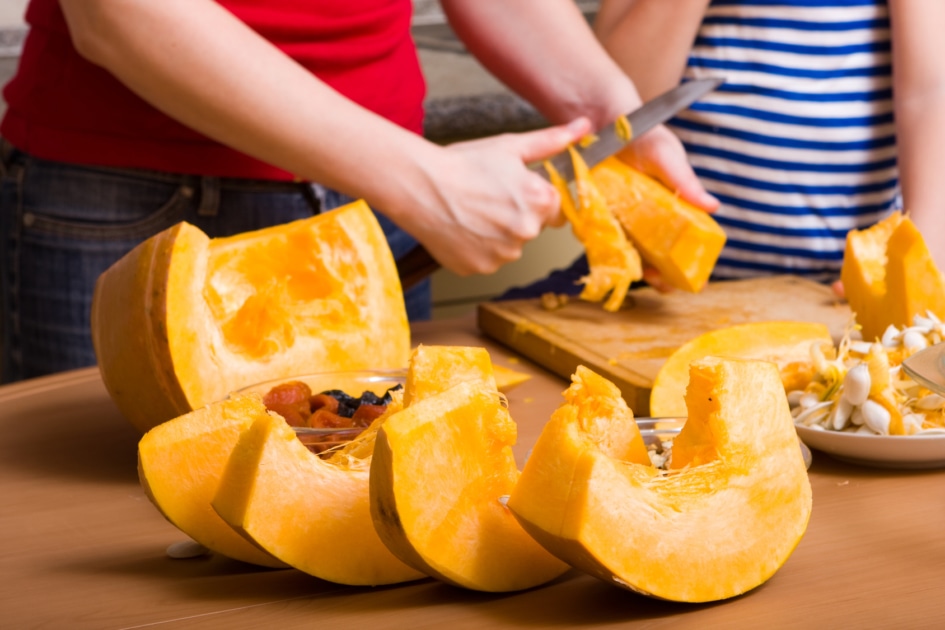 Don't let that fresh pumpkin decorating your porch go to waste.* With just a little effort, you can get a generous amount of nutritious fresh pumpkin for all your favorite pumpkin recipes. While pumpkins grown for carving aren't as flavorful as pumpkins grown for eating, they're still delicious and can be used in a number of recipes.
The following instructions will show you how to prepare fresh pumpkin for pumpkin pies, pancakes, bread and other uses.
To Prepare Fresh Pumpkin:
Cut a pumpkin in half and then into fourths.
Use a large spoon or scoop to remove the seeds, and set aside (pumpkin seeds are edible and nutritious too. Save for roasting.)
Place the pumpkin skin-side down in a roasting pan. Add a little water to cover the bottom of the pan and cover.
Place in a 300°F oven. The pumpkin will take about 1 hour to bake unless you are working with a small one.
Test the center of the pumpkin for softness with a knife. When the pumpkin is done, it will slice easily.
Remove pumpkin from the oven when it's ready and uncover.
Allow to cool slightly to the touch.
Cut the fleshly part away from the hard outside shell. Chop the fleshy part into 2" to 3" inch chunks.
If the pumpkin will be used solely for pies or breads, process the pumpkin cubes in a blender or food processor until smooth.
Store pumpkin in the freezer for future use. Freeze in storage containers or pressure-can in pint-canning jars.
To Freeze Fresh Pumpkin
You can enjoy baking your favorite pumpkin pies, pumpkin bread, pudding and pancakes just by freezing your fresh pumpkin. Here's how:
Once the fresh pumpkin has been cooked and processed in a food processor, measure quantities for your favorite pumpkin recipes, usually 1 to 2 cup portions.
Measure pumpkin into freezer storage bags.
Label contents, date and quantity and store in freezer until ready to use.
To Defrost Frozen Pumpkin:
Fresh frozen pumpkin defrosts nicely and should be ready to use in only an hour after removing from the freezer. To expedite the thawing process:
Rip plastic freezer bag open and place pumpkin on a glass pie pan in the microwave.
Defrost 2 to 3 minutes or until soft.
Use defrosted pumpkin for any recipe that calls for pumpkin. It's a great substitute for the canned product.
*We recommend using only un-carved pumpkins.

Deborah Tukua is a natural living, healthy lifestyle writer and author of 7 non-fiction books, including Pearls of Garden Wisdom: Time-Saving Tips and Techniques from a Country Home, Pearls of Country Wisdom: Hints from a Small Town on Keeping Garden and Home, and Naturally Sweet Blender Treats. Tukua has been a writer for the Farmers' Almanac since 2004.