Valentine's Day Lore and Legends
Everything you ever wanted to know about the most romantic day of the year, and then some!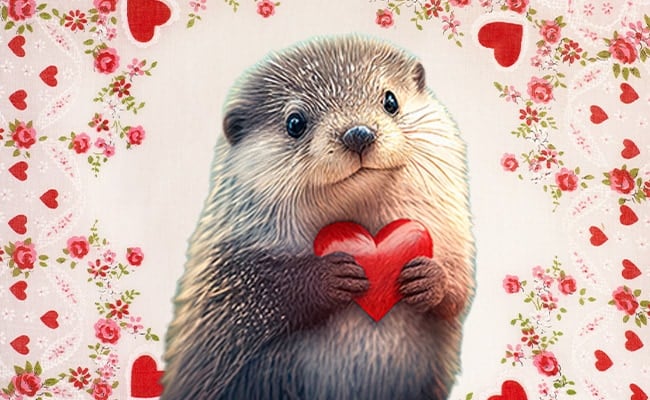 Valentine's Day is the best-known holiday for romantic love and tokens of affection: flowers, chocolates, and jewelry. But who was Saint Valentine, why is February 14 significant, and what other lore and legends are associated with this heartfelt occasion?
St. Valentine's Origin Story
Saint Valentine was indeed a real person, but the details of his life, background, and accomplishments are muddled in centuries of interpretation. There are many origin stories of St. Valentine, but the most detailed account says he was a physician-turned-priest who lived in Rome in the third century, during the reign of Claudius Gothicus (Claudius II). Claudius II was a cruel emperor who outlawed marriage as he believed it interfered with military prowess.
St. Valentine performed secret marriages and was imprisoned for doing so. After some time, he befriended the jailer's daughter, Julia, whom he tutored. He was urged to renounce his faith, but refused, and was sentenced to death. Before his execution, he crushed violets to make purple ink and wrote a letter to Julia. He signed it, "from your Valentine." Thus marked the mystical origin of the first Valentine's Day card. Valentine was martyred on February 14, 270 AD.
According to historians, there are many tales of the same man and it is impossible to tell which details are accurate and which may be exaggerated. In total, more than 50 priests, bishops, and other church officials have taken the name Valentine, and bits and pieces of all their histories may be part of the St. Valentine legend.
Today, St. Valentine is the patron saint of lovers, engaged couples, and greetings.
Why Is February 14 Valentine's Day?
The most obvious reason why Valentine's Day is celebrated on February 14 is to commemorate the death of St. Valentine. In medieval Europe, however, mid-February has another connection to romance, as written in English author Geoffrey Chaucer's poem, "Parliament of Fowls." Chaucer notes that birds come together to seek mates halfway through the second month of the year. This certainly links "lovebirds" symbolism with Valentine's Day.
The specific date of this romantic holiday may also have been deliberately selected to overshadow the Roman festival of fertility, Lupercalia, which traditionally took place on February 15. The Catholic Church hoped to reduce the influence of the raucous event but was only partially successful.
Valentine's Traditions
Today, many different traditions are associated with Valentine's Day celebrations. The holiday is widely celebrated in the United States, Canada, Mexico, the United Kingdom, Australia, New Zealand, France, and Spain, and continues to spread with and certain nearly-universal traditions.
Valentine's Day Cards
Cards with sentiments of love come to mind, and of course St. Valentine is credited with the origins of those personal notes with his letter to Julia. The first recorded Valentine's Day card was sent by Charles, Duke of Orleans, to his wife while he was imprisoned in 1415. That card is still archived today in the British Library in London. It wasn't until the 1840s, however, when mass-produced cards first became widespread. Esther A. Howland is the creator of what we recognize as modern greeting cards, having created lovely cards with bits of ribbon, lace, and colorful pictures.
In the early 1900s, improved printing technologies created even more mass-marketed cards affordable to everyone. Today, more than 150 million Valentine's Day cards are sent each year—second only to the popularity of Christmas cards.
Download Farmer's Almanac Valentine Puns ("Companion Plant" themed.)
Valentine's Day Chocolates
Chocolates are another special Valentine's Day treat, with even more ancient connections to love and romance. In ancient Mayan wedding ceremonies, the happy couple sipped chocolate to celebrate their union, while the ancient Aztecs believed chocolate to be a powerful aphrodisiac. The first box of chocolates was marketed by the Cadbury company in 1861, and that same company introduced a heart-shaped box for Valentine's Day in 1868. Today, more than 58 million pounds of chocolate are purchased each year for the holiday.
For those who prefer flowers for the holiday, nothing beats the always romantic rose, and more than 220 million roses are sold annually for Valentine's Day. Red roses are the most popular as the color symbolizes love and passion, but pink represents young love and affection, yellow highlights happiness, and white is ideal for everlasting love. Other flowers also represent love, including asters, carnations, tulips, peonies, and birds of paradise. Learn more about the Lovely Language of Flowers.
Valentine's Day Jewelry
Jewelry is another popular Valentine's Day gift, and diamonds are the most popular choice as they have come to be associated with love and romance. (Learn more about diamond symbolism.) Brilliantly red rubies are also a gemstone of love, and birthstones are a beautifully personalized choice to celebrate loving relationships of all kinds. (Learn more about ruby symbolism.)
Cupid Mythology
Whether on cards, boxes of chocolates, or just whimsical decorations, the plump cherub Cupid is intimately associated with Valentine's Day. Cupid was a Roman god of love, based on the Greek god Eros, depicted as a handsome man who used golden arrows to incite love in unsuspecting couples.
Celebrating Isn't Just for Lovers
While many Valentine's Day traditions focus on romantic love, the holiday isn't just for lovers. Valentine's Day can easily and happily be celebrated for any friendly relationship, from platonic love to family love to neighborly love.
Sharing Valentine's Day with friends, coworkers, teachers, classmates, and even pets has become more popular over the years, broadening this celebration to include special people in everyone's life.
You can even celebrate Valentine's Day with a bit of pampering and self-care that will help you refresh and rejuvenate your most important relationship—with yourself. While this may seem self-indulgent, caring for oneself is the first step to having the energy and motivation to care for others.
Suggestions for Your Valentines
If you want to share Valentine's Day with more than just a spouse or romantic partner, there are many great gift options. In the United States, Valentine's Day spending averages $165 per person, but inexpensive gifts can be just as thoughtful and caring as gourmet chocolates, long-stemmed roses, or diamond jewelry. Consider these creative ways to show you care:
An at-home movie night with popcorn and favorite treats.
A family game night to build strong relationships.
A potted plant to grow friendship far longer than one day.
Experiences to share, such as playing local tourist in your hometown.
A trivia-based scavenger hunt with personalized clues.
A printed, framed photo of a special moment shared together.
Ultimately, any gifts that show thoughtfulness toward the recipient can be great Valentine's Day gifts – a coffee mug for the caffeine-lover, cozy socks for someone with chilly toes, a favorite book for the bibliophile, and pet-themed gifts for the animal lover.
Other Romantic Holidays
While Valentine's Day gets all the attention as a date to celebrate romance, love, and affection, there are many other days to celebrate everyone special in your life throughout the year. To keep every type of romance alive year-round, consider…
January 6 – National Cuddle Up Day
February 13 – Galentine's Day (a day for women to celebrate their friendships with other "gals.")
March 20 – Kiss Your Fiancé Day
April 23 – National Lover's Day
May 14 – Online Romance Day
June 3 – Love Conquers All Day
June 8 – National Best Friends Day
July 6 – International Kissing Day
August 9 – Hold Hands Day
September 26 – Love Note Day
October 7 – You Matter to Me Day
November 13 – World Kindness Week
December 3 – Let's Hug Day
No matter who you love or how you want to celebrate, Valentine's Day is the perfect opportunity, and you can continue that love, friendship, and caring all year long!
Join The Discussion!
What was the most interesting piece of fact or fiction you learned today?
Let us know in the comments below!
Related Articles
Valentine Puns – Companion Plant Valentines
Language Of Flowers – 43 Flowers And What They Mean
Valentine's Quotes Your Can Borrow