12 Healthy Reasons To Grow Rosemary This Year
This aromatic herb is usually associated with good food, but rosemary's many health benefits make it a must-grow this gardening season.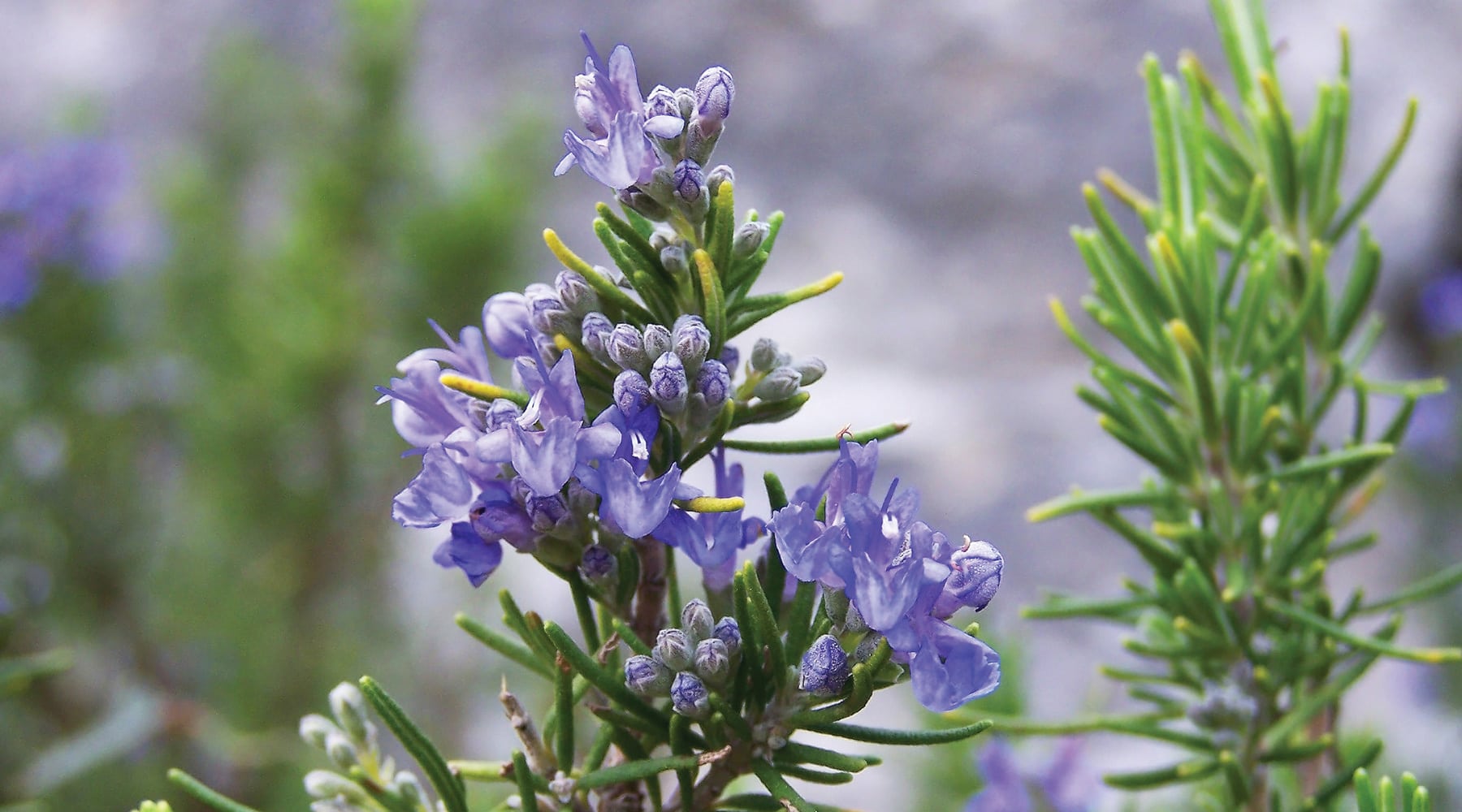 The charmingly fragrant herb rosemary (Rosmarinus officinalis) has graced gardens, kitchens, and apothecaries in the Mediterranean region for centuries. It is a member of the mint family, which includes other herbs such as oregano, thyme, basil, and lavender. The name rosemary derives from the Latin ros meaning "dew," and marinus, meaning "sea," which is why, along with its beautiful periwinkle flowers, it's known as the "Dew of the Sea."
The wonderful pine-like fragrance of rosemary is commonly associated with good food, however, this aromatic herb can do more than add flavor to your culinary creations. Modern research confirms what many cultures have known for millennia — rosemary's numerous therapeutic properties make it an indispensable herb.
Health Benefits of Rosemary
Check out these 12 health benefits of rosemary that may just convince you to grow your own this year. You'll have this healing herb at your fingertips!*
Memory and Concentration Booster: Rosemary has long been linked to memory. Even Shakespeare said, "There's rosemary, that's for remembrance…." British researchers found that simply sniffing rosemary improved memory by 75%. A substance produced in the leaves, carnosic acid, can actually protect the brain from free radical damage. Other compounds in the herb promote healthy blood flow to brain tissue and have a stimulating effect on the mind. To get its benefits, sniff a sprig of fresh rosemary, taking in the aroma, and "don't forget" to add it to roasted potatoes, chicken, or try this Tasty Herbed Focaccia recipe.
Immune System Support: Rosemary's amazing antioxidant, anti-inflammatory, and anti-carcinogenic properties make this herb an ideal addition to your diet for protecting your health, especially during winter months. Use fresh or dried rosemary in dishes for an immune boost for the whole family. You can also massage your body with some rosemary-infused oil (recipe below).
De-Stressor: The ancient Greeks knew of the stress-busting powers of this herb and modern research confirms that the smell of rosemary can reduce cortisol levels, associated with stress. Sniff a bouquet of the fresh herb, or use a diffuser with a few drops of pure rosemary essential oil (purchased at any health food store) to flood the senses and help lessen your stress and anxiety.
Digestive Aid: Fresh rosemary (in small doses) can aid digestion as it stimulates the production of bile, helping to better neutralize acidic foods in the stomach. Brew a cup of rosemary tea (recipe below) to help treat stomach problems such as cramps, bloating, constipation, or indigestion.
Eases Asthma and Allergies: Due to rosemary's antihistamine properties, it can reduce the severity of allergies and help individuals with asthma, reducing inflammation of the airway. Try a fragrant and relaxing rosemary herbal steam: Boil four cups of water and pour over a handful of fresh or dried rosemary leaves in a bowl. Place your head over the bowl and capture the healing herb vapor by draping a towel over your head while you inhale the steam for relief.
Helps Control Hair Loss and Dandruff: Because rosemary oil increases blood circulation it can be used to treat hair loss and irritating dandruff while improving scalp condition. After washing hair, massage the scalp with a few drops of rosemary-infused oil (recipe below).
Cough Expectorant: The eucalyptol compound in rosemary helps to loosen chest congestion, making it easier to cough up phlegm. Massage one or two drops of rosemary-infused oil (recipe below) over your chest and throat every few hours.
Soothes Muscle Aches and Pains: Rosemary makes a powerful massage oil for sore muscles and backaches. Massage the affected area with rosemary-infused oil to help relieve pain.
Eases Arthritis Pain: The analgesic and anti-inflammatory properties of rosemary oil make it a great chronic pain reliever. Try a rosemary bath, which has been used for centuries to treat stiff, painful joints. Throw a handful of fresh rosemary into hot bath water, or brew some rosemary tea in a pot and then add the tea to the bath water.
Headache Reliever: This herb has been a popular natural migraine remedy for centuries. For headache relief, rub a sprig between your hands vigorously to release the fragrance, and inhale. Or enjoy a cup of rosemary tea (recipe below) when headache pain strikes.
Soothes Skin Irritations: Rosemary's antimicrobial and antiseptic properties make it beneficial for those with eczema and dermatitis. Apply rosemary-infused oil topically and massage into your skin. Alternatively, you can add a few drops of rosemary essential oil to your daily body lotion.
Natural Air Freshener: Forget chemical sprays! The wonderful pine-like scent of rosemary will make your home more inviting and cozy and is the perfect way to freshen your home without artificial fragrances. Place several sprigs of fresh rosemary, one slice of lemon or orange, and a splash of vanilla into a saucepan or crock pot filled 2/3 with water and simmer on low. Add more water as needed.
Flavorful tip: Next time you're grilling, sprinkle some rosemary on the coals—the aroma is wonderful and helps flavor the meat.
Make Rosemary-Infused Oil
For topical treatments
Fresh rosemary sprigs
Extra virgin olive oil
Strainer
Bowl
Mason jar
Fill a clean mason jar with clean, dry fresh rosemary sprigs. Top with olive oil and secure with lid. Place the jar in a sunny window for a month. After a month, strain over a bowl, pouring the finished rosemary infused oil into a small container. Store the infused oil in a cool, dark place for up to two weeks.
How To Make Rosemary Tea
Pinch the needle-like leaves off a rosemary plant and crush to make 2-3 teaspoons (one tablespoon of dried rosemary will also work). Pour two cups of boiling water over the leaves and let steep for 5-10 minutes. Strain. Add honey or lemon to sweeten.
*Note: If you're pregnant, do not consume rosemary in large quantities. While it has a Generally Recognized as Safe (GRAS) status in the US, it's best to check with your doctor.

Natalie LaVolpe is a freelance writer and former special education teacher. She is dedicated to healthy living through body and mind. She currently resides on Long Island, New York, with her husband, children, and dog.