What the Heck Is Chard?
Chard is one of the healthiest, and most colorful foods out there. Learn more about this leafy beet relative!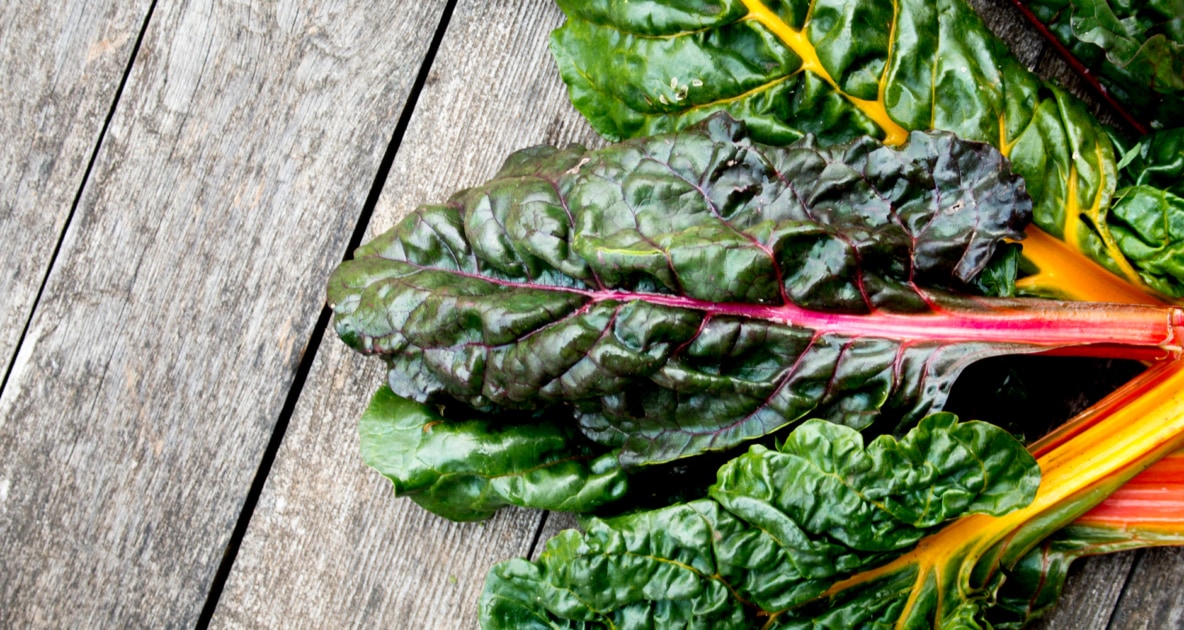 Chard is a leafy, and often colorful vegetable, in the beet family. However, while beets are primarily cultivated for their root (though many also enjoy beet greens), the stems and leaves are the favored parts of chard. Chard is known by a number of other popular names, including Swiss chard, silverbeet, bright lights, seakale beet, white beet, strawberry spinach, leaf beet, Sicilian beet, Chilian beet, Roman kale, spinach beet, crab beet, perpetual spinach, or mangold.
Chard has been known since ancient times and has long been popular in Mediterranean cuisine. The name chard comes from the French word carde, which refers to the cardoon, or artichoke thistle. The plant came to be known as Swiss chard as a way to differentiate it from native spinach.
It grows in a variety of colors, from white to purple, and everything in between. Often, different color varieties are grown together and packaged as "rainbow chard." The reds, yellows, oranges, and purples all mixed together make an appealing presentation.
Chard can be beaten raw or cooked. It is most often used in salads when it is still young and tender, and sautéed or added to recipes after maturity when the leaves and stems are larger and tougher. Mature chard can also be bitter, but cooking mellows the flavor.
Like most green, leafy vegetables, chard is highly nutritious. It is rich in iron, magnesium, fiber, protein, and vitamins A, C, and K.
Here are a few recipes to help you get acquainted with this colorful vegetable.
Chard Parmesan
Chard Parmesan
Ingredients
2

tablespoons

butter

2

tablespoons

olive oil

1

tablespoon

minced garlic

1/2

small

red onion, diced

8

large

Swiss chard leaves, with stems

1/2

cup

white wine

1

tablespoon

fresh lemon juice

2

tablespoons

grated Parmesan
Instructions
Directions:

Cut out the chard stems, dice, and set aside. Coarsely chop the leaves. In a large skillet, melt the butter and olive oil over medium-high heat. Stir in the garlic and onion, and cook for 30 seconds. Add the chard stems and the white wine. Simmer until the stems begin to soften, about 5 minutes. Stir in the chopped chard leaves, and cook until softened. Add lemon juice and Parmesan cheese.
Chard and Goat Cheese Frittata
Ingredients
8

large

Swiss chard leaves, with stems

2

tablespoons

extra virgin olive oil

1

medium

red onion, thinly sliced

1/2

teaspoon

salt

2

teaspoons

fresh rosemary, minced

3

garlic cloves, minced

8

large

eggs

Fresh ground black pepper

4

ounces

soft goat cheese, crumbled
Instructions
Directions:

Cut out the chard stems, dice, and set aside. Coarsely chop the leaves. In a large cast iron skillet*, heat 1 tablespoon olive oil. Add onion, 1/4 teaspoon of salt, and rosemary. Sauté for 10 minutes over medium heat, until the onions are soft and beginning to brown. Stir in the chard leaves and 1/4 teaspoon salt, and sauté for 1 to 2 minutes, until the greens begin to soften. Remove from heat. Stir in garlic and chard stems, and set aside. In a large bowl, whisk together the eggs, add the chard mixture and goat cheese, and stir to combine. Preheat the broiler in the oven. Heat 1 tablespoon of oil in the skillet over medium-high heat. Once the oil is hot, pour in the chard-egg mixture and cook for about 3 minutes. Place the skillet in the oven and for 3 minutes. Pry the frittata from the edges of the skillet and invert it onto a serving platter. Cut into wedges and serve.

*If you don't have cast iron, use a skillet with an oven-safe handle
Chard Salad
Ingredients
Ingredients:

3

lb.

chard stems

1

qt.

water

1

tsp.

salt

1

clove garlic

1 1

tsp. salt

1/3

c.

oil

1/2

c.

lemon juice

1

tsp.

dried crushed mint
Instructions
Directions:

Cut chard stems into 1-inch pieces and boil them in water with salt for 15 minutes. Squeeze out excess water. Mash the garlic and salt together. Add oil, lemon and mint. Mix well, pour over chard stems, and toss well.

Jaime McLeod is a longtime journalist who has written for a wide variety of newspapers, magazines, and websites, including MTV.com. She enjoys the outdoors, growing and eating organic food, and is interested in all aspects of natural wellness.
Keep Exploring