The Great "Cottagecore" Garden Trend
"Cottagecore" is a beloved, long-standing trend centered around the natural beauty of country life. Otherwise known as "farmcore," "countrycore," and "prairecore," cottagecore pays homage to the English countryside where tending to the garden, drying clothes on the line, and mending garments is done at a leisurely pace amid the smell of fresh-baked bread and wildflowers swaying in the breeze. Predominately an interior scheme of fresh florals, botanical accents, and whimsical housewares, cottagecore is all-the-buzz in outdoor spaces more than ever. Perhaps the increasing desire (and need) to stay home in recent years has inspired more people to create cozy havens for escaping and dreaming. Use our guide here to make your own magical place to unwind, sip tea, and recline with a timeless classic!
What Is A Cottagecore Garden?
Unlike highly manicured spaces, cottagecore gardens burst with color and variety, inviting whimsy, beauty, and essential pollinators (bees and butterflies, etc.) to your property. Plants are generally smaller, with hued local flora intermingling with edibles, creating a textured, moving space — great for biodiversity (Read our "Wildlife Gardening" article).
While this whimsical scheme may seem limited unattainable social media imagery, it is easy to achieve in your own backyard! Here are some key elements to consider:
Planning A Cottagecore Garden
At first glance cottagecore gardens may seem arbitrary, but planning is important. The main things to focus on while mapping out your cottagecore garden are grouping, focal points, texture, color, and sightline. Choose plants and décor that provide a peaceful energy, lush colors, and a gentle flow. Also, consider how large your plants will get when they become fully mature (height and spread).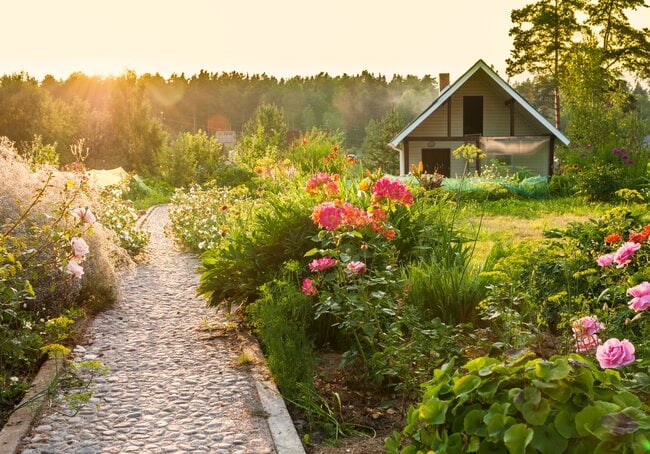 Sketch a design and label where plants will be placed according to size, light, soil type and watering needs. Also decide ahead of time if you would like to install an irrigation system into your garden to conserve water usage and reduce maintenance.
Plants With Cottagecore Appeal
Plants in a cottagecore garden are generally smaller and trees are scarce, with the exception of dwarf trees which can add dimension. Pretty florals are the predominant feature, adding a colorful, vintage backdrop, while the provocative scents provide a warm cottage welcome. Pressing and framing these colorful blooms is also an ideal cottagecore hobby.
Perennials are most common, however self-seeding annuals, bulbs, vegetables, fruiting plants, and ornamental plants are also components in the design. Evergreen shrubs and fresh greenery intermixed will create contrast to your blooms and ensure lasting color once the flowering plants have died off.
While large trees aren't often found in cottagecore gardens, smaller ones can add a vertical focal point. Vines climbing walls or draped over fences or trellises draped in wisteria or grapes add movement and lushness. Plants are generally grouped closed together so that when mature it paints a sea of color, texture, and movement. When grouping plants, be sure to consider size, as well as soil and lighting needs. Common cottagecore plants include (but are not limited to):
Wildflowers (the bees will thank you)
Roses (consider climber or rambler varieties, rather than ones laid in neat patterns)
Add An Herb/Tea Garden!
Adding an herb or tea garden to your plans will come in handy while you're whipping up homecooked meals. Lemon verbena or balm, chamomile, or lavender are great options for brewing tea, while other herbs such as rosemary, thyme, mint, sage, and chives are ideal for adding into dishes.
You can plant your herbs directly into your gardens or decoratively displayed in appealing pots. (Here are 5 container gardening ideas you will love.) Other edible plants, such as raspberries and blueberries are great additions to your garden.
Learn more about how to plant a tea garden.
Natural Stone Paving
Cottagecore gardens often include winding pathways and covered private patio spaces with natural features. When choosing paving options, an unpolished, natural option will create warmth and texture. Limestone, granite, and sandstone offer unique textures and rustic vibes. Walling off your garden with an attractive fences or stone wall will also create intimacy and coziness.
Decorations
Cottagecore gardens are all about tranquility in nature. Cozy seating in warm, wood furniture, floral patterned textiles, vintage regalia, and soft lighting can add to the ambiance of your garden. Stringing lights or adding candles to your space will allow you to enjoy it while stargazing as well.
Consider adding to the whimsy by popping in bird feeders, birdbaths, arbors, trellises, garden kitchens, or planting stations, and fanciful garden gnomes. (Learn about the history and superstition of garden gnomes.)
Repurposing old furniture will transform your garden into a statement piece. Resourcefulness and eco-friendly signifies Cottagecore. Add to the sustainability of your garden by placing a clothes line, water collecting system, or compost bin.
Tapestry Lawn
Don't stop with your garden! Extend the cottagecore aesthetic into the rest of your property with a "tapestry lawn." Also known as a "meadow," "matrix," or "patchwork" lawn, a tapestry lawn is a collection of interlacing low-lying plants and flowers that adds dimension and a kaleidoscope of color. Smart, eco-conscious homeowners are opting for this style as it looks beautiful, supports biodiversity, and requires less watering and mowing. Say hello to a tapestry lawn and goodbye to the overly manicured status-symbol lawn of yesteryear.
Begin by removing traditional grass and replacing it with a mix of native plants and flowers with varying size and texture for aesthetic and ecological benefits. Choose a palate of low-watering, native, non-invasive perennial plants, starting with seeds or plugs. Also be sure to choose deer-proof and no or low mow varieties and group according to water and light requirements.
Traditional lawns are low lying, but tapestry lawns vary in height (from 6-10″ to 48″ tall, depending on your plants and goals).
Note: You will want to consider each plant's water, light, and humidity needs. For instance, great options for shady areas and between pavers are baby tear and Irish moss. Also bear in mind that some plant varieties won't tolerate heavy foot traffic and may attract bees, so choose wisely when selecting plants for areas where children may play.
Regular watering and weeding will be required until your seeds germinate and take root, but maintenance lightens significantly after the first year. Tapestry lawns don't need regular mowing yet many people still opt to keep lengths between three and four inches high, which allows plants to hold their flowers and attract pollinators. After mowing, we recommend leaving your clippings to add nutrients to your soil, while also reducing your workload.
Urban Cottagecore
If you live in an urban area with limited space, turn your balcony into a miniature oasis. Adorn your windowsills with flattering potted plants and window boxes. Even the smallest garden will add color and help the bees. Here are some easy fruits and vegetables to grow in pots.
Join The Discussion
Are you inspired to create your own cottagecore garden this year?
What are some flowers or decorations you plan to include in yours?
Share with your community here in the comments below!
Related Articles
How To Conserve Water In Your Garden
5 Container Gardening Ideas Your Will Love
Tips For Drying Clothes On The Line

Natalie LaVolpe is a freelance writer and former special education teacher. She is dedicated to healthy living through body and mind. She currently resides on Long Island, New York, with her husband, children, and dog.